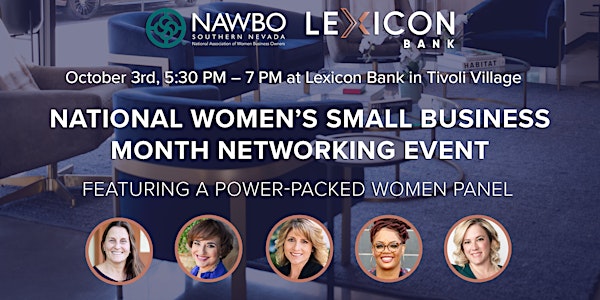 National Women's Small Business Month - Lexicon Bank & NAWBO SNV
National Women's Small Business Month networking event co-hosted by NAWBO and Lexicon Bank
When and where
Location
Lexicon Bank 330 South Rampart Boulevard #Suite 150 Las Vegas, NV 89145
Refund Policy
Contact the organizer to request a refund.
Eventbrite's fee is nonrefundable.
About this event
National Women's Small Business Month
National Women's Small Business Month takes place each year during the month of October. This is a time to recognize the amazing achievements of our country's woman entrepreneurs, and the positive impact they are making on jobs, the economy and our Southern Nevada communities.
Starting a small business was once considered an undertaking primarily for men, times have certainly changed, with over 12 million women-owned businesses in the United States. Collectively, these women owned enterprises employ nearly million people and generate over $2 trillion in annual sales revenue. Since 2007, the number of women-owned companies has increased an astonishing 45%. In 2020, the number of small businesses in the US reached 31.7 million, making up nearly all (99.9 percent) US businesses.
Please Join Lexicon Bank and NAWBO Southern Nevada to celebrate National Women's Small Business Month.
Networking 5:30 - 6:00
Growing & Financing Your Business Panel 6:00 – 7:00
More Networking and Community 7:00 – 7:30
Panelists:
Stacy Watkins - President & CEO of Lexicon Bank
Stacy Watkins has served as President & CEO at Lexicon Bank since 2020. As a seasoned Banking Executive, Ms. Watkins brings to Lexicon Bank over 28 years of experience in Banking with 25 years spent in management and 18 years in a Regional Management level position. Stacy is a past recipient of Real Vegas Magazine Women Who Wow 2022, Las Vegas Woman Fearless Females, Las Vegas Business Press Women Who Mean Business, and Vegas Inc.'s Top 40 Under 40. In her free time, Ms. Watkins is an extremely active leader in the Southern Nevada community serving as a previous Chairman of the Board for Junior Achievement of Southern Nevada and currently serves as Co-Chair of the Capital Campaign, Family Gifts Division. Stacy also introduced Lexicon Bank's Community Spotlight Program, a monthly initiative to highlight local nonprofit organizations making a difference in the community.
Jacki Miller - CFO of Smart City Networks and Smart City Telecom
Jacki Miller is the Chief Financial Officer of both Smart City Networks and Smart City Telecom. Currently, she oversees Smart City's finance, accounting and human resources departments as well as legal & regulatory for Smart City's telecommunications business. She has provided impressive leadership for technology, tourism, and hospitality businesses throughout her career. Ms. Miller is a trustee and treasurer for Collaboration Center Foundation, which serves children and adults with disabilities in Southern Nevada. She serves as Advancement Chair for her son's Boy Scout Troop and was also treasurer and a past President of the Notre Dame Club of Las Vegas. Jacki is a licensed Certified Public Accountant in the State of Nevada and has served on the board of the Las Vegas Chapter of Financial Executives International (FEI) since 2013, as well as having served as the FEI Chapter President in 2015 and 2017
Tachelle Lawson - Founder of FIG Strategy & Consulting (FIG)
TaChelle Lawson is the Founder and Visionary of FIG Strategy & Consulting (FIG). Her experience in DEI, brand strategy, national event marketing, and business consulting positioned her to create a firm built on talent, not titles. TaChelle has consulted with non-profits that service underprivileged teens, victims of domestic violence and has volunteered in nursing homes that care for elders diagnosed with Alzheimer's and/or dementia. She has been featured in local magazines such as Vegas Inc., Review Journal, Luxury, and others in addition to national spotlights such as Black News Network, SWAAY and others for her commitment to the Las Vegas hospitality community and racial equality in the workplace. Due to her unshakable ability to inspire and tell it like it is, TaChelle has been sought out to facilitate thought leadership discussions with C-suite executives regarding the importance of cultural diversity (particularly with black women) in branding.
Ruth Furman - Founder of ImageWords Communications
Ruth Furman is the founder of ImageWords Communications, a Marketing and PR firm that has worked with clients across all industries, including retail, home improvement, design, construction, commercial real estate, health care, fitness and more. She describes herself as having the curiosity of a journalist, the enthusiasm of a publicist, and the strategic mind of a marketing consultant. She has been honored with several awards, and loves working with clients to enter them into different awards competitions. As a communications consultant and master connector, Ms. Furman's greatest joy in life is helping individuals and brands shine brighter by amplifying their stories and connecting them to opportunities, and to each other.
Wendi Schweigart - Founder of Project Marilyn & Director of Marketing at NDL Group Inc.
Wendi Schweigart is the Founder of Project Marilyn, Inc. and the Director of Marketing at her family construction company, NDL Group, Inc. Wendi founded Project Marilyn, named after her mother who passed from cancer in 2011, in April of 2019 after reading an article about Period Poverty in a magazine. Wendi joined NDL Group, Inc. as the Director of Marketing in 2017, and she brings with her 20 plus years in the Commercial Real Estate field. Wendi is passionate about issues involving women as well as raising awareness for cancer research and support. She aspires to be a steward of her community and be able to show the rest of the world how big of a heart her hometown of Las Vegas has. She serves on the Board of Commercial Real Estate Women (CREW) as well as on the Southern Nevada Leadership Board of the American Cancer Society.
Each month Lexicon Bank supports a local non profit. This month in partnership with NAWBO, they are supporting Spread the Word Nevada. (https://spreadthewordnevada.org/) All proceeds from ticket purchases will go towards this organization. Your support allows Spread the Word Nevada to serve at-risk children in Nevada and change lives, one book at a time.
Also bring books to the event!! Each book you bring will get you a raffle ticket for an amazing raffle item!
• New and gently used books are welcomed
• Pre-K - 5th grade reading levels preferred
• No encyclopedias, coloring books or books with a library's dewey decimal tags on them