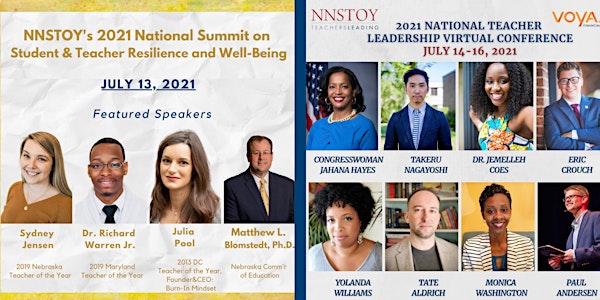 National Teacher Leadership Virtual Conference and Summit on Well-Being
Refund policy
Refunds up to 30 days before event
Two teacher leadership events, the first focusing on resiliency and well-being; the second, seizing this time to lead, innovate, & advocate.
About this event
Join our nation's teacher leadership community at one or two premier events. The National Summit on Student and Teacher Resiliency and Well-Being and the 2021 National Teacher Leadership Virtual Conference, hosted by the National Network of State Teachers of the Year (NNSTOY) and Voya Financial.
You must add a ticket for each event to be registered for the Summit and the Conference.
The Summit will:
Address the importance of student and teacher well-being and resilience within teaching and learning after the COVID-19 pandemic.
Focus on strategies for achieving equity for BIPOC and low-income students, especially during this critical 2021-2022 school year.
Highlight exemplars and share best practices for teaching and learning that fosters and ensure student and teacher well-being and resilience.
The Summit is:
3.5 hours long
Free to all attendees
The Summit focuses on:
Actionable strategies for student and teacher resiliency and well-being for the 2021-22 school year.
July 14-16 - The Conference (view website)
The Conference will:
Revitalize and inspire you in ways that rejuvenate your commitment to the teaching profession.
Deepen your repertoire of innovative and timely teaching strategies, and strengthen your capacity to build a strong, committed coalition of public education advocates in your school, community, state, and country.
Provide you with opportunities to engage in collaborative conversations with other attendees to unpack the learning.
The Conference is:
2.5 days long
$100 (which includes the video library of all sessions after the conference)
The Conference focuses on:
July 14: Day of Motivation : Provocative and motivating TED-Style talks from thought leaders calling you to action facilitated by NNSTOY members. Virtual reception with networking opportunities.
July 15: Serving the Whole Child: Equity and Trauma-Informed Practices / Innovations in Teaching and Learning.
July 16: Advocacy and Action: Building a Committed Coalition
Deep-dive into each problem of practice. Each strand includes a 30-minute keynote session, a 30-minute small-group discussion to debrief and connect with attendees, and then your choice of a 60-minute breakout session.
1 College Credit Available When You Attend Both Events through Southern Utah University.
When you register for both the summit and the conference, you will receive instructions on how to register yourself for the "course", make a payment online, and complete all requirements for 1 college credit. The cost is $21. Registration closes July 6.
FUNDING
Ask your administrators or district about using Title I, Title II, or Covid Relief Dollars for registration. If you have questions about invoicing or would like to purchase tickets for your school or district, please contact Lauren@nnstoy.org.