Description
Come out and tap with us in celebration of National Tap Dance Day! Help us bring this great American art form to the Plaza de Panama in Balboa Park.
National Tap Dance Day is every May the 25th and is a day designated by a bill in Congress to celebrate the art of tap dancing. The date was chosen out of honor and respect for the late Bill "Bojangles" Robinson whose birthday was also on the same day.
When: Saturday, May 25, 2019
Balboa Park gets very crowded on the weekends and this is a holiday weekend. Arrive early to avoid traffic/parking delays.The Recital Hall will be open by 9:00am for any of you wanting to arrive early. Links to Balboa Park parking and tram information. CLICK HERE
Rehearsal/Staging: 9:30am - 11:30am in Recital Hall, Balboa Park
Map: CLICK HERE
Folks should learn the moves as best they can PRIOR to the May 25, 2019 rehearsal in the Recital Hall at 9:30am. We will practice the choreography; piecing this section together with another performed by Civic Dance Companies and California Rhythm Project. We will clean steps, rehearse the sequence and then put all pieces of the flash mob together before heading up to the Plaza de Panama at 11:45am to perform (12pm).
Flash Mob Performance: 12:00pm
Where: Plaza de Panama – by the fountain circle in front of the Museum of Art
Map: CLICK HERE
Location will be the plaza by the fountain in front of the museum of art.
*Bring water and snacks.
*Room will be locked and belongings secured while we are out dancing.
*Children participating in this event must be supervised by a parent/guardian at all times.
*Wear tap or street shoes. If wearing tap shoes, you might want to bring your own small board to tap on as we will be performing on concrete.
Plaza De Panama Picture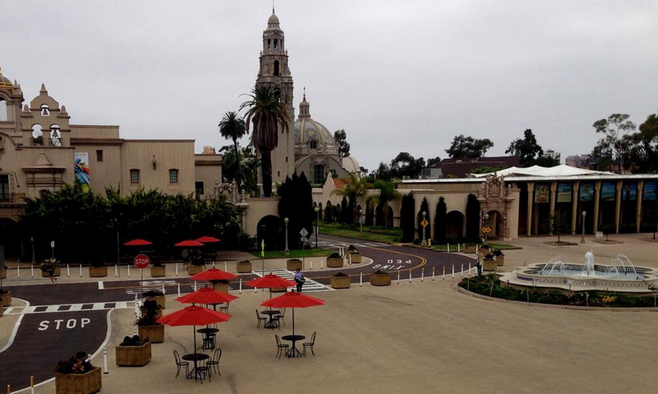 Learn the Choregraphy:

***Remember to Invite family and friends to come join in the fun too!***
Technical details - NO NEED TO PRINT A TICKET! Your name will be on our check-in list. While we would love to have an idea of how many are attending, if you decide last minute to join in the rehearsal and flashmob, no RSVP dancers and last minute dancers are welcome!
Here's footage from our:
2014 SDCDA National Tap Dance Day Flashmob KUSI: https://www.youtube.com/watch?v=onloQ77cCqs