Teaching and leading through a recession and a pandemic with a focus on equity.
About this event
*Login information: You will receive an email 1 hour before the event (11 am EST) with a link and instructions on how to access the Summit.
View the Summit Webpage with speaker and agenda details.
The spread of COVID-19 is creating challenges and stresses on our nation's education system and impacting students, teachers, education support professionals, families, and school administrators across the country. As traditional ideas of "school" are challenged and replaced with varying degrees of online instruction and distance learning, this moment further exacerbates great inequities in our nation's education system. Amidst these challenges, anti-racism protests have been sparked across the country, focusing our attention on the value we place on Black lives.
Yet, still, even in moments of crisis our educators manage to do what they do best: teach and care for students. Recovery requires a bold vision for the future grounded in equity from teacher leaders, and an unwavering commitment to protecting the emotional, mental, and physical wellbeing of all students.
Through the National Summit on Revolutionizing Education, NNSTOY will:
1. Address the challenges of teaching in the COVID-19 era; focusing on recovery, restart, and racial justice.
2. Share strategies for achieving equity for all students, by ensuring expert teachers are leading the national conversation with policymakers and the public about the future of education.
3. Celebrate the stories of teachers and students across the country;
4. Highlight examples and share best practices for teaching during a pandemic.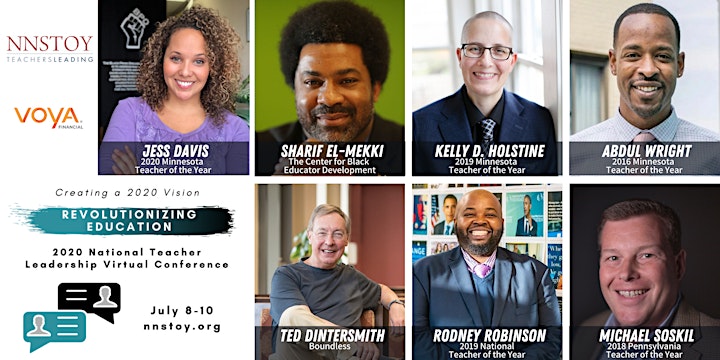 This conference will push you out of your comfort zone and connect you with changemakers to revolutionize education. Educators and school leaders from across the globe will unite to collaborate on three promising practices:
DIVERSITY IS THE NORM, EQUITY IS THE WAY
UNLEASHING LEADERSHIP
LEARNER CENTERED INSTRUCTIONAL PRACTICES