Event Information
Location
Peter Blum Family YMCA of Boca Raton
6631 Palmetto Circle South
Boca Raton, FL 33433
National Senior Day (HEALTH EXPO) @ YMCA Boca Raton. The first 250 guest will get FREE Subway Lunch Box. Free Raffle Prizes all day.
About this event
Wednesday, May 25, 2022 From (10:00am - 1:00pm) we will celebrating the 29th
Anniversary of the National Senior Health & Fitness Day and Expo at
The YMCA in Boca Raton. We will be offering Free Subway Box Lunches
For the first 250 Guests, Healthy activities, Health screenings,
Free Raffle Prizes - ($ 1,000 in Prizes) – Including a Flat Screen TV, Gift Cards,
1 Year YMCA membership , DJ & Entertainment and much more.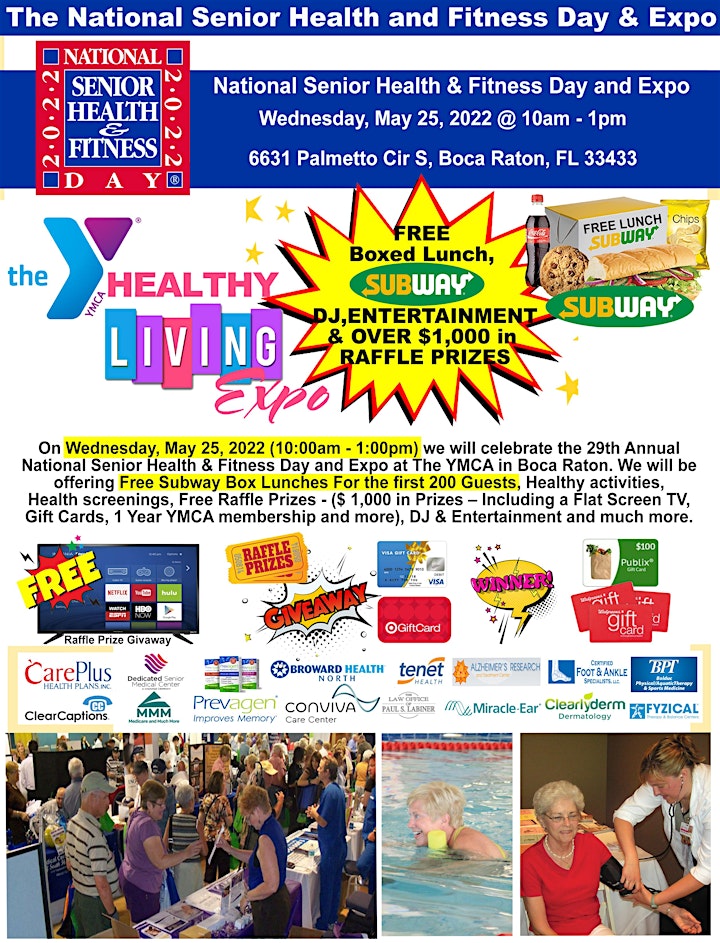 Date and time
Location
Peter Blum Family YMCA of Boca Raton
6631 Palmetto Circle South
Boca Raton, FL 33433