Youth will have instructional and hands-on driving time (14-18). Youth will become certified to operate tractor and machinery safely.
About this event
Youth ages 12-18 can take this class. Note: 12-13 years olds will not be allowed to do the driving part, but can become certified on their 14th birthdate after completion of the driving test. Youth will become certified to operate tractor and machinery safely by taking class and pass a written test (which we will review for) in addition to the driving test (which we will have a practice session offered for youth). This will be offered as a HYBRID class- you can do in-person for classes (minimum of 5) or virtual sessions through Zoom. Two classes are In-person only due to review of materials and practice driving sessions. Youth must be enrolled in 4-H Online to participate.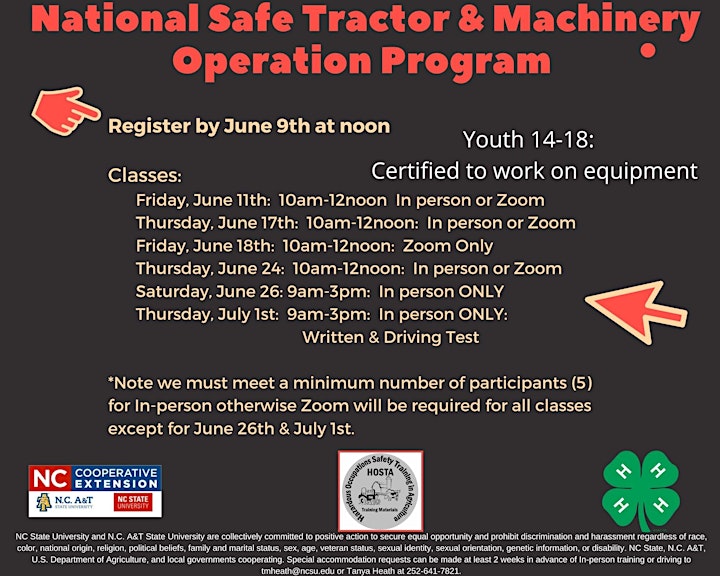 Organizer of National Safe Tractor & Machinery Operation Program
---
NC State University and N.C. A&T State University work in tandem, along with federal, state and local governments, to form a strategic partnership called N.C. Cooperative Extension, which staffs local offices in all 100 counties and with the Eastern Band of Cherokee Indians.
Read our Privacy Statement
N.C. Cooperative Extension prohibits discrimination and harassment on the basis of race, color, national origin, age, sex (including pregnancy), disability, religion, sexual orientation, gender identity, and veteran status.
Individuals with disabilities are invited to request reasonable accommodations to participate in Extension sponsored programs and events. Please contact the county Extension office offering the program at least 14 days prior to the event to make arrangements.