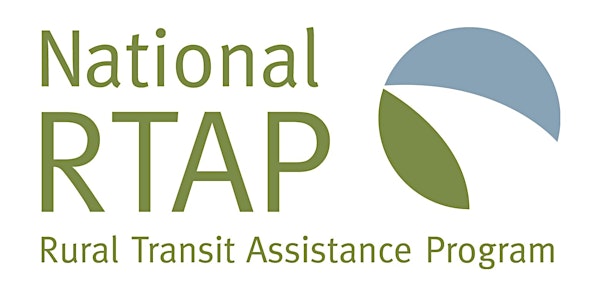 National RTAP Rural and Tribal Transit Training - Capital Projects
Please join the National Rural Transit Assistance Program in Anchorage (RTAP) for a one-day Transit Training focused on Capital Projects.
Date and time
Friday, March 31 · 7:30am - 5pm AKDT
Location
Embassy Suites 600 E Benson Blvd Anchorage, AK 99503
Refund Policy
Contact the organizer to request a refund.
Eventbrite's fee is nonrefundable.
About this event
TRANSIT TRAINING - CAPITAL PROJECTS
In collaboration with the Alaska Tribal Transportation Work Group, National RTAP is providing a one-day Transit Training focused on Capital Projects the day following the 2023 19th Annual Alaska Tribal Transportation Symposium (March 28-30).
The training will include:
Capital Development, Planning, and Construction Project Management
Federal Transit Administration Updates and Grant Management
Peer Roundtables
WHO SHOULD ATTEND:
Rural and Tribal Transportation/Transit Directors, Managers and Staff, Tribal Administrators, State Transportation and Transit Officials, Federal Transportation and Transit Officials and Tribal/State/Federal officials involved with Rural and Tribal Transit.
MEALS TO BE PROVIDED:
The Embassy Suites Hotel has free made-to-order breakfast for guests.
All-day beverage station, morning snacks. Buffet lunch, and afternoon snacks will be provided during the training event.
Dinner on your own.
Raffles will be included and winners must present too win
HOTEL ROOM BLOCK REGISTRATION:
Competitive room rates of $204/night, with complimentary parking for attendees!
When registering at the Anchorage Embassy Suites, mention: ATTWG Symposium
Click Link: https://www.hilton.com/en/attend-my-event/anceses-att-053a589b-24db-466b-8ce1-af75402d23cc/
By Phone: (907) 332-7000
QUESTIONS?
Contact Neil Rodriguez, Tribal Transit Program Manager, at nrodriguez@nationalrtap.org.
ABOUT NATIONAL RTAP
Our overarching mission is to address the training and technical assistance needs of rural, and tribal transit operators across the nation, and to support the state RTAP programs. Our comprehensive set of free technical assistance programs and resources includes training materials, webinars, newsletters and technical briefs, peer resources, research, and innovative technology initiatives.
https://www.nationalrtap.org/About/National-RTAP-FAQ
ABOUT THE PRESENTER/TRAINER
Ms. Michia Casebier is President of M.G. Tech-Writing, LLC, a multimodal transportation planning, grant and technical writing sole proprietorship, which has funded nearly $20 million dollars in grants, including, but not limited to, an FY14 Federal Transit Authority Tribal Transit Program capital grant for Craig Tribal Association's transit program startup. Michia has written Tribal Transportation Safety Plans for six Alaska Native Villages, two New Mexico pueblos, and is working to complete her ninth Safety Plan for a Nevada tribe. A National Rural Transit Assistance Program (RTAP) training facilitator since 2019, Ms. Casebier also has written numerous Safe Routes to School Route/Travel Plans, pedestrian and bicycle master plans, and Active School Neighborhood Reports over her planning career. As a subconsultant to the KFH Group, Inc., Michia wrote the "Engaging with Tribes" webpages for the RTAP's Transit Manager's Toolkit.
Agenda
7:00 AM - 8:00 AM
Breakfast on Your Own
8:00 AM - 9:00 AM
Capital Project Development/Construction Project Management - Module 1
---
Project Initiation & Scoping Based heavily on the FTA's Project and Construction Management Guidelines and Construction Project Management Handbook as well as the experience of construction project m...

9:00 AM - 9:30 AM
Morning Break
9:30 AM - 10:30 AM
CD/CPM Training Module 2 - Project Funding
---
Module 2: Capital Project Funding As the blessing continues of millions of federal infrastructure dollars seemingly raining down from the sky, tribes and Tribal Transit Program managers and personnel...

10:30 AM - 12:00 PM
CD/CPM Training Module 3 - Capital Improvement Program Planning
---
Module 3: Capital Improvement Program (CIP) Planning This module gives an introduction to the Capital Improvement Program planning process; including, but not limited to, defining what a Capital Impr...

12:00 AM - 1:00 PM
Lunch
---
Presentation by...
1:00 PM - 2:30 PM
CD/CPM Training Module 4 - Construction Project Management
---
Module 4: Construction Project Management Combining guidance from both the FTA Construction Project Management Handbook and tribal subject matter experts with decades of project management experience...

2:30 PM - 3:00 PM
Afternoon Break
3:00 PM - 4:30 PM
CD/CPM Training - Module 5 - Hands-On Small Group Activities
---
Module 5: Hands-on Capital Project Small Group Activities After learning some solicitation and scope-of-work development basics, attendees will break into small groups to read sample transit construc...

4:30 PM - 5:00 PM
CD/CPM Training - Roundtable Discussion
---
Capital Project Focus Group Discussion Join us to hear and learn from a panel of tribal transit personnel about the "good, bad, and the ugly" of their capital project development experiences. Panel m...

About the organizer
National RTAP is a program of the Federal Transit Administration administered by the Neponset Valley TMA.