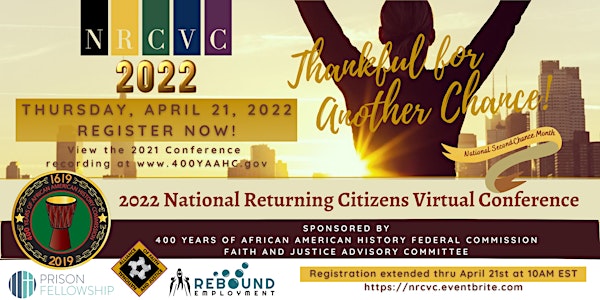 National Returning Citizens Virtual Conference - NRCVC 2022
NRCVC 2022 - Thursday, April 21, 2022
About this event
It is with great pleasure that we invite you to attend the second annual National Returning Citizens Virtual Conference (NRCVC 2022) in recognition of National Second Chance Awareness Month. Sponsored by the 400 Years of African American History Federal Commission, and supported by a host of reentry partners across the country, NRCVC 2022 is a day of celebration, information sharing, and plenary sessions designed to inform, build coalition, and create awareness of the issues related to reentry that disproportionately impacts the health and safety of African American communities and communities of color, an urgent priority for our entire nation.
Plenary Session descriptions are posted here.
View the conference program and recordings from NRCVC 2021 here.