Sales Have Ended
Registrations are closed
Thank you for joining us.
Sales Have Ended
Registrations are closed
Thank you for joining us.
Description
Being the
Difference in
Difficult and Shifting Times
Join National PLACE - the National Center for Parent Leadership, Advocacy, & Community Empowerment - to learn strategies to protect and enhance the voice of families and family organizations in critical policy decisions! National PLACE is pleased to offer a 3-part webinar series for family- led organizations addressing systemic issues in the areas of – education, health, mental health, human services, family support, and disability issues:
March 23: Is It Lobbying? Is It Not?: This free webinar will provide you with the information you need to understand what is and isn't lobbying, what you can do as a non-profit family organization to educate legislators and policymakers, and how you can lobby!
This is a FREE webinar intended for Family Organizations!
March 30: Effective Grassroots Advocacy: This webinar will provide you with a "how-to" crash course in influencing policymakers and engaging your constituency in your efforts.
FREE to National PLACE member.; Non-members: $50..
April 13: The Power of Stories: This webinar will provide tips and tools for gathering and using stories to change the hearts and minds of policymakers.
FREE to National PLACE members. Non-members: $50
This webinar will be held from 3:00-4:00 pm ET and will feature Diana Autin, Director of National PLACE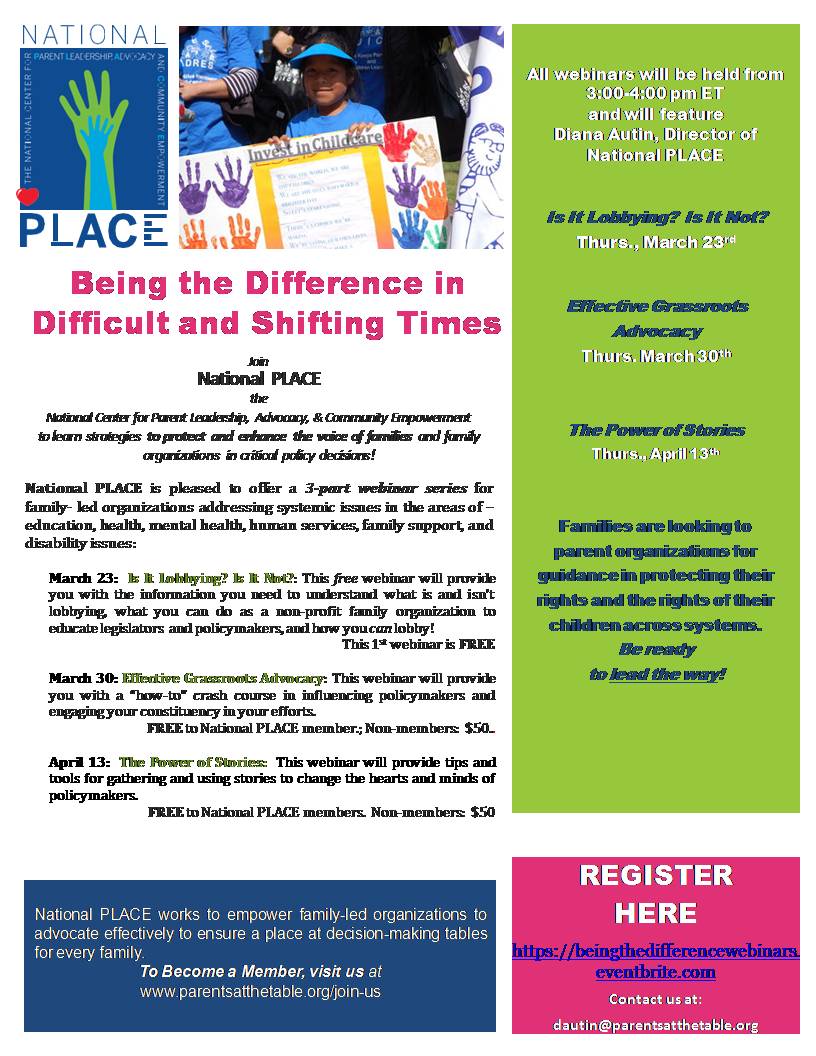 Families are looking to parent organizations for guidance in protecting their rights and the rights of their children across systems. Be ready to lead the way!