Location
Grand Cafe
3804 Grand Ave
Minneapolis, MN 55409
Description
National Pie Day at the Grand Café!
Featuring the creations of local
'style maker and pie baker' Christine Hoffman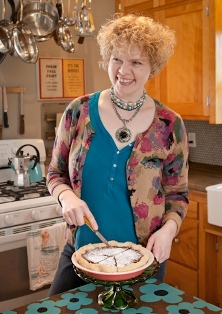 When
Wednesday, Jan 23, 2013 - One night only; two seatings: 6 and 8 PM
Where
The Grand Café, 3804 Grand Avenue, Minneapolis, MN 55409
Heads up pie lovers! This year local "style maker and pie baker" Christine Hoffman and Grand Café chefs Jim McIntosh and Wayne Schroeder will join forces to celebrate National Pie Day.
According to the American Pie Council website (www.piecouncil.org) pie has been around since the ancient Egyptians. These pre-historic pies were predominantly meat pies; however the Grand Café plans to eschew savory pies and focus on the sweet and crusty creations so many of us love.
For the National Pie Day celebration the Café will offer a prix fixe menu featuring a pie flight created and baked especially for the event by Ms. Hoffman. The pie flight will include: Chocolate Chess, Honey Bourbon Apple w/ Rosemary Whip, Salty Honey, and other delectable varieties to be announced.
Preceding the pie, and offering the perfect counterpoint to their flaky goodness, Chefs McIntosh and Schroeder will prepare a Duroc Pork Duo: seared pork tenderloin and braised pork belly served with escarole sautéed with garlic and guanciale, roasted squash puree and kumquat marmalade. A salad of fresh greens, radish and capers topped with a creamy fennel vinaigrette rounds out the meal.
The vegetarian entrée for the evening is a housemade mushroom pastie with potato puree, caraway pickled red cabbage and dill crème fraiche.
The evening begins with a surprise amuse-bouche co-created by the baker and the chefs.
National Pie Day at the Grand Café
$25 per person including pie flight; beverages not included. Advance purchase highly recommended.
Photo by Richard Fleischman