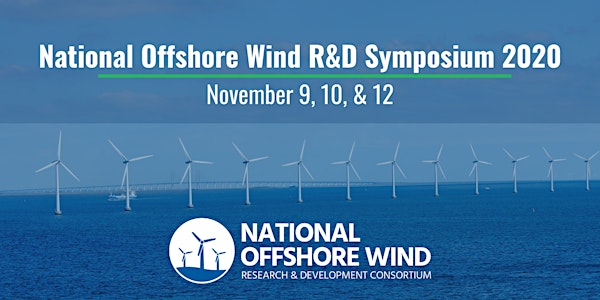 National Offshore Wind R&D Symposium 2020
The Consortium will host a virtual tech symposium on Nov. 9, 10, & 12 highlighting awarded projects and the status of offshore wind R&D.
About this event
The National Offshore Wind R&D Symposium 2020 will be an opportunity to connect the U.S. offshore wind community, bringing together researchers, developers, government entities, and Consortium members to learn about the state of research and contribute to the conversation about what comes next.
The Symposium will feature presentations from researchers working on Consortium-funded projects, an industry panel on the state of offshore wind R&D and gaps for future research, and keynote speeches from leaders in the field. Find a full list of speakers and presentations on the Symposium website.
---
Symposium Co-Chairs
Walt Musial, Principal Engineer and Offshore Wind Lead at NREL, and Carrie Cullen Hitt, Executive Director at the Consortium, will co-chair the event.
---
Daily Highlights
Monday, November 9:
Keynote Address: Daniel R Simmons, Assistant Secretary for the Office of Energy Efficiency and Renewable Energy (EERE), Department of Energy (DOE)
Panel Discussion: Offshore Wind R&D Progress and Gaps for Future Research
Session 1: Power Systems & Controls
Consortium status update
Tuesday, November 10:
Session 2: U.S. Data & Design Alternatives
Session 3: Digitization & Advanced Analytics
Keynote Address: Danielle Merfeld, Chief Technology Officer, GE Renewable Energy
Wednesday, November 11:
Veterans Day Observed
Thursday, November 12:
Keynote Address: Till Schwarzlose, SVP Offshore Wind Development Americas & APAC, RWE Renewables
Session 4: Floating Offshore Wind Turbines
Closing remarks
Each session will include 4-7 project presentations followed by a Q&A panel discussion with the presenters. A summary of our awarded projects as of June 2020 can be found here.
Please note: The Symposium agenda is still being finalized and is subject to change.
---
Logistics
The Symposium will broadcast on our official Symposium website.