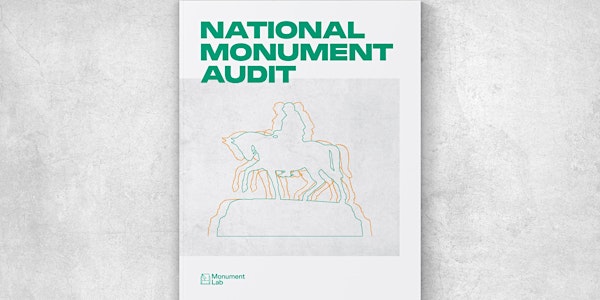 National Monument Audit – Data Webinar
Monument Lab explores methods from the National Monument Audit.
Refund Policy
Contact the organizer to request a refund.
Eventbrite's fee is nonrefundable.
About this event
Join Monument Lab for a deep dive into monument data. We will explore methods from the audit and other monument tracking projects, as well as themes in monument record keeping and the legacies and limitations of cultural heritage data.
This webinar will be led by National Monument Audit co-directors Sue Mobley and Laurie Allen, and features project data artist Brian Foo, and Sara Snyder. Discussion with Q&A to follow. Registration required.
This event will be a live and recorded Zoom Webinar. Closed captioning will be made available during the event.
The suggested donation for this event starts at $1 with an option to contribute any additional amount to support Monument Lab's mission. Support Monument Lab at https://monumentlab.wedid.it/.
Confirmed Panelists:
​​Sue Mobley, Director of Research, Monument Lab & Co-Director, National Monument Audit
Laurie Allen, Senior Research Advisor, Monument Lab & Co-Director, National Monument Audit
Brian Foo, Lead Data Artist, National Monument Audit and Data Visualization Artist, American Museum of Natural History
Sara Snyder, Head of External Affairs and Digital Strategies, Smithsonian American Art Museum and Renwick Gallery
The National Monument Audit , produced by Monument Lab in partnership with The Andrew W. Mellon Foundation, assesses the current monument landscape across the United States. Monument Lab's research team spent a year scouring millions of records of historic properties created and maintained by federal, state, local, tribal, institutional, and publicly assembled sources. For our deepest investigations, we focused on a study set of approximately 50,000 conventional monuments representing data collected from every US state and territory. The National Monument Audit allows us to better understand the dynamics and trends that have shaped our monument landscape, to pose questions about common knowledge about monuments, and to debunk falsehoods and misperceptions within public memory. The National Monument Audit is meant to inform Mellon's landmark Monuments Project, a $250 million investment designed to "transform the way our country's histories are told in public spaces and ensure that future generations inherit a commemorative landscape that venerates and reflects the vast, rich complexity of the American story."
Monument Lab is a public art and history studio based in Philadelphia. Monument Lab works with artists, students, educators, activists, municipal agencies, and cultural institutions on participatory approaches to public engagement and collective memory. Founded by Paul Farber and Ken Lum in 2012, Monument Lab cultivates and facilitates critical conversations around the past, present, and future of monuments.
As a studio and curatorial team, we collaborate to make generational change in the ways art and history live in public. Our approaches include producing citywide art exhibitions, site-specific commissions, and participatory research initiatives. We aim to inform the processes of public art, as well as the permanent collections of cities, museums, libraries, and open data repositories. Through exhibitions, research programs, editorial platforms, and fellowships, we have connected with hundreds of thousands of people in person and millions online. Monument Lab critically engages our inherited symbols in order to unearth the next generation of monuments that elevate stories of resistance and hope.