Join MYRetreat for a Self-Care hour, with phenomenal guests.
About this event
Celebrate National Mindfulness Day with MYRetreat & Special Guests: Clara Angelina Diaz, Tabitha Liburd, Leslie Forde, and Trista Sanford. Leave with an introduction to novel strategies which validate healthy boundaries, help promote clarity, and foster professional growth.
National Mindfulness Day: Actionable Self-Care tools for you and your team.
This webinar will focus on how to be intentional about self-care, because none of us organically have time for self-care we need to designate time. Panelists will share techniques of Intention Setting, Guided Imagery, Chocolate Mindfulness, and Gratitude practices. This webinar will provide teaching moments for wellness that are usable in the workplace and beyond.
Presenters:
Melissa Mueller-Douglas, LMSW is the Founder and CEO of MYRetreat, at the intersection of tech and wellness. She is on a mission to recharge 1 million professionals to revolutionize self-care. Melissa enables professionals to intentionally balance work and life responsibilities through Chocolate Mindfulness sessions. She is elevating wellness as a priority in the workplace through the Chocolate Mindfulness App. Melissa obtained her Masters of Social Work from theUniversity of Wisconsin-Madison, and facilitates wellness sessions for the University of Rochester Medical Center.
Leslie has used research to inform growth and innovation strategy for over 20 years. She's held brand management, product marketing and business development roles in consumer technology and products, market research, media and publishing companies. Most recently, she held leadership positions at Houghton Mifflin Harcourt, Care.com and CSpace (an Omnicom market research agency.) She began her brand management career at Bausch & Lomb and Xerox. Her writing about parenting, motherhood and equity has appeared in The Washington Post, Slate, Parents Magazine and her website, Mom's Hierarchy of Needs among other publications. She's been quoted in CNN, Fast Company, US News & World Report, HerMoney, Fairy God Boss, Livingly and several other outlets.
Clara Angelina Díaz supports female leaders and entrepreneurs to feel confident and peaceful while making a difference in the world. She is a certified master coach, trainer and author of the book and self coaching program Create Your Best Year, One day at a time. She offers online business mentoring, life coaching, coaching certification, women's leadership circles, and retreats to heart centered ambitious woman and organizations. Clara Angelina Diaz, is an official member of Forbes Coaches Council, an invitation-only community for leading business and career coaches.
Tabitha Liburd is a Believer, Wife, Daughter, Sister, Aunt, Godmother and Sister-Friend. She's also an experienced attorney and Conflict Management Strategist. With over 26 years of experience as an attorney and 16 years as a mediator, she established Marshall Duke Consulting to help "resolvers" improve their conflict resolution, mediation preparation, and facilitation skills. In essence, she helps professional women of faith—just like you—who are overwhelmed by workplace conflict lead thriving teams with confidence.
Trista Sanford is a Nashville, TN native and the "Woman behind the Whisk." She fell in love with food at a young age, often watching Food Network after school and wanting to help out in the kitchen however she could. Although she is a self-proclaimed foodie, she loves the alchemy, culture, nurturing and creativity of food. You can learn so much about people by knowing the who, what, when, where, why and how behind what they eat. Bespoke Bakery & Dessert Bar offers classic flavors as well as some unique combinations and all with a signature style. The mission of Bespoke is to provide customers with more than just desserts. We strive to provide an experience through exceptional service, amazing products and community. The Bespoke Approach is to enrich each customer's life through flavor and intention.
Ticket Information:
Attendance by videoconference is $15 for Early Bird Tickets.
Attendance by videoconference is $25 for General Admission, once Early Bird Tickets are sold out.
Refund Policy:
There will be no refunds.
Webinar Access:
The webinar can be accessed using Zoom video webinar. Participants will receive an email the day of their registration and get link to access the webinar. This Webinar will be recorded and available following the event.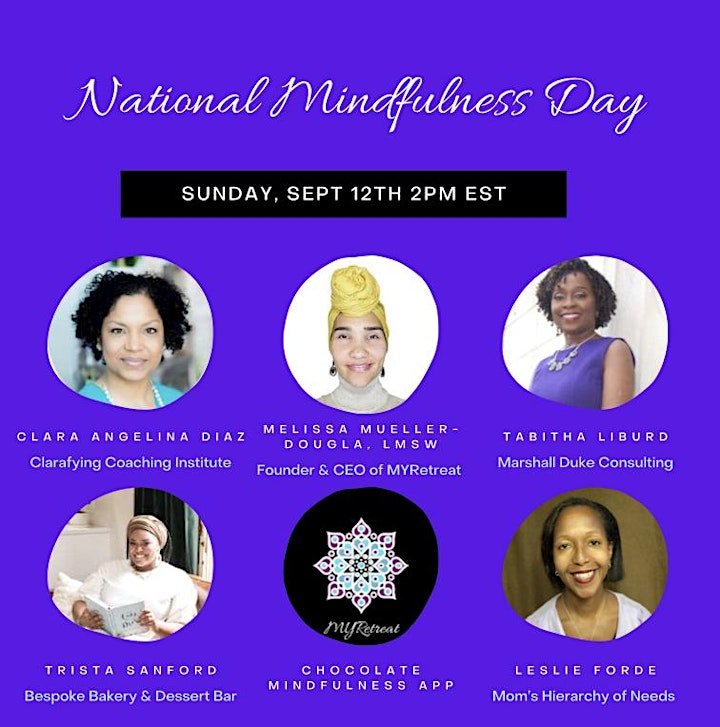 Date and time
Location
Refund policy
Organizer of National Mindfulness Day
Melissa Mueller-Douglas is a Licensed Master's Social Worker.  Melissa is the Founder and Facilitator of MYRetreat, offering 60 minute wellness sessions for organizations and corporations. Melissa strives for a lifestyle balanced in good nutrition, meaningful connections, and innovation. Melissa has travelled within eight countries, and feels most grounded while out on the water.  She celebrates a proud lineage with generations of beautifully brilliant women.