Location
University of the District of Columbia
4200 Connecticut Avenue Northwest
Washington, DC 20008
Sales Have Ended
Ticket sales have ended
Thank you we look forward to seeing you.
Description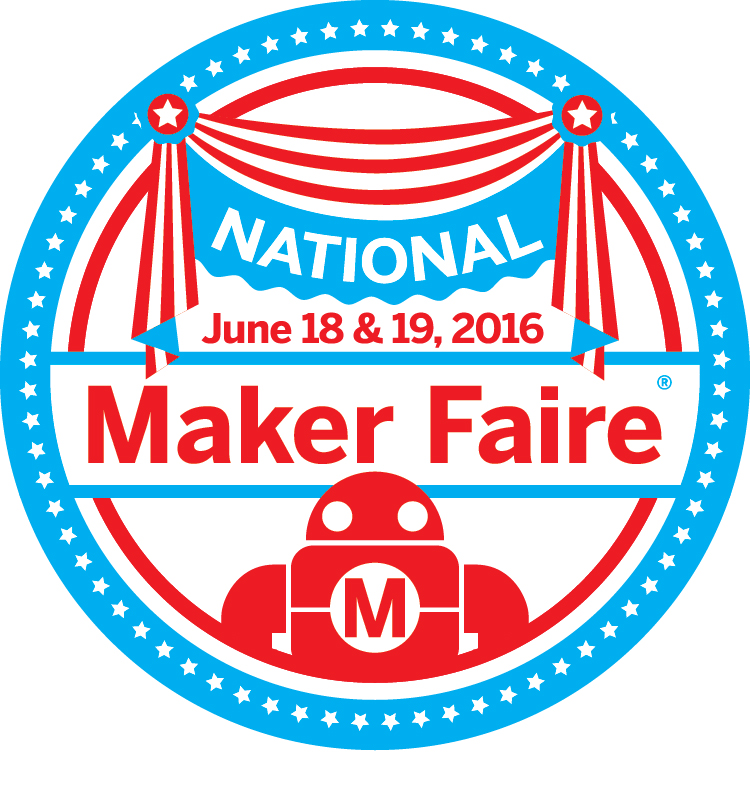 Come celebrate the second annual National Maker Faire 2016, showcasing creative and resourceful people in the areas of science and technology, engineering, food, and arts and crafts.
A collaboration between Maker Media, NationOfMakers.org, and the University of the District of Columbia, the National Maker Faire brings together makers, inventors, and tinkerers of all ages.
Below are details about National Maker Faire 2016 to help you during the ticketing process. For more information about the Faire experience, visit the National Maker Faire website or email tickets@makerfaire.com for further assistance.
Dates / Hours / Location
Saturday, June 18, 2016 — 11 am - 6 pm

Sunday, June 19, 2016 —11 am - 6 pm

National Maker Faire will take place at the University of the District of Columbia, 4200 Connecticut Avenue Northwest, Washington DC, 2008.
FAQ
There's no charge for this event, so why do we need to sign up for a ticket?
It's true that National Maker Faire is free, but signing up for a ticket will help us to gauge how many people will be coming, and will help us plan our exhibits and interactive displays so that we will have enough materials for everyone to take part and enjoy. Everyone will need to have a ticket to enter, so avoid long lines and sign up for a ticket today!


Can I get an entry ticket at National Maker Faire?
Yes, tickets will be available at the entrance to National Maker Faire. However, we encourage you to sign up for a ticket today in order to avoid long lines at the entrance.


How can I become a Maker and show my project at National Maker Faire?
Visit our Call for Makers page to learn more about exhibiting at National Maker Faire 2016.
How do I get media credentials for National Maker Faire?
To request media credentials, please complete this application: http://goo.gl/forms/zk2eRdq7fVHlxgqo2.
Where can I park? Is public transportation available?
Please visit our web site for more information on transportation to and from National Maker Faire.
Can I volunteer at National Maker Faire?
Yes! Volunteers are greatly appreciated. Please read about our Traveler Program here.

Can I leave National Maker Faire and come back in during show hours?
Yes, attendees can come in and out of National Maker Faire.
Will there be food at National Maker Faire?
Yes. You will find a wide variety of for-purchase food options at National Maker Faire. In addition, there are a variety of for-purchase food options in the neighborhood surrounding the university campus.
Will recycling be available?
Yes. Recycling is a priority for our entire community. Recycling bins will be available.
What if it rains?
The show will go on! Bring rain gear to keep you dry when walking outdoors. Fortunately, we will have many indoor exhibits to keep the everyone dry.

Additional Information:
Pets are not allowed

, for their safety. Service animals are welcome.

Strollers, backpacks and a bottle of water are allowed.
Wheelchairs

will not be available at the event site, but every effort will be made to accommodate wheelchairs that are brought to National Maker Faire.

ADA accessible

water fountains, eating areas and restrooms are available.
Activity Wristbands

are required

and are available at the Faire.

Weekend Passes

are valid on both Saturday AND Sunday.

Single Day Passes

are valid on Saturday OR Sunday.

Special Make: magazine Subscription + Ticket Offer: This special offer is available only to U.S. addresses (all 50 states).

Current subscribers will have a year added to their term.

Subscriptions will start with the current issue after National Maker Faire is over and may take 4-6 weeks to receive the first issue.
The name of the ticket holder at the gate DOES NOT need to match the name of the person who registered for the ticket. If you would like to have the name on the ticket changed or removed, please contact

tickets@makerfaire.com

. Our team can assist with updating the tickets on your behalf.
Tickets via Eventbrite will receive an email confirmation with a link to print your eTickets from your computer. You may bring the printout of your tickets (

Adobe PDF reader

required to print) OR you may also add them to your mobile device via the Eventbrite app, PassBook or any PDF Reader.
If you do not receive your email confirmation, check your spam or gray mail folder for it. If you are unable to find it, email

tickets@makerfaire.com

to have it resent. Please include the name and email address used to order the tickets, and your order number if you have it.
Ticket Use Release of Liability
This contract limits the liability of Maker Media, Inc. ("MM") and its affiliates. You acknowledge that Maker Faire exhibits and activities are inherently hazardous, and that risks to you as a Maker Faire attendee include physical injury and property damage. You are solely responsible for supervising/controlling the behavior of the children in your party for your for their safety. By purchasing this ticket and/or participating in Maker Faire exhibits and/or activities, you assume all risks to you and/or your children of such, including damage, loss, harm, injury and death to your person(s) and all risks resulting from negligent instruction or supervision, and you release MM from all corresponding liability to you and your successors. Your rights are waived to any images and/or recordings you may appear in while at Maker Faire and any/all related promotional or documentary materials.

Maker Media privacy policy - http://makermedia.com/privacy