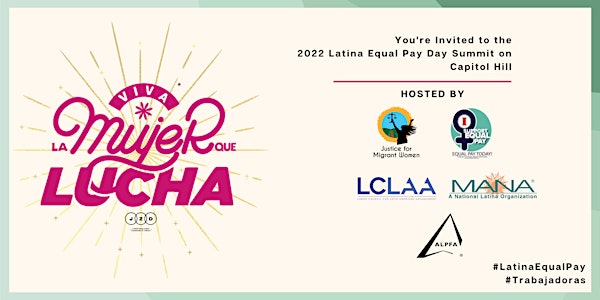 National Latina Equal Pay Day of Action
Join Justice for Migrant Women, Equal Pay Today!, partners and elected and appointed officials this Latina Equal Pay Day, December 8.
When and where
Location
Hart Senate Office Building 120 Constitution Avenue Northeast SH 902 Washington, DC 20002
About this event
On December 8, join Justice for Migrant Women, Equal Pay Today! Coalition, Labor Council for Latin American Advancement, MANA, and Association of Latino Professionals For America in partnership with: Poderistas, The Latinx House, Women's Institute for Secure Retirement, Esperanza United, National Partnership for Women and Families, Hispanic Federation, LatinoJustice PRLDEF, GreenLatinos, Advancing Latinas into Leadership, United States Hispanic Leadership Institute, National Latinx Psychological Association, Congressional Hispanic Caucus Institute and more.
We celebrate Latinas who are working hard and making contributions across every industry and sector. We commit to continuing to push for fair and equitable pay, treatment and benefits in the workplace.
Location: The summit will take place in Dirksen Room 106 from 9:00am-1:30pm. Please note that you should enter via the 1st Street and C Street entrance. Members of the Senate HELP committee will be there to check you in.
An evening reception will follow from 5:00 pm-7:00 pm in the Hart Senate Building, Room SH-902.
Speakers: We will be joined by incredible leaders including:
Charlotte Burrows, Chair, EEOC
Isabella Casillas Guzman, Administrator of the U.S. Small Business Administration
Congresswoman Sylvia Garcia
Melody Gonzales, Executive Director, The White House Initiative on Advancing Educational Equity, Excellence and Economic Opportunity for Hispanics
Latifa Lyles, White House Gender Policy Council
Maria Cardona, Principle, Dewey Square Group
Yanira Merino, LCLAA's National President
Antonia Peña, National Domestic Workers Alliance
Diana Caba, Hispanic Federation
Xochitl Oseguera, MomsRising
Mónica Ramírez, Justice for Migrant Women
Paulina Chavez, Actor
Vannessa Vasquez, Actor
and more!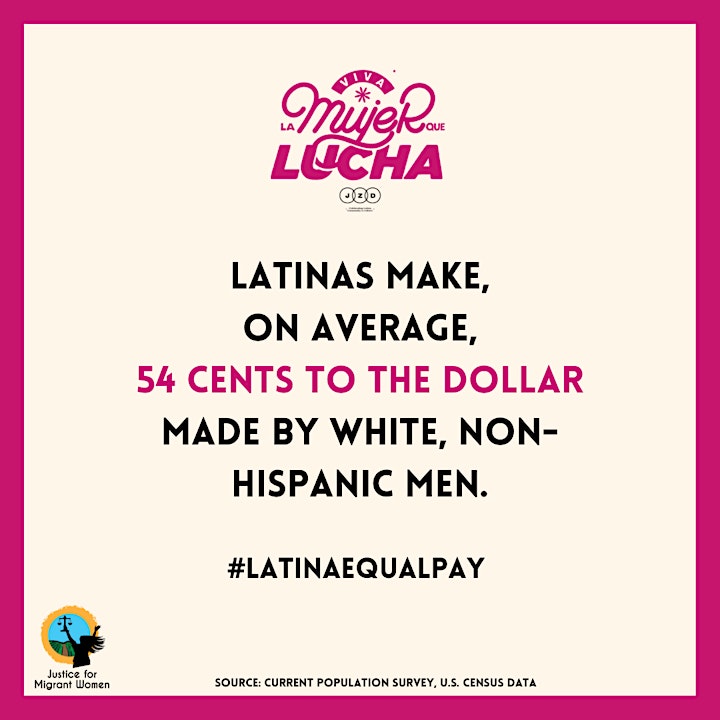 About Latina Equal Pay Day:
Latinas are one of the fastest growing, most powerful groups in the United States. We are opening new businesses at the highest rate in the country and have rising rates of college enrollment and degree attainment. We excel in every sector and industry in our country. Despite all of this, we are still not reaching our full economic potential. Economic security is a crucial part of ensuring that Latinas can live and work with dignity and become less vulnerable to different forms of violence, including sexual harassment.
This year we will not observe Latina Equal Pay Day until December 8th. Latinas were paid 54 cents to the dollar paid to white men in 2021. As you may know, the wage gap was traditionally calculated using data from full-time, year round workers only. Justice for Migrant Women and our partners at National Asian Pacific American Women's Forum worked diligently to ensure that this year, for the first time, data calculations include part time and part year workers such as migrant and seasonal workers. As a result 33 million women across demographic groups are now a part of the pay gap calculations. This shift is critical because more inclusive data allows us to provide a more accurate representation of the state of Latina workers and thus make the changes that we need.
We will not achieve pay equity until the lowest paid worker in the country can live and work with dignity. Latinas are just as qualified, just as skilled, just as educated and just as worthy as all other workers to be paid what they have earned and for what they contribute to our labor economy every single day.
Visit justice4women.org for more information.