National Jazz Museum in Harlem presents Catskill Jazz Factory's THE SPIRIT...
Description
Join National Jazz Museum in association with Harlem School of the Arts for Catskill Jazz Factory's THE SPIRIT OF HARLEM, a celebratory homage to the most iconic moments of Harlem's musical past, and the jazz renaissance currently taking place in New York City.

Led by Dominick Farinacci, trumpet

Patrick Bartley Jr. - saxophone
Russell Hall - bass
Shenel Johns - vocals
Michela Marino Lerman - tap
Mathis Picard - piano
Kyle Poole - drums
Christian Tamburr - percussion
Narration by Orlando Watson

Composition & Arrangement by Steven Feifke
Featuring URBAN PLAYGROUND CHAMBER ORCHESTRA

The Spirit of Harlem band brings together some of the most outstanding musical voices of today, a group originally commissioned by the Catskill Jazz Factory for residency and official world premiere at the upcoming New Generation Festival in Florence, Italy. Joining the tour for this Harlem performance is the Urban Playground Chamber Orchestra, a distinctly 21st century with a mission to broadcast that which has not been heard, and to give opportunity to new and dormant voices.

Following its New York City stop in Harlem, The Spirit of Harlem will have its official world première in Florence, Italy at The New Generation Festival on Friday, August 30. The festival première culminates in an original commissioned orchestral arrangement, composed by Steven Feifke and performed by The New Generation Festival Orchestra under the baton of Maximilian Fane.


Monday, August 26, 2019
7:00pm
HSA Theater
Free Admission
$10 Suggested Donation

Limited Seating Available.

* Schedule subject to change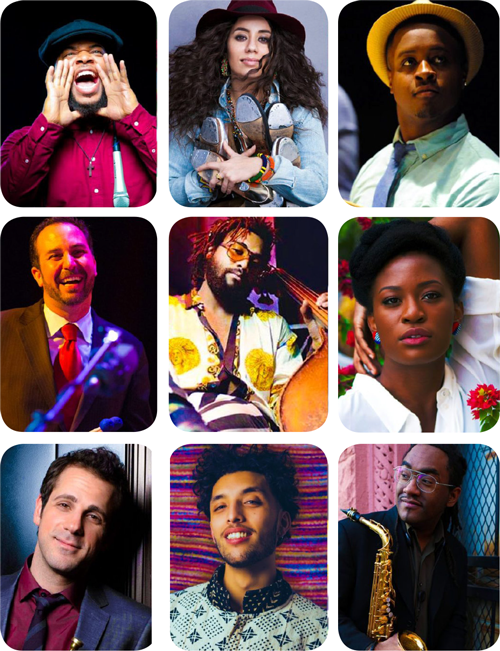 ABOUT NATIONAL JAZZ MUSEUM IN HARLEM
The National Jazz Museum in Harlem, a Smithsonian Affiliate, is a thriving center for jazz that stimulates hearts and minds, and reaches out to diverse audiences to enjoy this quintessential American music. Founded in 1997, The Museum is committed to keeping jazz present and exciting in the lives of a broad range of audiences: young and old, novice and scholar, artist and patron, enthusiast and curious listener. Each year, the Museum produces and presents more than 80 free programs in New York City, engaging hundreds of professional jazz artists and reaching nearly 20,000 people from around the world. The Museum is a hub for live performances, exhibitions and educational programs. It is also home to our widely acclaimed Savory Collection, which includes more than 100 hours of live recordings of jazz legends made from New York City radio broadcasts aired between 1935 and 1941.


ABOUT CATSKILL JAZZ FACTORY
Based in the heart of the Catskills, the Catskill Jazz Factory (CJF) is a "regional arts think-tank" and "formidable jazz incubator" (HV One) founded in 2012 with an aim to support today's best young jazz artists. Catskill Jazz Factory offers year-round school workshops, concerts, mountaintop residencies, lectures, and world-class performances in diverse spaces to a variety of regional audiences across the Hudson Valley, NYC and beyond by partnering with educational facilities, arts organizations, and a variety of businesses and non-profit organizations. Venues range from mountaintop coffee & donut shops and local high schools to recent collaborations with the New York Botanical Garden, the Fisher Center at Bard College, and the Uncharted Series at Greenwich House. http://www.catskilljazzfactory.org