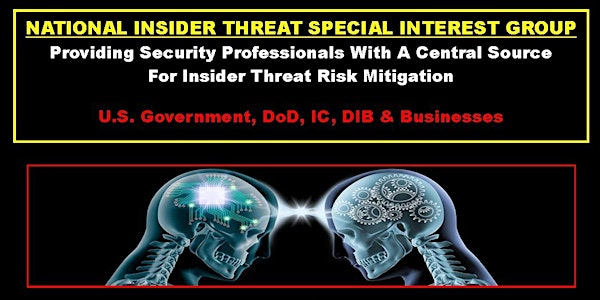 National Insider Threat Special Interest Group Meeting / February 12, 2019
Location
Johns Hopkins University Applied Physics Laboratory
11100 Johns Hopkins Road
Parsons Auditorium / Building 1 / Room S124
Laurel, Maryland 20723-6099
Description
NITSIG MEETING ANNOUNCEMENT FOR
FEBRUARY 12, 2019
The NITSIG would like to invite NITSIG members and other security professionals to the next NITSIG meeting.
Topic Of Discussion
Insider Threat Detection And Mitigation Using External Data Sources
Gathering and analyzing Internal data sources is very important for Insider Threat Detection. Equally important is knowing what External data sources are also available to create the Big Picture of potential / actual Insider Threats.
Most companies currently perform background screening on employees ONCE at the Pre-Hire stage. This screening is a static Point In Time Snapshot, looking backwards. To be more proactive in detecting and mitigating Insider Threats, many companies are using Post-Hire solutions, that allow the employer to Continuously monitor an employee for Indicators of Concern.
This meeting will focus on the many External data sources that are available from various companies, for organizations and businesses that wan't to be provided with a 360 degree view into Employee Indicators of Concern, and are concerned with proactive Employee Threat Identification.
This meeting will focus on the legally complaint use of External data sources that enables organizations and businesses to both conduct mitigation and individual rehabilitation.
This meeting will also provide insight into the possibility that your company's data maybe "For Sale" on the Dark Web, and how to locate it.

Additional details for this meeting can be found on the NISTIG website.
Time
9AM-1PM
Location
Johns Hopkins University Applied Physics Laboratory (JHU-APL)
11100 Johns Hopkins Road
Laurel, MD 20723-6099
Parsons Auditorium / Building 1
Room S124
Parking
Parking is available on the JHU-APL Campus. Parsons Auditorium is located in Lobby 1. Enter the campus from Johns Hopkins Road onto APL Drive. You may park in the lot on your left labeled for visitors, adjacent to Lobby 1. You will enter the building at Lobby 1. JHU-APL Campus Map
Note
You must be a U.S. Citizen to attend this event. A valid Drivers License or U.S. Government issued ID is required at the door.
Who Should Attend
Anyone managing or supporting an Insider Threat Program, or concerned with proactive Employee Threat Identification.

Interested In Becoming A NITSIG Member?
Please contact me with any questions you may have about this meeting or the NITSIG.
Contact Info / Questions
Jim Henderson, CISSP, CCISO
Founder / Chairman Of The National Insider Threat Special Interest Group
CEO Insider Threat Defense, Inc.
Insider Threat Program Development / Management Training Course Instructor
Insider Threat Vulnerability Assessor & Mitigation Specialist
888-363-7241 / 561-809-6800
www.nationalinsiderthreatsig.org
jimhenderson@nationalinsiderthreatsig.org
www.insiderthreatdefense.us
james.henderson@insiderthreatdefense.us