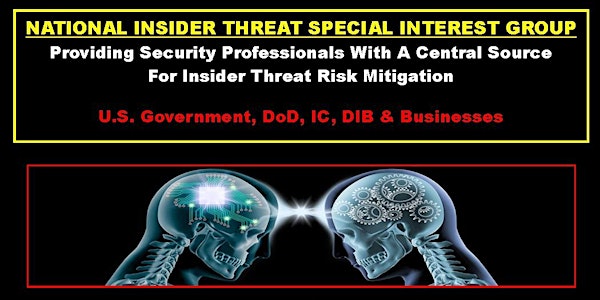 National Insider Threat Special Interest Group Meeting 2-9-17
Location
Johns Hopkins University Applied Physics Laboratory
11100 Johns Hopkins Road
Parsons Auditorium / Building 1 / Room S124
Laurel, Maryland 20723-6099
Description
NITSIG MEETING ANNOUNCEMENT FOR
FEBRUARY 9, 2017
The NITSIG would like to invite NITSIG members and other security professionals to the next NITSIG meeting.
Topics Of Discussion:

Workplace Violence (10AM-11AM)
Presented By: Occupational Safety and Health Administration (OSHA)
Civilain Response To Active Shooter Events (11AM-1PM)
Presented By: Maryland State Police
Date
February 9, 2017

Time
10AM-1PM
Location
Johns Hopkins University Applied Physics Laboratory (JHU-APL)
11100 Johns Hopkins Road
Laurel, MD 20723-6099
Parsons Auditorium / Building 1
Room S124
Parking
Parking Available On JHU-APL Campus. Parsons Auditorium is located in Lobby 1. Enter the campus from Johns Hopkins Road onto APL Drive. You may park in the lot on your left labeled for visitors, adjacent to Lobby 1. You will enter the building at Lobby 1. When you leave for the day, please stop by the receptionist desk to receive the parking code for the visitors parking lot.
Interested In Becoming A NITSIG Member?
Questions
Jim Henderson, CISSP, CCISO
Founder / Chairman Of The National Insider Threat Special Interest Group
CEO Insider Threat Defense, Inc.
Insider Threat Program Development Training Course Instructor / Risk Mitigation Specialist
888-363-7241 / 561-809-6800
www.insiderthreatdefense.com
www.nispomcc2training.com
jimhenderson@insiderthreatdefense.com
www.nationalinsiderthreatsig.org
jimhenderson@nationalinsiderthreatsig.org