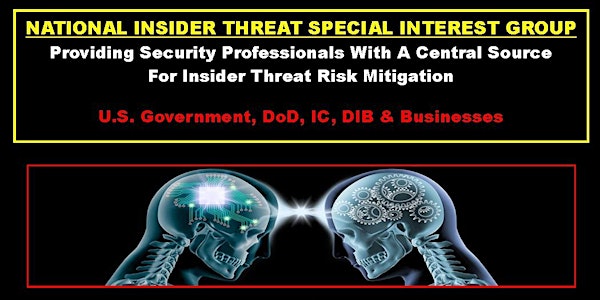 National Insider Threat Special Interest Group Meeting 2-18-16
Location
Johns Hopkins University Applied Physics Laboratory
11100 Johns Hopkins Road
Parsons Auditorium / Building 1 / Room S124
Laurel, Maryland 20723-6099
Description
NITSIG MEETING ANNOUNCEMENT / AGENDA FOR
FEBRUARY 18, 2016
The NITSIG would like to invite NITSIG members and other security professionals to the next NITSIG meeting. If your involved in insider threat risk mitigation, this is a meeting you don't to miss. (No Cost To Attend)
Date
February 18, 2016
Time
10AM-1PM
Location
Johns Hopkins University Applied Physics Laboratory (JHU-APL)
11100 Johns Hopkins Road
Laurel, MD 20723-6099
Parsons Auditorium / Building 1
Room S124
Parking
Parking Available On JHU-APL Campus. Parsons Auditorium is located in Lobby 1. Enter the campus from Johns Hopkins Road onto APL Drive. You may park in the lot on your left labeled for visitors, adjacent to Lobby 1. You will enter the building at Lobby 1. When you leave for the day, please stop by the receptionist desk to receive the parking code for the visitors parking lot.
Presentations / Topics of Discussion Will Include
Insider Threats From A Human Resources Perspective
Presentation By: Mrs. Jordan C. Meadows, Security Program Analyst, Rolls-Royce North America

How Human Resources addresses discovered issues on an applicant's background screening.

Security's requirement to verify citizenship for all non-direct hire personnel.

Employee Risk – A review of disgruntled employees who are disgruntled with the company's direction, organizational changes and / or their own personal growth within the company.

Risk Related Issues – Risk associated to employee performance development reviews, employee terminations/withdrawals and employees who leave and come back to the company.

Reports of employee suspicious activity / behavior.

Discussion of two actual insider threat cases that resulted in prosecution.
Insider Threats From A Legal Perspective
Presentation By: Mark Zaid, Attorney At Law
Securonix Big Data Analytics
Presentation By: John Menkart
The Securonix Platform is a purpose-built advanced security analytics technology that mines, enriches, analyzes, scores and visualizes customer data into actionable intelligence on the highest risk threats from within and outside their environment. Using signature-less anomaly detection techniques that track users, account, and system behavior Securonix is able to automatically and accurately detect the most advanced data security, insider threats and fraud attacks.
The NITSIG welcomes input from attendees at the meeting. A collaborative environment with information sharing is a first step at insider threat risk mitigation.
Bio's Of Guest Speakers
Mr. Mark Zaid
For over two decades, Mark S. Zaid, Esq. has fought to guarantee the rights of former, current, and prospective civilian federal employees, defense contractors, members of our active duty and reserve military, and journalists, particularly when they are threatened by the overshadowing spectre of national security. His representation has ranged from high-profile Members of Congress to covert CIA operations officers whose names will never be revealed, from politically controversial cases to stealth efforts to obtain historic records. Using a variety of tools—including the Executive, Judicial and Legislative branches, as well as the media—Mr. Zaid and his law firm have helped clients navigate the shadow world of national security, First Amendment, federal employment, and administrative law.
Mrs. Jordan C. Meadows
Mrs. Jordan Meadows currently serves as the Rolls-Royce North America Security Program Analyst. Mrs. Meadows joined Rolls-Royce in 2011, after serving as the Private Sector Liaison Coordinator for the State of Indiana's Intelligence Fusion Center. As the Private Sector Liaison Coordinator, Mrs. Meadows developed and managed the Midwest's first private sector intelligence program which resulted in the successful recruitment and intelligence outreach to over 300 private sector partners from Illinois, Indiana, Kentucky and Ohio.
As the Executive Officer for the Indiana Department of Homeland Security, Mrs. Meadows managed a variety of analytical and emergency management programs. Mrs. Meadows developed and implemented the department's internship program, developed emergency management and business continuity plans for various businesses and companies throughout the State of Indiana, and was responsible for developing and submitting various presidential disaster declarations on behalf of the state.
Mrs. Meadows received her BS in Psychology from Indiana State University and attended Thomas M. Cooley School of Law in Lansing, MI. After attending law school, Mrs. Meadows worked as an Analyst and Investigator for the Office of the Indiana Attorney General. In 2006, Mrs. Meadows received a MS in Psychology from Capella University with a focus in forensics.
Interested In Becoming A NITSIG Member?
http://www.nationalinsiderthreatsig.org/nitsigmembership.html