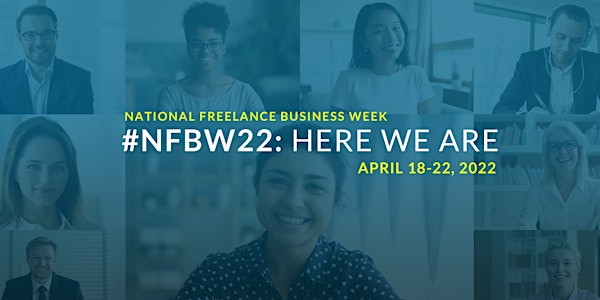 National Freelance Business Week Virtual Summit, aka #NFBW22
Make 2022 Your Best Year Yet, Learn How To Make More Money and Gain More Freedom - Freelancing!
About this event
FREELANCE BUSINESS OWNERS NOW HAVE A NATIONAL HOLIDAY!
April 18-22, 2022 || Virtual
In 2021 our founder, Emily Leach applied for a National holiday designation and got it, making the third week of April National Freelance Business Week.
With 30 years of #freelance business experience and building events (like The Freelance Conference), building the largest local freelance community in the U.S. she learned that freelance business owners are more successful when they are in an active, local community.
Who is #NFBW Virtual for?
It doesn't matter if you call yourself a freelancer, self-employed, entrepreneur, independent worker, contractor, consultant, solopreneur, or something else. The title is irrelevant. What IS important is if you are working for yourself, you need help, you have questions...and we have the answers. We're here to help your freelance business grow.
Join us and set the stage for massive momentum for the rest of 2022!
Make 2022 Your Best Year Yet, Learn How To Make More Money and Gain More Freedom - Freelancing!
Running a freelancing business is as much an art as it is science, come learn from the best AND your peers. We've found the brightest speakers and workshop facilitators to create an amazing event together with freelancers to round out 2021 and kickoff 2022.
Learn how to make more money in your freelance business
Create relationships that support your freelance growth
Learn how to work less without losing income
Have fun.
Local In-Person events too >>
During National Freelance Business Week there are 8 local city organizers that will be creating local, in-person events in Austin, Denver, Houston, Tampa, Miami, Calgary, Washington D.C., and Asheville. Find a local #FBW Events in a city near you >>
Not living the life you want or making the money you need?
There's only one thing to do ... GET YOUR TICKET >>
Date and time
Location
Refund policy