Description
Join the official National Fitness Day community, ClassPass, Athleta, and local partners from across the city to celebrate the second annual National Fitness Day in the US!
Get your sweat on with Athleta FitPro Kristin Calabria and ClassPass Live's Jess Sims at the picturesque YOTEL terrace, meet like-minded fitness lovers and National Fitness Day Ambassadors, and treat yourself to health & wellness goodies including complimentary massages, coconut waters, an Athleta pop-up shop, and discounted margaritas from the YOTEL's Social Drink & Food bar - it is Cinco de Mayo after all!
It's a BLACKOUT so sport your National Fitness Day shirts or wear black to showcase your strong!
30% of your ticket will help support Girls on the Run!


Schedule:
10:00AM: Doors open. First 50 people get a FREE Cava voucher, plus make sure to get there early to grab a massage slot, get your photo on, and more!

10:15AM: Workout #1 - Yoga with Athleta FitPro Kristin Calabria. Mats and water will be provided. Please note you must purchase a Workout #1 ticket.

11:15AM: Workout #2 - Full body workout with ClassPass Live's Jess Sims. Mats and water will be provided. Please note you must purchase a Workout #2 ticket.

12:00PM: Party ends but stick around the gorgeous Yotel Social Food & Drink bar for Cinco de Mayo margs and bites. You deserve it :)
Ticket Tiers:
Donation Ticket ($10 suggested donation) - Includes access to event and freebies from 10:00am - 12:00pm, raffle entry, and complimentary swag bag!

Workout Ticket ($30) - Includes access to event, entry to select workout (Workout #1 or Workout #2), raffle entry, and complimentary swag bag!

VIP Ticket ($60) - Includes access to event, entry to select workout (Workout #1 or Workout #2), free VIP breakfast sponsored by Athleta, and VIP swag bag including a complimentary pair of Athleta leggings!
Partners & Goodies:
#NationalFitnessDay Photo Booth!

Athleta pop-up shop with exclusive National Fitness Day discounts and merch

Free massages from Health Coach Stacy NYC

Complimentary Harmless Harvest coconut water, Chameleon Cold Brew, CORE water and more

Discounted Cinco de Mayo margaritas from Social Drink & Food at the YOTEL NYC

Raffle for ClassPass membership + Athleta and massage gift cards!

Take-home swag bags including free classes, snacks, gear and more!
Class Descriptions:
Workout #1: Yoga with Athleta FitPro Kristin Calabria
Find Your Flow: Breath, sweat, shake, let it flow in this energizing vinyasa practice. Move with intention through sequencing and soundtracks curated to cultivate joy and presence. Celebrate all of what makes you, you.
Kristin is a yoga and fitness instructor who believes in cultivating a strong sense of authentic self through movement and breath. Recently, Kristin developed her own class, the UPrise Flow. She also created a yoga program for high school students. Kristin actively teaches group classes and private sessions in NYC.
Workout #2: Full Body Workout with ClassPass Live's Jess Sims
Experience ClassPass Live at National Fitness Day at the YOTEL! ClassPass Live is an interactive, live-streaming fitness class you can do from your living room. Join us for a full body workout, led by Jess Sims, that will boost your endurance, strengthen your upper and lower body as well as your core.
Jess is a personal trainer and boxing instructor at Shadowbox, as well as trainer at The Fhitting Room. With a background in education, Jess worked as a teacher, assistant principal and principal in schools in Texas, Massachusetts and New York. She reconnected to her love for fitness — discovered during her time as Trinity College's basketball captain — to help people lead healthier lives. Call it a career renaissance.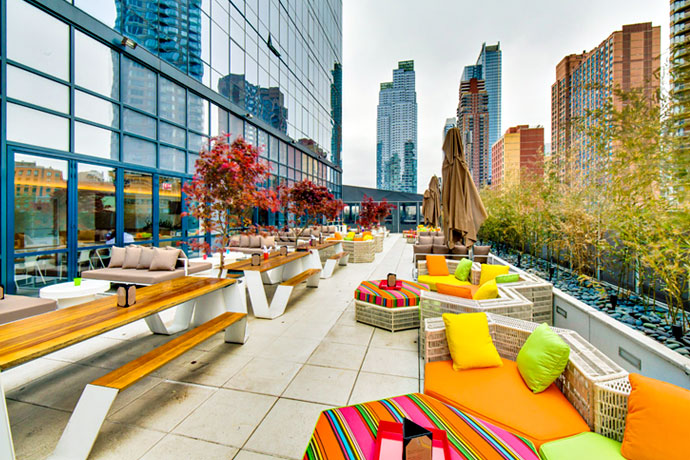 About National Fitness Day:
National Fitness Day is celebrated the first Saturday of May in the US as a single day to celebrate strength and empowerment through fitness. We encourage people across the country to work out, share on social media with the hashtag #NationalFitnessDay, and even host their own workouts and community events! For more information follow us at @nationalfitnessday or visit us at nationalfitnessday.org.

About Athleta:
Athleta is a premium fitness and lifestyle brand, creating versatile performance apparel to inspire a community of active, confident women since 1998. Designed for — and by — women athletes and active women, we integrate performance and technical features across our collection to carry a woman throughout her life in motion. We are a company that puts people and the planet right up there with profit, and as such, we are B Corp certified.
Athleta hosts weekly community fitness classes in all of our stores across the nation. In 2015, we opened our first Athleta Studio in New York City, which is home to exclusive fitness classes and offers 30+ wellness classes and workshops on a weekly basis.
In 2016, we launched Athleta Girl, mirroring our signature performance in styles for the next generation. At Athleta, our mission is to ignite a community of active, healthy, confident women and girls who empower each other to reach their limitless potential. We believe alone we are strong, but united we thrive; bringing this to life through the Power of She campaign.
Athleta apparel is available at its 140+ retail stores across the country, through its catalog, and at www.athleta.com. Follow Athleta at @AthletaNYC or take a class at the Athleta Studio!
About ClassPass:
Founded in 2013, ClassPass is the leading fitness membership. With over 8,500 partners in 50 cities worldwide, ClassPass connects members to a variety of fitness experiences, including yoga, cycling, Pilates, barre, running, strength training, dance, sports, videos and more. Recognized as one of Forbes's Next Billion Dollar Startups, ClassPass leverages proprietary technology to dynamically merchandise and surface over a million fitness classes for a seamless booking experience that facilitates discovery.
www.classpass.com I Blog I Partner Blog I Facebook I @ClassPass I LinkedIn I Instagram
About Girls on the Run:
Based in Charlotte, N.C., Girls on the Run is a nonprofit organization with local Councils in all 50 states. Founded in 1996 with 13 girls, Girls on the Run has now served more than 1.4 million girls. Over the course of the ten-week program, girls in 3rd-8th grade develop essential skills to help them navigate their worlds and establish a lifetime appreciation for health and fitness. The program culminates with girls positively impacting their communities through a service project and being physically and emotionally prepared to complete a celebratory 5K event. With the largest 5K series by number of events in the world, Girls on the Run hosts more than 330 5Ks per year.
Girls on the Run was recently included as a top research-based program in a Social-Emotional Learning Guide developed by researchers at Harvard University and has been recognized by the National Afterschool Association (NAA) as one of the most influential after-school programs.
For more information visit girlsontherun.org.
About Social Drink & Food at the YOTEL NYC:
Social Drink and Food hosts one of the largest hotel rooftop terrace in Manhattan. Nestled on the fourth floor of the YOTEL, we offer a resort inspired feel in an urban environment. Come relax and enjoy your afternoons with our Mediterranean influenced street food menu, refreshing craft cocktails and decadent lounge chairs. Experience the oasis in the heart of midtown. Visit Social Drink & Food at the YOTEL.
Please email hello@nationalfitnessday.org with any questions, and stay sweaty!