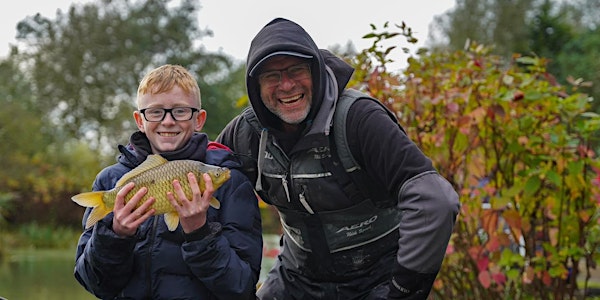 National Fishing Month - Shimano UK Day Two
Free taster sessions, tuition, guidance hints and tips!
When and where
Location
Packington somers fishery Somers Road Meriden CV7 7PL United Kingdom
About this event
This year sees Shimano UK supporting National fishing Month with a two day event at the fantastic Packington Somers fisheries in Warwickshire.
Shimano UK are offering the chance to try the wonderful sport of fishing completely free of charge on Wednesday August 17th and Thursday August 18th. Across the two days Shimano UK will be offering taster sessions so you can try your hand at one of the most popular fishing disciplines of Coarse and Carp
All fishing tackle and bait will be provided so all you need to register your interest and arrive on the day. The events main aim is to encourage anyone who is interested in angling the opportunity to try it out completely free of charge with Shimano UK providing all of the relevant tackle and bait.
Sessions: Between 10:00am and 5:00pm you can come along and try out either of the two angling disciplines available with tips, tricks, hints and guidance all available.
Booking: PLEASE REGISTER YOUR INTEREST – see details below for where to book online.
Location information: Access is off Hampton Lane (B4102), Located on the same site as Stonebridge Golf Club and Somers Wood Caravan Park
Refreshments: Onsite Cafe serving food and hot and cold drinks.
Notes: Shimano will provide tuition from several sponsored anglers, team members and local anglers.
Parking information: Adequate onsite parking for all
Pricing: FREE for everyone!
Perfect for: Aimed at: Everyone but young people, women and those with a disability are welcome. This event is for anybody who is interested in an angling taster session. Families and kids of all ages and experience levels. People under the age of 18, or vulnerable people under 21 years old must be accompanied by a responsible adult.
What happens on the day: The angling activities on offer are designed to encourage adults, children and young people to discover what angling is all about and take up angling. You'll find out how to use fishing rods, reels, line and tackle to catch fish and return them safely. Get Fishing Volunteers will be on hand to help, give fishing tips and provide you with more info about your local club or fishery so you know how to go fishing again next time.
Tackle: Tackle, and everything else to catch a fish will be provided on the day. No need to bring any equipment.
Do I need to bring anything with me…? Outdoor events are weather dependent so please bring something to keep you dry and/or sunblock and a drink. For events including "game angling" we recommend that you wear a hat and glasses/sunglasses to protect your head and eyes while casting.
Disability information: Volunteers and coaches at Get Fishing events are provided with essential best practice guidance on working with and planning events for disabled and mobility impaired people. Please check with the venue contact about the facilities available.
How and Where to Book: Registering your interest is simple and easy, please register your interest for the day you are interested in and for how many people, this will help Shimano staff the event and ensure all attendees have the best possible time. (please note, all attendees under 18 years will need to be accompanied by an adult/carer/guardian for the duration of your stay)