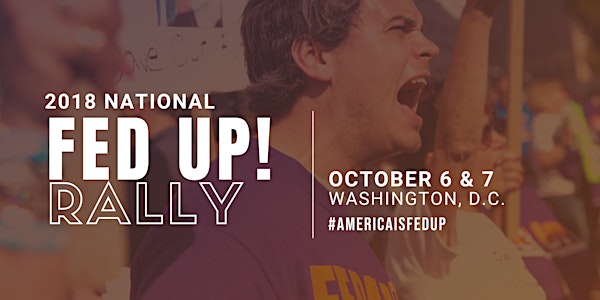 National FED UP! Rally, Sackler Gallery Demonstration and ARTful Advocacy E...
Event Information
Location
See Event Description for Locations of ARTful Advocacy Event and Rally
Washington D.C, 20560
Refund policy
Refunds up to 7 days before event
Description
Join thousands of FED UP! Coalition supporters on Oct 6-7 for a weekend of advocacy and remembrance in the heart of Washington D.C. beginning with our ARTful Advocacy event at the First Congregational United Church of Christ the evening of Oct 6th.
Sunday morning, we'll demonstrate in front of the Sackler Gallery within the Smithsonian footprint in protest of the Sackler family and the fortune they have made from the sale of OxyContin, the opioid that has taken the lives of thousands of our loved ones.
And then, on Sunday afternoon, don't miss our 6th annual FED UP! Rally on Freedom Plaza where we'll network, learn from special guest speakers, honor our lost loved ones and conduct our candlelight Opioid March to the White House to demand action from our Federal government to end America's opioid crisis.

---
Artful Advocacy Event

WHEN: Saturday, October 6 from 5 - 8:30pm
WHAT: Join us for a special evening where we'll immerse ourselves in multiple forms of art focused on America's opioid crisis, including music, dance, film and fine art.
Registration includes FREE FED UP! Rally T-Shirt!

Confirmed Participants:
Catherine Martin/Artist Manny Mendez/Artist Julie Turner/Artist Kevin P. Burns/Artist Amy Cooper/Vocalist Chris McGreal/Author Janet Colbert/Author Maureen CAVANAGH
/Author Bev Kelley/Quilting Knight Foundation Artists Matt Butler/Vocalist Barbara Hopkinson/Photography
Short Films and Intoductions
Dr. Andrew Kolodny - Do No Harm Jim Wahlberg - Circle of Addiction Trish Glowacki - Behind the Scenes ' Warning' Manny Mendez - Art for Hope Tour
WHERE: First Congregational Church of Christ, 945 G Street NW, Washington D.C. 20001
Sackler Gallery Demonstration

WHEN: Sunday, October 7 at 10:00 a.m.
WHERE: Smithsonian's Freer and Sackler Galleries. 1050 Independence Ave SW, Washington, D.C. 20560
WHY: We marched around Purdue Pharma and we're not stopping now! Join us as we rally at the Arthur M. Sackler Gallery, the very same family who made billions off the sale of OxyContin. It's going to take a grassroots approach to make change happen but we can do this!! We proved it at Purdue and we're not backing down now!
FED UP! Rally
WHEN: Sunday, October 7 from 3 - 8:30pm
3:00 Networking

5:00 Program and Lost Loved Ones Vigil

6:30 Opioid March to the White House


8:00 Closing
WHY: Immediate action from our Federal agencies is needed to prevent new cases of opioid addiction, to prevent more overdose deaths and to ensure access to effective treatment for millions who have become addicted.
WHERE: Freedom Plaza, Corner of 14th Street and Pennsylvania Avenue NW, Washington, D.C.
---
Would you like to sponsor?
We need your support to hold these events and to continue our ongoing advocacy work. Review our new Membership/Sponsorship program to learn about the many benefits of sponsorship, including the opportunity to exhibit during our 2018 rally.


---
LOCAL RALLIES IN YOUR AREA
FRIDAY, AUGUST 31, 2018
Contact Emily at emily.walden@feduprally.org
---
View the FED UP! Coalition's Platform
Learn how you can become a sustaining member of the FED UP! Coaltion!
For more information, please visit our website at www.FedUpRally.org
FED UP! is a coalition of organizations and individuals from across the U.S. and Canada. We are calling for immediate and sustained Federal action to end the epidemic of opioid addiction and overdose deaths.
FAQs
How do I have my lost loved one's photo added to FED UP!'s "Lost Loved One's" memorial video, banner and name posted on your website?
By becoming a Sustaining Member or Sponsor you may have your lost loved one added to FED UP!'s "Lost Loved One's" memorial video, banner and have their name posted on our website.

I would like FED UP! to honor someone who is in RECOVERY, how do I make this happen?
By becoming a Sustaining Member or Sponsor we will add the person you are honoring to the "in honor of" section of our website.
What is the difference between donations made "in memory of" and those made "in honor of"?
Donations made in memory of someone are made to memorialize a loved one lost to the opioid epidemic. Those made in honor of someone are made to recognize someone in RECOVERY or someone who is suffering from the disease of addiction.
What is a Sustaining Member?
As a member of the FED UP! Coalition, you will join an advocacy network of thousands of other individuals who, like you, are passionate about this cause and support our platform. As an active member, you become part of the foundation of our work and contribute to ending the opioid crisis. You will now belong to one of the largest national organizations working on the front lines to hold our Federal Government accountable.

If you are able to, please support us at $10 per month or $100 annually. Your sustaining gift ensures we will have another year of operation. If you're interested in sponsorship benefits, we're pleased to share that other levels of annual membership are available which include the opportunity to exhibit at our events, be recognized as a sponsor at our events and many other benefits. Become a Member


Are my donations tax-deductible?
Donations are collected by our fiscal sponsor, the Steve Rummler Hope Network, a 501(c)(3) public charity, and are tax-deductible to the extent provided by law. All donations go to support the work of the FED UP! Coalition to end America's opioid epidemic.

How do I get more information?
To get more information, please use the contact us button located in the right sidebar, or email us at info@feduprally.org
DISCLOSURE STATEMENT: FED UP! Coalition does not accept financial support from pharmaceutical companies or any other entities that could be perceived as a conflict of interest.
Note: By registering for this event, I have agreed, on behalf of myself, my heirs, executors, administrators and assigns, to waive, release and hold harmless the FedUp Rally Coalition, their partner organizations, their directors, managers, officers, employees, representatives, agents, organizers and volunteers and their successors from any and all claims for damages and for injuries arising from or out of my participation in and travel to and from the "2018 FedUp Event" that will be held in Washington D.C. on October 06, 2018 and October 07, 2018. I also agree to the use of any photo, film or videotape of the event that includes my image for any purpose by the event organizers, the FedUp Rally Coalition.
Location
See Event Description for Locations of ARTful Advocacy Event and Rally
Washington D.C, 20560
Refund policy
Refunds up to 7 days before event