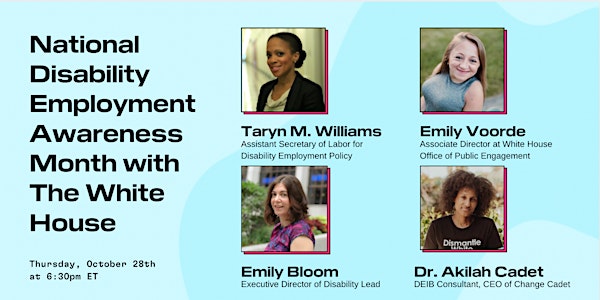 National Disability Employment Awareness Month with The White House
Recognizing, celebrating, honoring.
About this event
This event will be recorded.
In honor of National Disability Employment Awareness Month, we're thrilled to team up with The White House to highlight a few women on the front lines of inclusivity, professionally and legally.
This panel is for anyone who is committed to being an ally, and/or is perhaps navigating their own disability and want to know their rights. Through this event, we hope to expand the idea of what being "Capital D Disabled" looks like, such as mental health, invisible illness, chronic illness, a new cancer diagnosis, etc, and help everyone feel more comfortable showing up to the workplace fully as themselves.
Prepare to be inspired and enlighted by our four fantastic panelists:
Taryn Mackenzie Williams is the Assistant Secretary of Labor for Disability Employment Policy. In this position, she advises the Secretary of Labor on how the Department's policies and programs impact the employment of people with disabilities and leads the Office of Disability Employment Policy (ODEP), which works with employers and all levels of government to promote evidence-based policy that improves employment opportunities and outcomes for people with disabilities. Previously, Williams was the managing director for the Poverty to Prosperity Program at American Progress, which works on progressive policies focused on a broad range of anti-poverty strategies. Before joining American Progress, she worked at ODEP on a variety of issues related to education, workforce policy, Social Security, Medicaid and civil rights. In her role as director of youth policy, Williams led agency efforts to coordinate education and employment policy in support of improved labor force outcomes for disabled youth. From 2014 through 2016, Williams served as ODEP's chief of staff. She also undertook detail assignments as associate director for public engagement and liaison to the disability community at the White House from 2014 through 2015 and as a policy adviser on the U.S. Senate Committee on Health, Education, Labor, and Pensions from 2012 through 2013. Prior to joining the federal government, Williams worked as the research coordinator for leadership programs at the Institute for Educational Leadership and as the director of programs at the National Association of Urban Debate Leagues headquartered in Chicago. She holds a bachelor's degree in public policy from Brown University and a master's degree in education with a concentration in administration, planning, and social policy from Harvard University. She resides in Washington, DC.
Emily Blum is the Executive Director of Disability Lead, an organization that develops and connects leaders with disabilities to civic and professional opportunities. Believing disability leadership is essential to creating an inclusive and equitable Chicago region, she directs the organization's efforts to develop and build and network of leaders with disabilities who lead with power and influence. A seasoned nonprofit leader, Emily has more than 20 years of experience bringing stakeholders together to create and implement effective communications strategies around complex social and political issues. Prior to joining Disability Lead, Emily held senior positions at some of Chicago's leading nonprofits, including Metropolitan Planning Council (MPC), Chicago Humanities Festival (CHF) and Heartland Alliance. At all three organizations, she drove branding and strategic messaging campaigns that created new kinds of conversations with a wide variety of audiences. Emily serves on the City of Chicago's Mayor's Advisory Council for Women, Fair Fight's Action Disability Council, and is Secretary of the Board of Directors for Inspiration Corporation. As a disabled woman, leading Disability Lead is both personal and professional. Emily is a Disability Lead Member (class of 2018), and that experience gave her additional tools to use her voice on behalf of those who experience disabilities.
Emily Voorde is an Assistant Director in the White House Office of Public Engagement and the Administration's liaison to Disabled Americans. Born in South Bend, Indiana, Emily was diagnosed with Osteogenesis Imperfecta in utero. Since the age of 3, she's been using a wheelchair to navigate our (albeit often inaccessible) world! Emily graduated from the University of Notre Dame in 2015 with a degree in political science and minors in constitutional studies and business economics. At Notre Dame, Emily was an independent researcher with the Keough Dublin Summer program, an intern in the office of Mayor Pete Buttigieg, and an intern in Senator Joe Donnelly's Washington DC office. As an independent researcher, Emily explored barriers to ratification of the UN CRPD in Ireland and in the United States. Following graduation from Notre Dame, Emily participated in a two-year alternative certification program blending full-time teaching in an under-resourced school with Masters of Education graduate coursework at the University of Notre Dame. Emily taught in a 2nd grade classroom in Pascagoula, Mississippi. In 2017, Emily began a Masters of Public Policy in Education at Vanderbilt University's Peabody College. While in Nashville, Emily worked full time at Instruction Partners, an education non-profit committed to ensuring high quality, equitable instruction for students in marginalized communities. Upon her graduation from Vanderbilt in May 2019, Emily joined Mayor Pete Buttigieg's Presidential Campaign, Pete for America, as a Travel Manager. Her role quickly evolved as Chasten Buttigieg, Mayor Pete's husband, built out his own traveling road team. Emily spent the remainder of the campaign in direct support of Chasten as his Body Woman and Trip Director. In August 2020, Emily joined the University of Notre Dame's Sara Bea Accessibility Services Team as their Assistant Director for Education and Outreach, supporting students with disabilities through the COVID-19 pandemic.
Dr. Akilah Cadet dismantles white supremacy daily as the Founder and CEO of Change Cadet consulting firm. Change Cadet offers a broad array of anti-racism and diversity services including strategic planning, crisis rebuilding, advising, executive coaching, and facilitation. Cadet (her last name) is a French term that means soldier. As it's often an uphill battle for BIPOC, women, and intentionally ignored communities to achieve success and equity in the workplace, Change Cadet prepares soldiers of change to overcome these continuous battles so individuals and companies can thrive. Akilah has 15+ years of experience working in various organizations, with both private and public sector companies. She literally has all the degrees, is disabled, lives in Oakland, CA, and is a proud Beyoncé advocate.