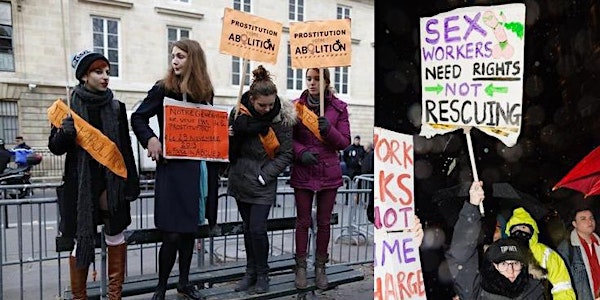 National Debate: Prostitution or Sex Work ?
Is prostitution or sex work harmful to those who experience it? Join Braver Angels to debate.
Refund Policy
Contact the organizer to request a refund.
Eventbrite's fee is nonrefundable.
About this event
What's in a name? Sometimes a lot.
Is it prostitution or sex work? Some women and men in the sex trade see themselves as sex workers who should have legal rights and safety to do what they want with their bodies. Others see sex for profit as prostitution- always exploitative, victimizing and dangerous to those who participate.
Come listen to speakers on both sides present their views, based on their own experiences and their research. Ask your questions and build a better informed understanding and opinion.
Join Braver Angels Thursday, Dec. 16th at 8 pm EST for a debate on the resolution: "Resolved: Prostitution or sex work is harmful to those who experience it."
Speakers (in alphabetical order):
Alex Andrews: Alex Andrews is a sex worker with lived experience under criminalization of consensual sex work. She is the Director of Woodhull's Human Rights Commission and Co-Founder of SWOP Behind Bars
Kaytlin Bailey: Kaytlin Bailey is a stand up comic and sex worker rights advocate. She is the founder and Executive Director of Old Pros (oldprosonline.org) and the host of The Oldest Profession Podcast
Vednita Carter: Vednita Carter is the Founder of Breaking Free, a non-profit organization based in St. Paul Minnesota, whose mission is to end all forms of prostitution and sex-trafficking.
Melissa Farley: Melissa Farley is a feminist psychologist and researcher who has written a number of articles and two books about prostitution, pornography, and trafficking. She is the founder of the nonprofit Prostitution Research and Education
Ursula Ferreira: Ursula Ferreira is a queer femme, somatic sex educator, herbalist, and former sex worker with a healing practice in the SF Bay Area
Rita Hernandez: Rita Hernandez is the Director of Public Policy and Advocacy for Rescue Freedom International. She is a member of the board of directors of the International Coalition for the Abolition of Prostitution.
All guests will have the opportunity to submit questions via registration and during the event. The event will be conducted as a webinar format on Zoom.
Register here on the Eventbrite page. After registration, you will be emailed the zoom link to attend the event. Keep an eye out!
For a chance to participate in this debate, submit your questions here:
https://forms.gle/tszmBUYcWYAuzxDQA
You probably haven't experienced anything like a Braver Angels Debate. This is a highly structured conversation in which a group of people think together, listen carefully to one another, and allow themselves to be touched and perhaps changed by each other's ideas. When done well, everyone walks out a little closer to the truth, more aware of the validity in opposing views, and with tighter community relationships.
To learn more about these debates, you can view this video of a sample debate (it lasts about 15 minutes). This file might help you understand the debate process that we use.
This debate is a free event brought to you by Braver Angels, a 501(c)(3) non-profit as part of our mission to depolarize America. We invite you to consider a gift to Braver Angels; all donations are tax deductible. Your support will allow us to offer more workshops and debates with the ultimate goal of uniting America.
You will have an opportunity to make a donation as you register, if you so choose. Your choice will have no bearing on your registration or Zoom meeting assignment.
Braver Angels events may be recorded, and may be shared with media or used in Braver Angels publications, including web pages. Participants who object to this may disable their video.