Description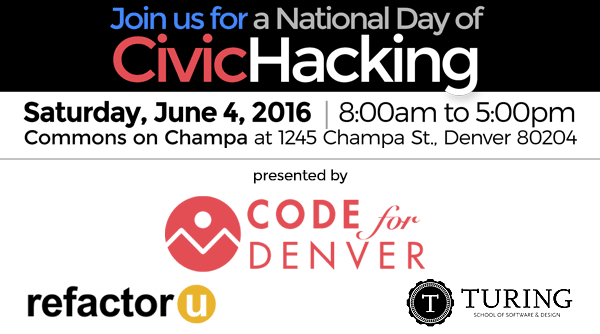 On June 4, 2016, thousands of people will join together for National Day of Civic Hacking events across the US. The goal is for residents, community groups, and government to collaborate to make their communities stronger.
Join us for Denver's celebration of National Day of Civic Hacking as we focus on housing challenges. Most everyone is talking about the housing challenges in Denver. It is time to put our heads and hearts together to create some solutions.
All skills (tech or non-tech) and levels of expertise welcome, including students!
Hacking for Housing Solutions
AGENDA
8:00 Breakfast
8:15 Welcome
8:30 Education on the issue and challenge spaces
9:00 Q & A
9:30 Hacking: Break into groups according to challenges
12:00 Lunch and check in

12:45 More hacking
4:00 Report out
4:30 Next steps toward implementation
5:00 Adjourn
5:00 - 10:00 After event hack-a-thon. More hacking for those who just can't stop!!!!