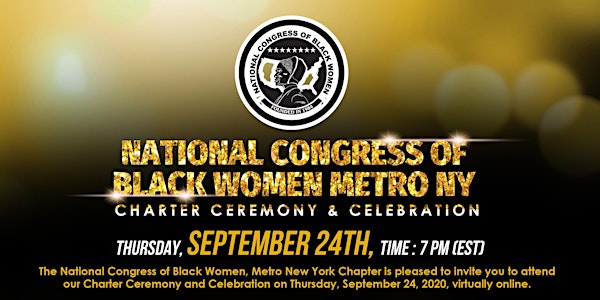 National Congress of Black Women Metro NY Charter Ceremony & Celebration
Join the National Congress of Black Women Metro New York Chapter for it's Virtual Charter Ceremony and Celebration Andy King 12th District New York City Council Vanessa L. Gibson 16th District New York City Council Carlina Rivera 2nd District New York City Council Florence "Flo" Anthony Florence "Flo" Anthony is a gossip columnist, syndicated radio host, TV contributor and author. Meshelle "The Indie-Mom of Comedy" Comedian, Writer and Actress Maurice Mitchell Working Families Party National Director Rain Pryor Award winning actress, singer, writer, comedian, producer and Politican Diana C. Richardson 43rd Assembly District Assemblymember Dr. Claudia V. Schrader Kingsborough Community College President Dr EFaye Williams National Congress of Black Women - Washington, DC National Chair Cheryl Wills Talk show host with Spectrum News New York 1 News Award-winning television journalist and author
About this event
The National Congress of Black Women, Metro New York Chapter is pleased to invite you to attend our Charter Ceremony and Celebration on Thursday, September 24, 2020, virtually online.
Participants and speakers include Dr. EFaye Williams (National Chair NCBW), Assemblymember Diana C. Richardson, Vanessa L. Gibson [16th District], Andy King New York City Council, 12th Council District, Dr. Caluida V Schrader Dean of Kingsboro College, Cheryl Wills (Cheryl Wills is an author and talk show host with Spectrum News New York 1 News), Florence Anthony (Florence "Flo" Anthony is a gossip columnist, syndicated radio host, TV contributor, and author) Raine Pryor (American actress and comedian. She is the daughter of comedian Richard Pryor), Meshelle ("The Indie-Mom of Comedy" Comedian, Writer and Actress), Maurice Mitchell (National Director of the Working Families Party)
The agenda begins at 7:00 PM and ends at 8:00 PM.
We look forward to seeing you on the 24th of September, and we hope your evening will be enjoyable. Also, on behalf of NCBW Metro NY, thank you for your interest.
For further information e-mail info@ncbwmetrony.org
Suggested donation $10