Multiple Dates
NATIONAL BLACK MEN'S CONVENTION & 10K BLACK MEN'S MARCH APRIL 18-22
Description
REGISTER FOR THE BLACK MEN'S CONVENTION @ www.blackmensconvention.org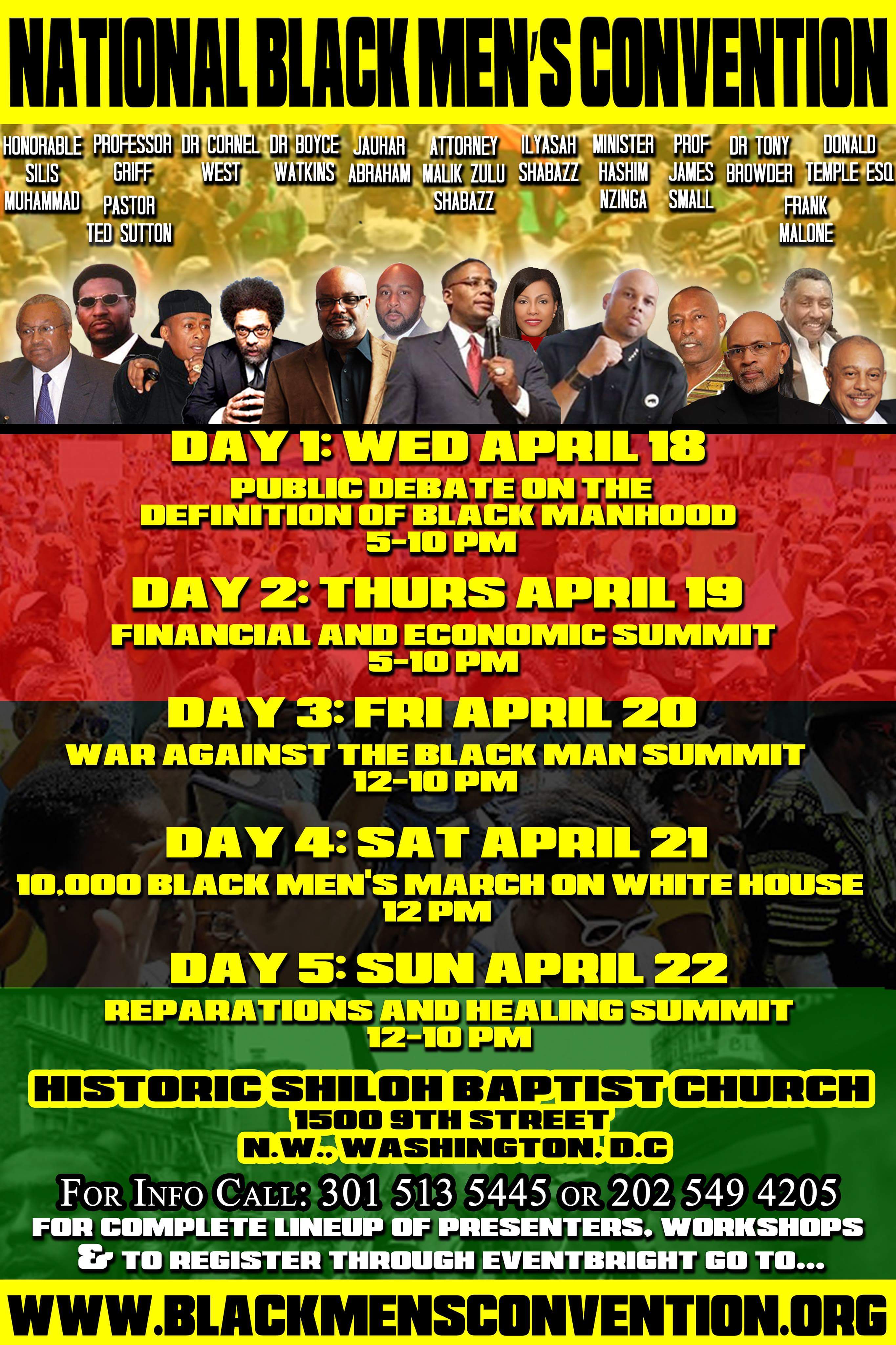 ---
SCHEDULE OF EVENTS
---
Wednesday, April 18
5 pm–10 pm
BLACK EDUCATION AND HEALTH SUMMIT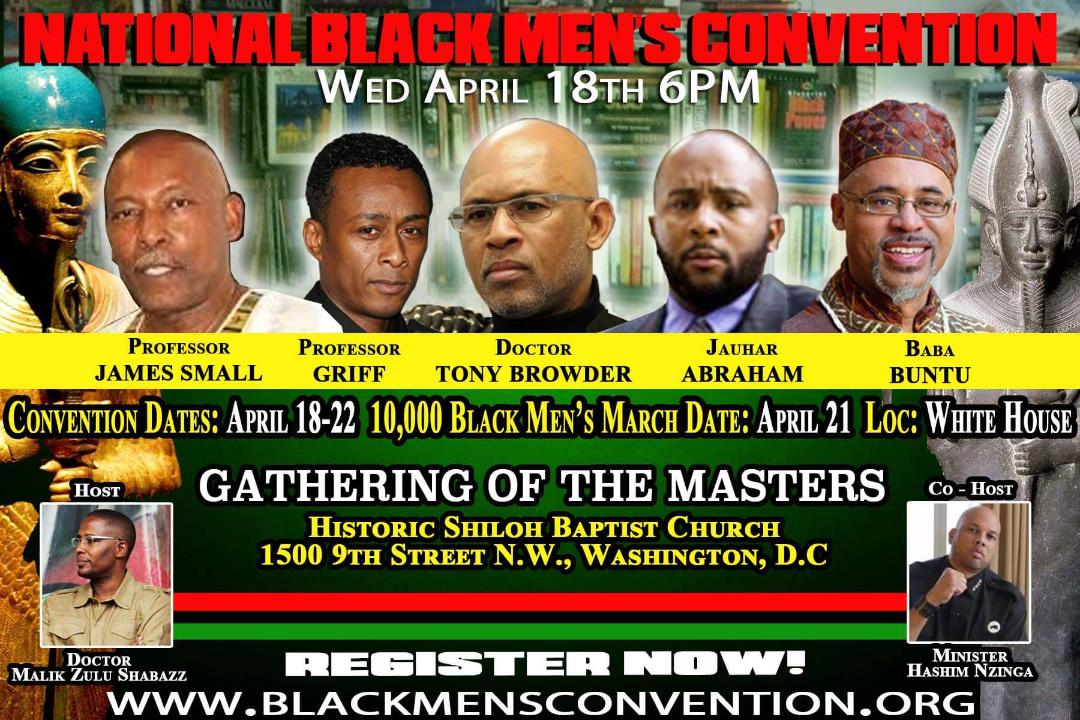 Professor James Small (Convention Co-Chairman) Professor Griff (Public Enemy) Dr. Tony Browder, Dr. Jawanza Kunjufu, Jauhar Abraham, Baba Buntu (Ebukhosini Solutions - South Africa) Professor Wade Nobles, Professor Greg Carr (Howard University). Doshon Farad (Moderator)
---
Thursday, April 19
5 pm–10 pm
BLACK ECONOMIC EMPOWERMENT SUMMIT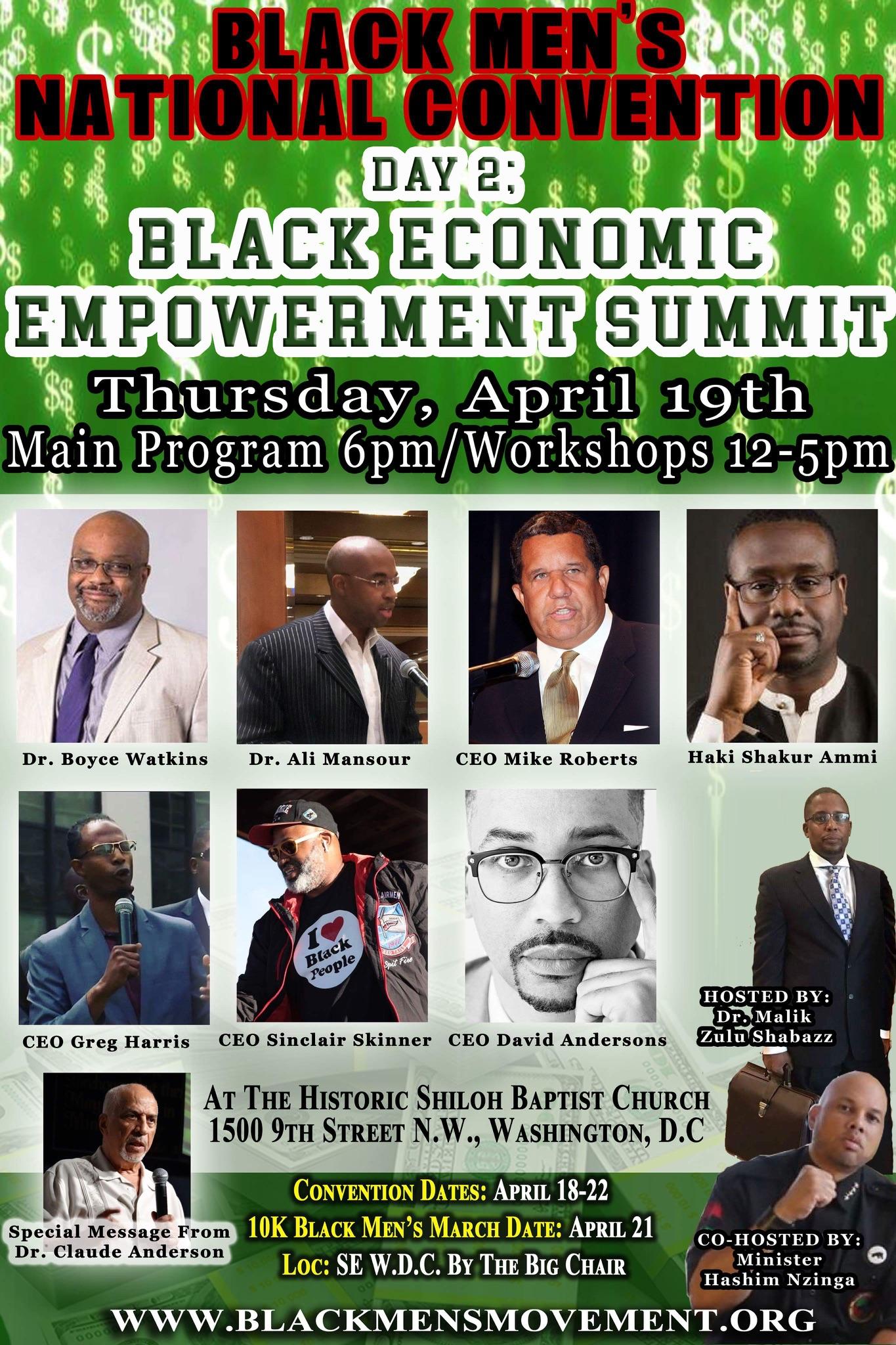 ---
Friday, April 20
12 Noon – 10 pm
MAIN EVENT: 5 pm -10 pm
NATIONAL POLITICAL AND JUSTICE SUMMIT

Workshops and training sessions with community and Political activists, attorneys, self-determination/Pan African activists, student activists and justice advocates from key battlegrounds throughout the nation and the world.
MAIN EVENT: 5:00 - 10 pm
---
Saturday, April 21 – 1 pm (10 am Gathering)
10,000 BLACK MENS MARCH ON WHITE HOUSE


---
SUNDAY, April 22 – 12 Noon-10 pm
MAIN EVENT: 3:00 pm
SELF-DETERMINATION – REPARATIONS AND NATIONALIZATION SUMMIT

---
CONVENTION PASS INFORMATION
You DO NOT want to miss this historic convention! Purchase your tickets today!
5- Day VIP Convention Pass: $140 includes all-day access to all workshops and main events priority seating and meet and greet with lecturers.

5-Day Convention Pass: $70

1-Day Convention Pass: $20 includes all access for one day
---
FOR VENDING OPPORTUNITIES AND BUS INFORMATION CONTACT:
202.549.4205/ 301.513.5445
---
We are encouraging you to exercise a plan of action and be a part of the solution. You are called to action to demonstrate the framework and tools needed for Black Nation building. We invite you to stand with us and take a strong Black-hand in shaping our communities.
Contact: info@blackmensmovement.org or attorneymalikshabazz@gmail.com
WhatsApp: 202.875.9623 or 202.549.4205
#BlackMensMovement.org #BlackMensConvention #SaveOurSons #StopTheKilling
#ShabazzUniversity.org #BlackLawyersForJustice
---