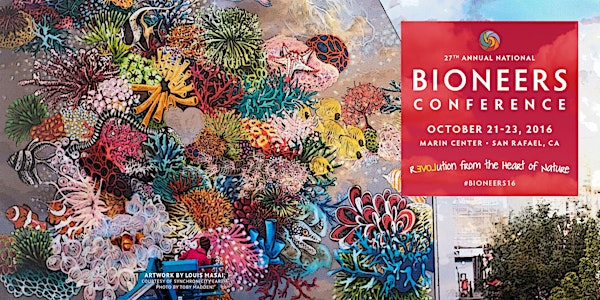 National Bioneers Conference 2016
When and where
Location
Marin Center 10 Ave of the Flags San Rafael, CA 94903
Description
Visit http://conference.bioneers.org for the full schedule and speaker bios.​

The theme of this year's conference is EPIC CHANGE. We are taking big ideas and morphing them into practical solutions for our most pressing ecological and social challenges. The world is in a moment of massive shifts — in climate, in politics, in social order. We need massively meaningful tools to navigate such a moment in our planetary history.

Some highlights:
Biomimicry & a $100k Prize for Biomimicry Design for Food Systems
Along with a keynote by Janine Benyus, the globally renowned biologist, author and co-founder of the Biomimicry Institute and Biomimicry 3.8 consultancy, we're deeply honored to host a very special event in partnership with the Biomimicry Institute and Ray C. Anderson Foundation: the inaugural "Ray of Hope"Biomimicry Global Design Challenge. The $100,000 prize will be given live on the main stage.

Climate Leadership
Our 2016 climate leadership program will feature four diverse keynotes. Bill McKibben, perhaps the greatest activist on the planet today, will shed light on where the climate movement needs to go post-Paris. Solar entrepreneur extraordinaire Danny Kennedy, a founder of Sungevity, will interpret the economics of renewables and how to use business, policy and social movements to power the transformation. Vien Truong, executive director of Green For All, will share the groundbreaking California model that puts environmental justice at the center of policy to bring climate justice and a green economy to underserved communities and communities of color. The electrifying youth climate activist and eco hip-hop artist Xiuhtezcatl Martinez of Earth Guardians will bring to life the mushrooming youth climate movements sweeping the world today.

Gender Equity, Plus Arts in Service of Social Transformation
This year, Eve Ensler will do a performance as a keynote: one act from her new three-act play, "The Fruit Trilogy." It's spine-tingling! Iroquois leader Katsi Cook will speak to the feminine from an Indigenous perspective and as a midwife and network organizer. The powerhouse poet-performers-activists of Climbing PoeTree will bring alive their transformational work with women of color and marginalized communities.