National Association of Christian Lawmakers: 2021National Policy Conference
Sales Have Ended
Registrations are closed
We are sorry our event has SOLD OUT. We hope you can join us at a future conference. Please contact us with questions at www.christianlawmakers.com
Sales Have Ended
Registrations are closed
We are sorry our event has SOLD OUT. We hope you can join us at a future conference. Please contact us with questions at www.christianlawmakers.com
Please join us for the National Association of Christian Lawmakers: National Policy Conference in Dallas, Texas, July 15-18, 2021.
About this event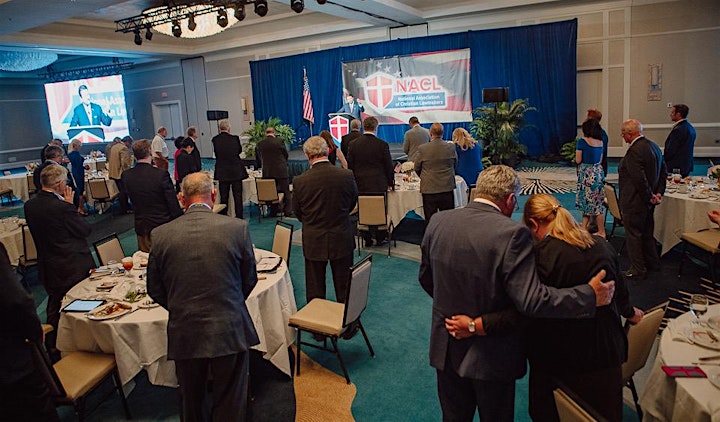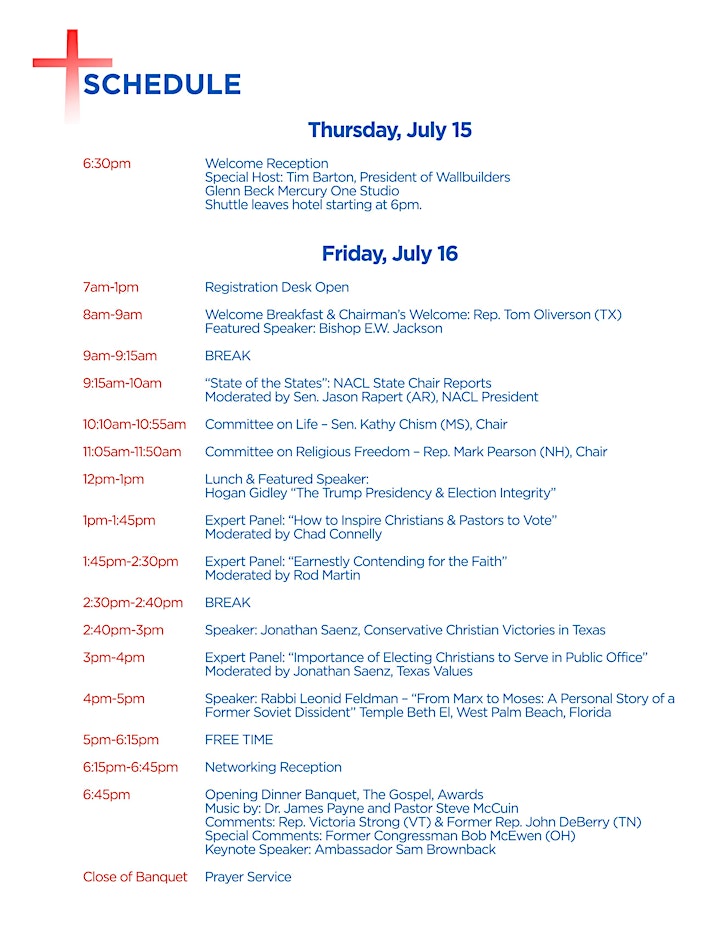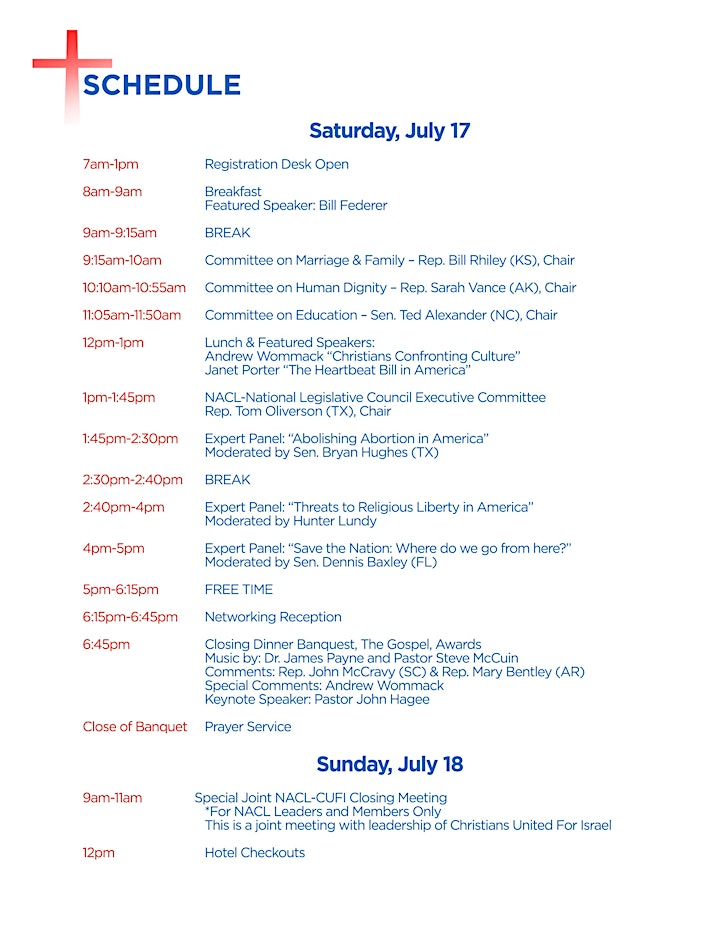 MEETING OVERVIEW
Join with current and former Christian elected officials, faith leaders, believers and supporters for the National Association of Christian Lawmakers (NACL): 2021 National Policy Conference in Dallas, Texas July 15-18, 2021.
Our conference theme is "In God We Trust" and will include special speakers, expert panels, nightly banquet, a worship & prayer service, induction of new NACL members, the inaugural commencement of the NACL-National Legislative Council committee meetings, a joint meeting with Christian United for Israel and the presentation of special awards.
The NACL was originally announced in 2018 and incorporated in 2019 to become the first fully functioning national legislative policy organization led by Christian elected officials at the local, state and federal levels. In fact, historians have stated the NACL is the very first official national association of Christian lawmakers in the history of our country - and we want you to join and be a part of what we are doing.
The organization is dedicated to restoring the Judeo-Christian foundation of our nation and addressing major policy issues facing our states and nation from a Biblical worldview. The charter meeting of the NACL was held August 4-5, 2020, in Miramar Beach, Florida with Christian elected officials and supporters from all around the United States who chose to take a stand for God and Country. At that meeting 23 elected officials were installed as state chairs for the NACL in their states with a total U.S. population of over 160 million American citizens. The NACL received official recognition as an IRS approved 501(c)3 organization in 2021. The organization now has members and donors from 46 total states, and continues to add members at all levels. We recently hired our first Executive Director for the National Legislative Council and we are adding lawmaker leadership training, candidate seminars, monthly member prayer calls, special seminars, model legislation, and Israel education trips for NACL members. We would be honored to have likeminded Christians join with us in Dallas, TX at the Hyatt Regency DFW for our 2021 National Policy Conference.
Special Note Spouses Welcome: NACL welcomes spouses of elected officials to be at our event. Mrs. Danna Standridge of Alabama will be speaking and sharing with spouses at our very first session for our elected official spouses. We know that behind every married lawmaker is a spouse that sacrifices for public service as well. We even reduced the registration fee for spouses because we want you to come to our event. Please be sure to register under the special spouse registration for the meeting if you are the spouse of an elected official.
Our meeting is being held onsite at the Hyatt Regency DFW Conference Center adjacent to the Dallas airport back-to-back with the Christians United For Israel Conference (CUFI) that begins July 18th as our conference agenda is ending.
EXCLUSIVE EVENT
This is an exclusive event for Christian lawmakers, faith leaders, policymakers, believers, pastors and NACL members from around the United States. We are dedicated to our Judeo-Christian heritage and have made a clear policy statement of support for Israel and our Jewish friends who we welcome to attend as well. We expect the conference to sell out quickly so please register now and reserve your spot as soon as possible.
LOCATION & CONFERENCE HOTEL
The location of the meeting will be at the Hyatt Regency DFW Airport located adjacent to the DFW airport in Dallas, TX. This makes for very easy access for travelers flying to the destination. A link will be made available upon completion of your conference registration to book your hotel.
SPECIAL GUEST SPEAKERS, MEETINGS AND EVENTS
This event will showcase nationally known speakers, lawmakers & leaders including:
And many other national faith leaders, Christian lawmakers and pastors from around the country to be announced soon.
July 15, 2021 - 1st Day
The registration desk opens at 3pm at the hotel venue.
OPENING RECEPTION for NACL Members, Conference Sponsors & Special Guests
"Glenn Beck's American Journey Experience presented by Patriot Mobile" with special host Tim Barton, President of Wallbuilders.
All attendees are invited but you MUST INFORM US YOU WILL BE ATTENDING THE RECEPTION WHICH IS OFFSITE. Chartered Bus leaves the hotel at 6pm.
The event will begin Thursday evening July 15th with a welcome reception at the Glenn Beck Mercury One Studio beginning at 6:30pm. This reception is open to all paid members of NACL who have registered to attend the meeting. There will be light refreshments and hors d'oeuvres, as well as a tour of the American Journey Experience that has been started by Glenn Beck, David Barton & Tim Barton of Wallbuilders.
A charter bus/shuttle service will begin transferring participants to the Mercury One Studio at 6pm. Transportation will be used to return guests to the event hotel at the conclusion of the reception. Participants may also drive themselves to the event or take alternate transportation. Only ticketed guests with NACL conference credentials will be allowed to participate.
July 16, 2021 2nd Day
Friday July 16th will begin with a kickoff breakfast and special guest speaker Bishop E.W. Jackson, addressing the spiritual state of the United States and the necessity of Christians running for office at every level of government. The morning session will include comments from NACL-NLC Chairman Rep. Tom Oliverson (TX), the introduction of new lawmaker attendees and special announcements.
The morning session will commence with the "State of the States: NACL State Chair Reports" and 2 the NACL-NLC committees meeting from 9am until Noon - each morning session on both days will be dedicated NACL committee meetings. The committee agendas will be available to attendees at the meeting and posted closer to the event. Members of these committees are NACL elected official members who will begin the process of discussing major policy issues facing our nation and the process of drafting model laws, statutes, ordinances and resolutions will commence. New members will be welcomed to join committees onsite during this process and participate in the proceedings. Chairs and Vice-Chairs have already been appointed and will be responsible for their committee meetings. Witnesses and presenters will be invited to provide testimony to the committees on various topics on their agendas in the same fashion that we see in state legislatures and Congress. Ryan James, NACL-NLC Executive Director provides leadership and support for all functions and members of the NLC.
A special lunch will convene at noon for a meal and comments from Hogan Gidley, former White House Deputy Press Secretary for President Donald Trump. He will be speaking on the Trump Presidency and election integrity.
Each afternoon session on July 16th and July 17th will include expert panels dealing with issues ranging from honoring God in the public square, critical race theory, election integrity, pro-life policy, religious liberty, transgender legislation, America-Israel relations, 2nd Amendment rights, saving our schools from liberal elites and the education system, national security, navigating social media, registering Christians to vote, and electing Christians to public office.
There will be a break in the late afternoon before our first evening session. A reception will be held at 6:15pm for networking and our dinner banquet will begin at 6:45pm. We will have special music provided by Pastor Steve McCuin and Dr. James Payne, remarks by special guests and hear from our keynote speaker Ambassador Sam Brownback who will receive the NALC American Patriot Award for Christian Honor & Courage. Ambassador Brownback served as the Governor and U.S. Senator from Kansas and was appointed by President Donald J. Trump to serve as U.S. Ambassador for International Religious Freedom.
July 17, 2021 - 3rd Day
Our day begins with breakfast at 8am where we will hear from nationally recognized historian, author and expert on the Judeo-Christian history of our nation, Mr. William Federer.
Our morning session will again run from 9am until Noon where 3 more NACL committee meetings will be convened. The committee agendas will be available to attendees at the meeting and posted closer to the event.
Our final lunch session will convene where we will hear remarks from Andrew Wommack on Christians confronting culture, and our luncheon keynote speaker Janet Porter discussing pro-life issues, the Heartbeat Bill movement and the fight to overturn Roe v. Wade. Janet has been the inspiration that led to Heartbeat Bills being filed all over the nation in state legislatures and even in Congress. Arkansas was the first state in the nation to pass a Heartbeat Bill in 2013 through the work of NACL Founder & President Sen. Jason Rapert (AR), and NACL members Rep. John McCravy (SC) and Sen. Bryan Hughes (TX) just recently led their states in passing Heartbeat Bills with Texas becoming the 14th state in the nation to pass the historic legislation. The NACL is committed to abolishing abortion in our nation.
*A special award ceremony will be conducted during the meeting to recognize lawmakers who were prime sponsors of successful Heartbeat Bill legislation in each of the 14 states who have passed the bills into law. This will be a ceremony you will not want to miss.
The final afternoon session will start with the Executive Committee meeting of the NACL Legislative Council which will include reports from the 5 standing committees of the NACL-NLC and consideration of any national model legislation that the body is being asked to approve. The meeting will also include the announcement and installation of any new state chairs and other business as may come before the NACL-NLC. We will also discuss the announcement of future planned meetings, locations and dates for the 2021 National Annual Meeting and conferences in 2022.
The balance of the afternoon session will include special speakers and expert panels.
Our closing evening session will begin with a reception at 6:15pm for networking and our dinner banquet will begin at 6:45pm. We will have special music, special guests and hear from our keynote speaker Pastor John Hagee, founder and president of Christians United For Israel (CUFI) who will be honored with the NACL George Washington Lifetime Leadership Award. Pastor Hagee is also the founder of Cornerstone Church in San Antonio, Texas and is nationally and internationally known for his ministry and strong support for the nation of Israel.
SPECIAL JOINT CUFI MEETING FOR CUFI LEADERSHIP & NACL MEMBERS ONLY:
A special joint meeting of the NACL and CUFI leadership will be convened on Sunday morning July 18, 2021 from 9am to 11am. This is an event for NACL leadership & national board of advisors, and NACL members only. You will have to be a paid member of NACL to attend this special joint meeting.
Please join a Christians United for Israel (CUFI) briefing on Israel oriented issues facing state legislators today. You will be briefed by the Chairwoman of the CUFI Action Fund, the head of CUFI's policy division, and the CUFI Action Fund's Washington based lobbyists, all of whom have worked for years to pass pro-Israel legislation in our nation's capital and state capitols across the country. Topics covered will include how your state can fight those who seek to destroy Israel through boycotts, the importance of mandating Holocaust education, and how we can together push back against the rising tide radicalism and antisemitism sweeping across our nation.
IMPORTANT NACL NOTICES
The NACL is a private membership organization. Only paid members and registered attendees who are our guests are allowed to participate and attend our meetings.
The NACL is not responsible for accidents, illness or loss of property of attendees.
Registered NACL attendees must display their meeting credentials at all times in order to be admitted to all meetings and events including the receptions, breakfasts, lunches or dinners.
Security will be present for the security and safety of our attendees.
The NACL reserves the right to ask any registrant or attendee to leave the meeting if they become disruptive to the meeting, proceedings or other attendees. Registration fees will not be refunded.
NO REFUNDS
There will be NO REFUNDS. All registrations, tickets, memberships, sponsorships or donations are non-refundable. If the July 15-18, 2021 meeting is forced to be cancelled for any reason all registered attendees and/or sponsors will be given credit at a future conference.
PURPOSE
In 1776, the founding fathers of our nation made four specific references to God in the Declaration of Independence, referring to Him as Nature's God, our Creator, the Supreme Judge of the World, and Divine Providence. They understood that God has given every person natural rights that no man created and no man can take away. Our nation is forgetting this fundamental principle and it is time that we take action before it is too late.
In Proverbs 29:2 the scripture declares, "When the righteous are in authority, the people rejoice: but when the wicked beareth rule, the people mourn." Our nation has been experiencing spiritual decline for decades and we now are dealing with social unrest and political division at levels not seen since the Civil War in the 1860s. We believe that the answer to these challenges can be found by uniting Christian believers together with Christian elected officials who are dedicated to restoring the Judeo-Christian foundation of our nation and serving in elected offices at every level around the nation.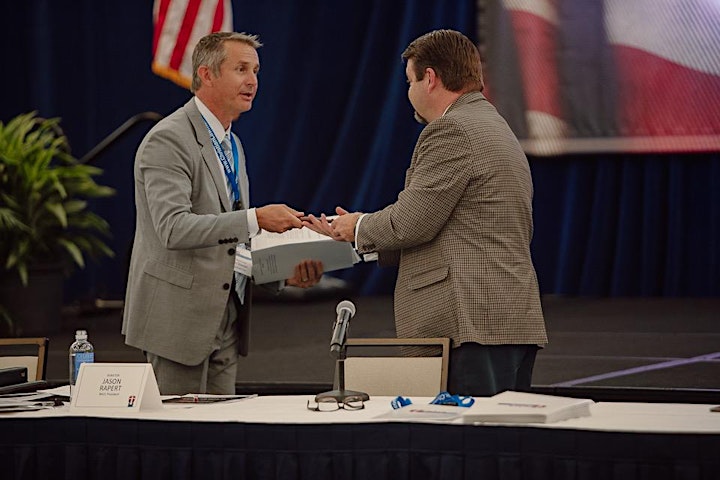 The National Association of Christian Lawmakers (NACL) is host to the first functioning National Legislative Council that is led Christian lawmakers from the local, state and federal levels.
Based on discussion and debate, Christian lawmakers through the NACL formulate model statutes, ordinances and resolutions based upon a Biblical worldview for introduction in cities, counties, states, and at the federal level in Congress. No other organization has done this or is currently doing this in our country today.
The goal is for lawmakers to come together in support of clear Biblical principles so that our nation lives up to its national motto "In God We Trust." In Psalm 33:12 of the Holy Bible the message is clear, "Blessed is the nation whose God is the Lord." We have been suffering in this nation because ungodly leaders are in many positions of authority and their actions result in ungodly laws, decisions and judgments.
The Bible is very clear on several issues including the protection of all life and the fact that God created man and woman for companionship and marriage. The Bible also is clear that God's plan for humanity was for those who believe in Him to take authority over everything in the earth, Genesis 1:26-28. Christians are being forced out of the public square and chastised for speaking up on issues in the private and public realm. The early signs of Christian persecution are already present in our culture today and we must stop this now.
It is time to take action and we are recruiting solid leaders who are willing to take a stand. Come join us and take your place to stand in the gap for the future of America and be a part of saving our nation!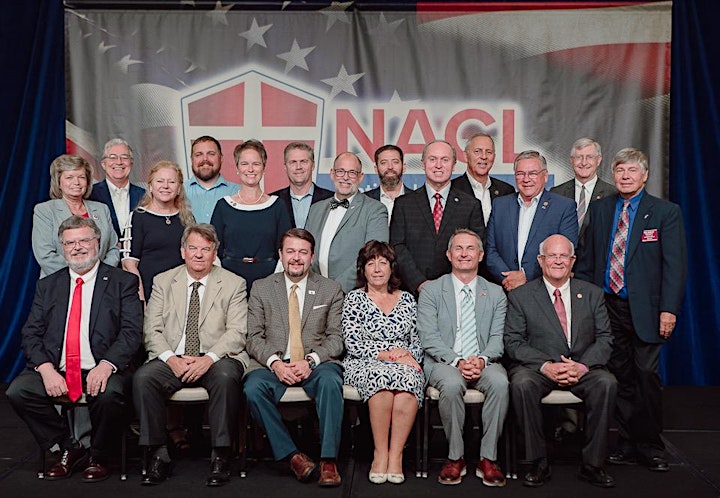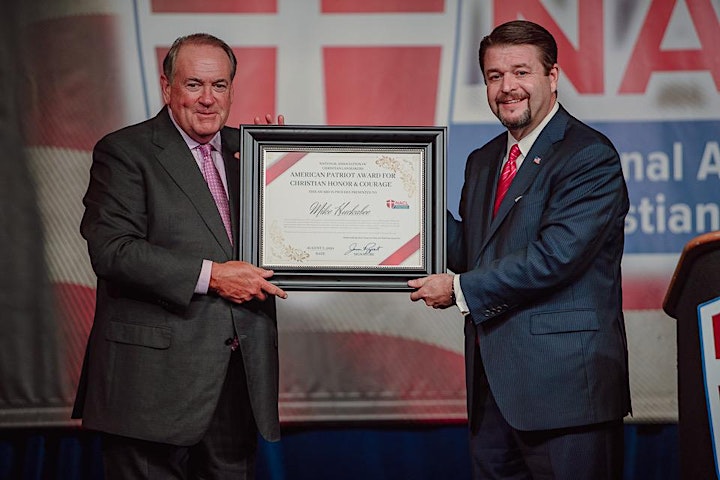 Organizer of National Association of Christian Lawmakers: 2021National Policy Conference