Sales Have Ended
Ticket sales have ended
Thank you! Looking forward to seeing you in Indianapolis on March 27 & 28, 2020
Sales Have Ended
Ticket sales have ended
Thank you! Looking forward to seeing you in Indianapolis on March 27 & 28, 2020
National Association of Adoptees and Parents Annual Conference
About this event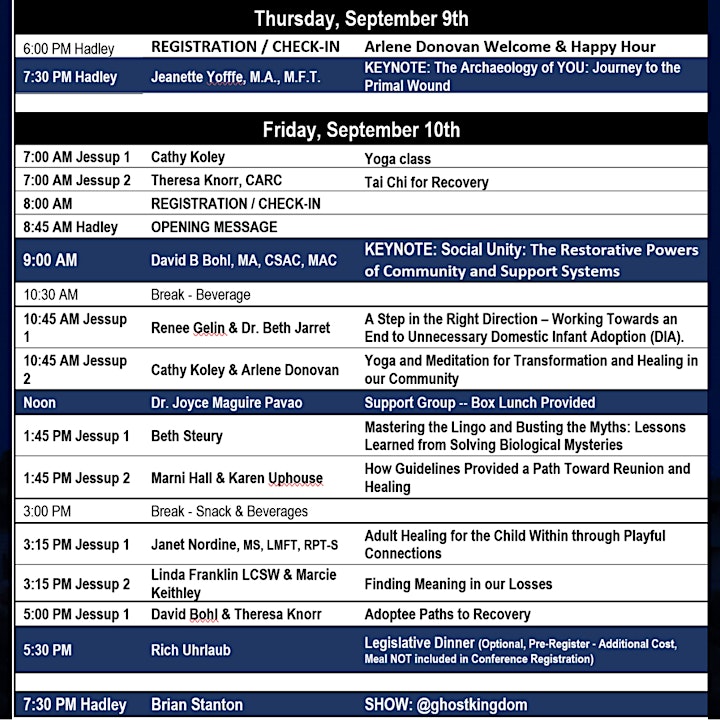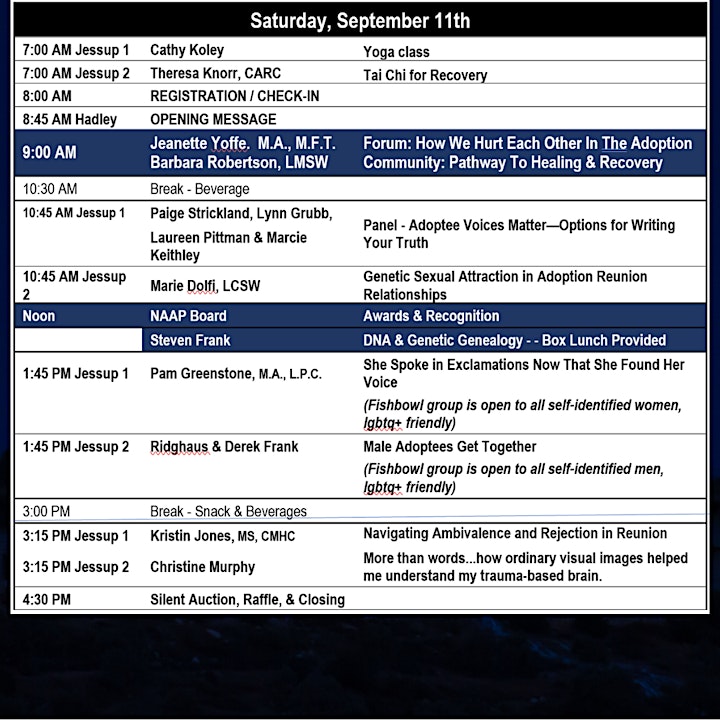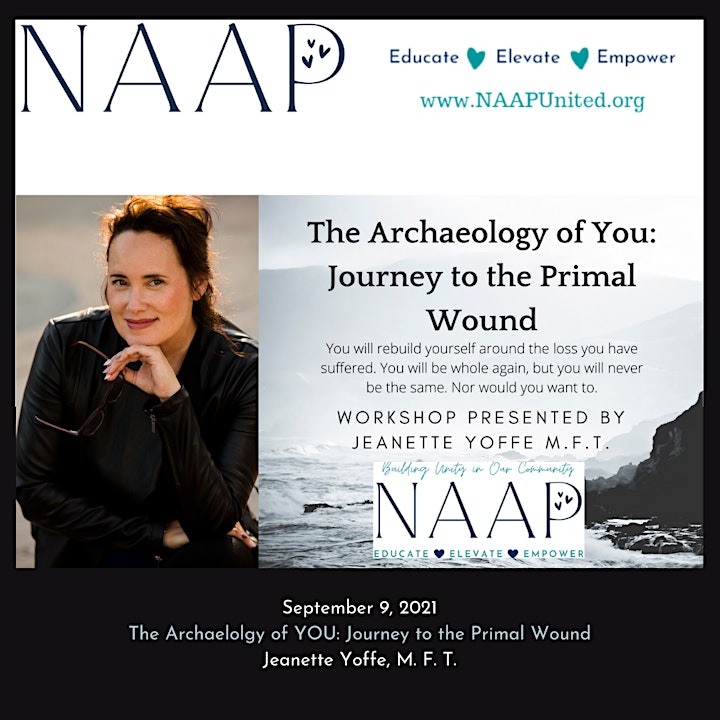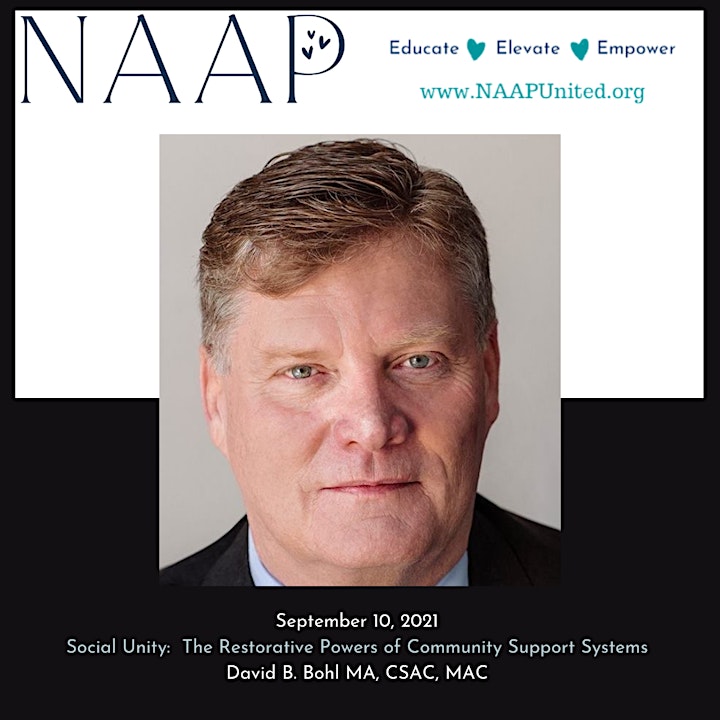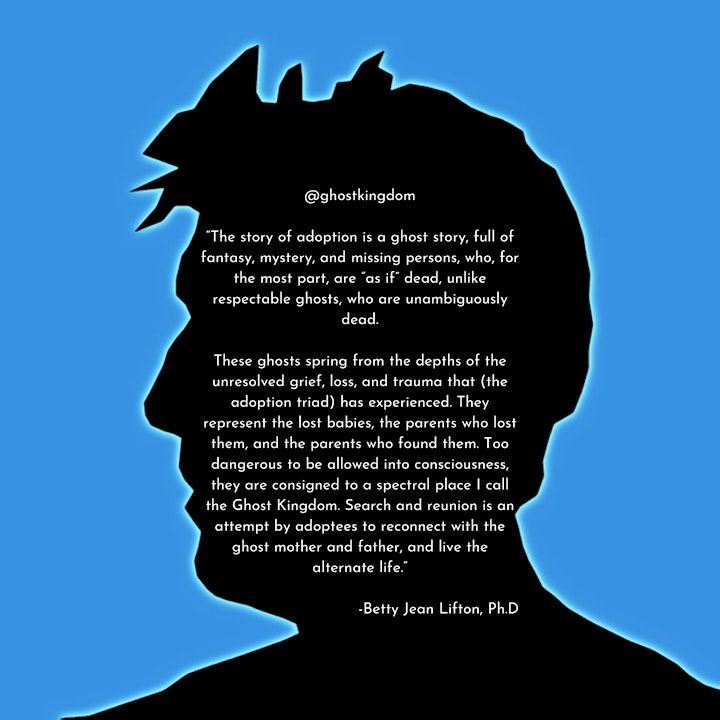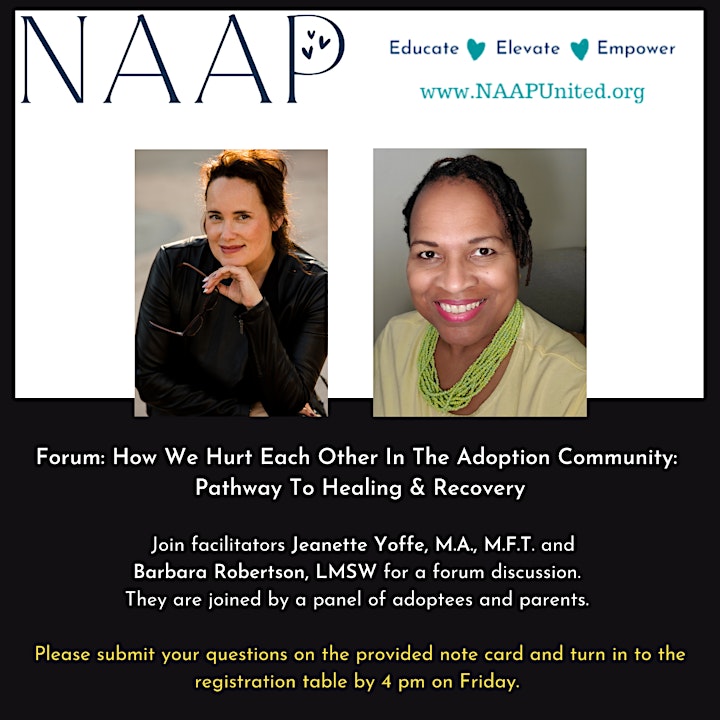 If you have never been to an adoptee conference it will rock your world to be surrounded by 100+ people who just get "it". Our attendees, adoptees and first parents, come from all across the US.
This conference is for Adopted persons, first family members, adoptive families, professionals, and anyone wanting to learn more about the lifelong journey of adoption. We'll dive into groundbreaking topics including keynotes by some of the most respected leaders in the adoption community.
In addition to Keynotes and Entertainment, NAAP's Conference will feature a series of workshops to assist attendees from any state who have recently gained access to their records, those that are still denied access along with adoptees & parents at all stages of search & reunion.
Keynotes
The Archaeology of YOU: Journey to the Primal Wound
You will rebuild yourself around the loss you have suffered. You will be whole again, but you will never be the same. Nor would you want to.
Jeanette Yoffe, M.A., M.F.T., is the Executive Director and Founder of Celia Center, a non-profit support center which serves the community of Foster Care and Adoption in Los Angeles and beyond. She facilitates a support group called Adopt Salon Los Angeles, which brings together all of the constellation members involved in an adoption and/or foster care placement.
She is also an adoptions and foster care psychotherapist and director of Yoffe Therapy. Yoffe's desire to become a therapist with a special focus on adopted and foster care issues derived from her own experience of being adopted and moving through the foster care system.
She has been in the field for over 20 years and has worked as a psychotherapist, foster care social worker, clinical director, trainer for Los Angeles County Child & Family Services and the Department of Mental Health for parents, social workers and therapists on adoption & foster care challenges.
https://celiacenter.org
https://www.yoffetherapy.com
Social Unity: The Restorative Powers of Community and Support Systems
David B Bohl, MA, CSAC, MAC will talk about the restorative powers of Social Unity, the importance of social support groups; their history, and how social groups have evolved over time and how they are helping people today. He will talk about the different kinds of groups—self-support and professionally oriented ones—and in what ways they allow people to heal and recover from trauma. David will also touch on social supports in the times of COVID—specifically via online communities. Most importantly, David will draw from his own experience as an adoptee and a person with addiction issues to illustrate some of the difficulties—trust, safety, attachment issues—as well as benefits—connections, relatability—of achieving Social Unity. It is David's personal experience and his professional one as a counselor and an advocator that gives him a unique perspective on the topic of Social Unity, and that has inspired this speech in the way he hopes will appeal to his NAAP audience, not only as informational but also deeply meaningful.
Forum: How We Hurt Each Other In The Adoption Community: Pathway To Healing & Recovery
Join facilitators Jeanette Yoffe, M.A., M.F.T. and Barbara Robertson, LMSW for a forum discussion. They are joined by a panel of adoptees and parents.
Organizer of National Association of Adoptees and Parents Annua
National Association of Adoptees & Parents, Inc. is a 501 (c)3 non-profit organization committed to enhancing the lives of families that have been touched by Adoption with an emphasis on education and empowerment. We recognize and respect each individual, regardless of where they are in their Adoption walk and strive to provide solutions, resources, and connections for Adoptees and their families.