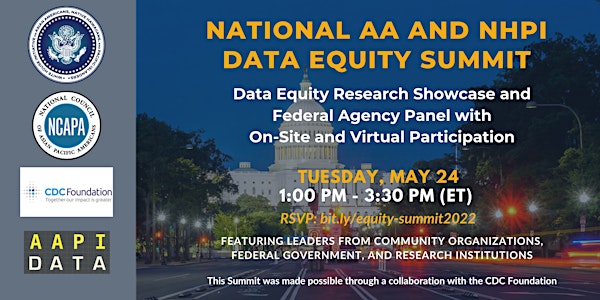 National AA and NHPI Data Equity Summit
The summit will showcase and discuss progress made on data and research involving AA and NHPI populations with a focus on racial equity.
Date and time
Tuesday, May 24, 2022 · 10am - 12:30pm PDT
About this event
The high-level goals of the National AA and NHPI Data Equity Summit are to:
Showcase and discuss progress being made on data and research involving AA and NHPI populations across various federal agencies and initiatives, including the Equitable Data Working Group and the White House Initiative on AA and NHPIs;
Showcase recent reports on AA and NHPI communities by community organizations and research centers; and
Convene leaders and senior staff in government agencies, nonprofit organizations, philanthropic organizations, and research centers to inform strategies, actions, and commitments to advance data equity, with annual benchmarks for progress.
The event will include remarks from government and community leaders, convene a panel of representatives from various federal agencies to discuss progress on data equity, and showcase recent research and reports from different community partners.
The summit will follow the release of AAPI Data and NCAPA's joint Data Equity Report, which will provide an overview of data equity literature to date, conduct a landscape scan of the data collection and reporting practices of federal agencies, and provide recommendations for improvements.
The livestream link will be provided closer to the event.
This Summit was made possible through a collaboration with the CDC Foundation.
About the organizer
Asian Americans and Pacific Islanders (AAPIs) are the fastest growing racial groups in the United States.
Accompanying this rise is a growing interest in these populations from journalists and public officials.  There is also a growing number of data sources, reports by government agencies, and academic studies on AAPI needs and concerns.
AAPI Data seeks to make policy research and demographic data on AAPIs more accessible. We strive to keep our information current and useful, with data and research that are as rigorous and accurate as possible. We also regularly help journalists, community organizations, and decision makers make better sense of data and research.