Nathan Colberg: The "Dream On, Kid." EP Release Tour with Austin Cain at Eddie's Attic in Decatur, GA!
About this event
Nathan Colberg
Nathan Colberg's "Dream On, Kid." EP release tour!
Nathan Colberg is a 26 year old singer-songwriter from Charlottesville, VA. Although he has never received any formal musical training, Colberg grew up playing around on the family piano. But it wasn't until college that he discovered his passion—and talent—for songwriting.
During his senior year of college at UVa, he began to share some of his original songs, performing in living rooms and small gatherings with friends. 
His transparent songwriting, catchy melodies, and pristine vocals captivated a rapidly growing fan base on the east coast. With a series of sold-out shows under his belt in his first years as a recording artist, Colberg was ready to hit the ground running for his first headlining tour in March of 2020.
However, after his first show at a sold out Jefferson Theater in Charlottesville, the rest of his east coast tour would have to wait….for two more years.
During a seemingly endless quarantine, Colberg set out to check off another musical bucket-list item, a pop-inspired project. In Spring of 2021, he flew to Los Angeles to see through the vision. Collaborating with producer Jason Mater, they completed a six song EP, titled "Dream On, Kid." The title serves as both a touch of self deprecation to his ambition as a writer and yet also a message of hope to keep going when hope seems all but lost.
On his "Dream On, Kid." release tour, Colberg will perform with a full band the EP in its entirety for the first time, as well as hand selected songs from his growing catalogue of music, which has garnered over 10 million Spotify streams and counting. The setlist will also include songs from "Into the Wild", a nine song album with each song being written for a loved one. This album has still yet to be toured and played live in its entirety as it was released at the beginning of the covid shutdown.
"Dream On, Kid." Is set to release in early Spring of 2022.
Listen to the first single, "Gateway Bridge" from his new EP: https://open.spotify.com/track/04EMGnDegczYf2BXct9PpX?si=c77010da60024b9d
Read more about his 2020 album, "Into the Wild": https://americansongwriter.com/into-the-wild-nathan-colberg-album-interview/
Austin Cain
Austin Cain, a Memphis native, taught himself how to play guitar by listening and riffing on songs by Jimi Hendrix, Stevie Ray Vaughan, John Mayer, B.B. King and other blues legends. During Austin's time at Auburn University, he began writing songs and released his debut EP, which has now garnered over a million streams on Spotify. While in college, he formed a band and played dozens of shows including a performance on stage with Judah & the Lion, as well as opening for The Brook & The Bluff. After graduation, Austin moved to Nashville where he generated an authentic love for the process of creating music. As he acquired different instruments and pieces of recording gear, he began producing his own songs. In 2019 and 2020, Austin toured with The Band CAMINO, but when covid happened, the next year of their touring schedule got cancelled. So he knew he needed to focus on something else and he decided to write and record his first full length album. This debut album titled "A Dream of Mine" is an amalgamation of genres, past influences, future dreams and a snapshot of how Cain has grown over these past two years. Through the process of Austin crafting his own music, he has found his own style as a producer. Now other artists and bands have begun working with him out of his studio in East Nashville.
Since signing with Brave Enough Artist Agency in 2021, Cain has a more focused vision to spread a message of light, love and hope through his music. Austin loves to write songs about life as he learn to live it and he hopes these songs help you the way they've helped him in creating them.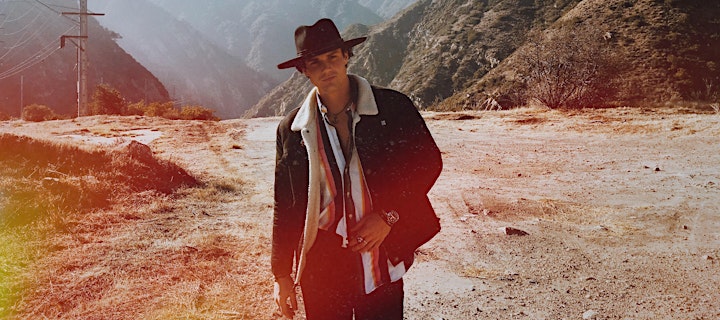 Organizer of Nathan Colberg: The "Dream On, Kid." EP Release Tour with Austin Cain