Nashville's first Pentecost Sunday Concert!
About this event
Nate Bean and 4Given will be in concert and debuting brand new music!
Guest Include :
Ron Poindexter
Gregory Clay
Patrick Bean and Bonafide Worshippers
Joshua Percell and Courageous
Crystal Aikin
Marc Britt ( M.C)
*Mask are Required upon entry"
-temps will be taken at the door
-ONLY 250 seats available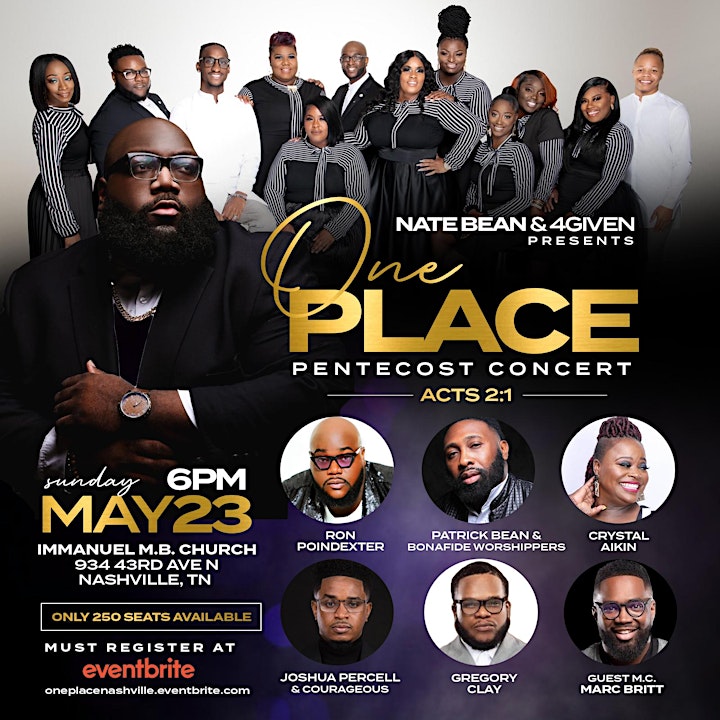 Organizer of NateBean&4Given Presents "ONE PLACE"
Nate Bean & 4given have been in ministry for over 6 years. Formerly known as Next Level, the ensemble has ministered throughout the Nashville area and around the region. The ensemble consist of 24 young adults from a number of backgrounds,genres, denomanations, and experiences. The group is led by Nathaniel Bean, a Nashville native with a amazing voice and a keen ear, known for his leadership, personality, songwriting , arranging and choir directing. He is the minister of music at the GREATER GRACE TEMPLE COMMUNITY CHURCH. The ensemble contains a number of anointed vocalist who love ministering to others.Our motto is, "Ministry Matters most " NATE BEAN&4GIVEN IS A GOSPEL MUSIC MINISTRY FILLED WITH LIFE. ENERGY, DYNAMIC VOCAL PRESENTATIONS WHILE MAINTAINING AN OUTSTANDING ANOINTING! THE "4" IS SYMBOLIC FOR "COMPLETE DIVEN RENEWAL"...This group of young levites have touched the world on so many levels.their original music sets the tone for any occasion.These anonted vessels since 2004 have traveled, sung, recorded and shared the stage with many mainstream artist such as, Judith Mccalister, San Franklin, Roger Ryan, Tye Tribbett,James Hall, Lucinda Moore,Kirk Franklin,Jmoss, Dr,Bobby JONES, Tim Rogers, Darell Petties, Kevin Davidson,Angela Spivey,Lemmie Battles,Kieera Sheard,Dorinda Clark,Jmoss,Earnest Pugh, and so many more.NateBean and 4given have no problem representing God.This ministry is always great at showing an authentic anointing and known for displaying the different styles of gospel music, with dynamic vocal skills! NatebEAN&4G produces a music ministry designed for the masses.!