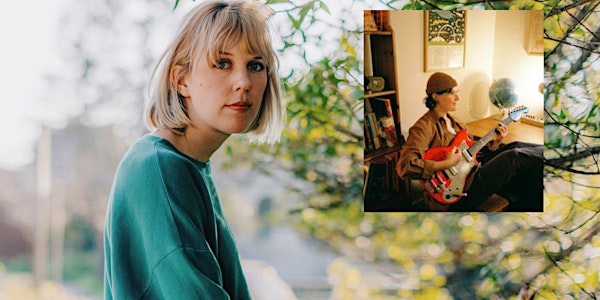 Nataly Dawn (of Pomplamoose) w/ Bella Porter @ FREMONT ABBEY
Abbey Arts & The Triple Door Present: Nataly Dawn (of Pomplamoose) with Bella Porter @ FREMONT ABBEY
When and where
Location
Fremont Abbey Arts Center 4272 Fremont Avenue North Seattle, WA 98103
Refund Policy
Refunds up to 30 days before event
About this event
"For more than a decade, Nataly Dawn has captivated global audiences as lead vocalist of beloved indie-pop band Pomplamoose (a YouTube sensation that finds her joining forces with her husband Jack Conte, with over 400 million views to date for their hyper-creative videos). On her new solo album Gardenview, the Berkeley-based artist shares 13 exquisitely detailed folk/Americana songs that emerged as she contended with many longtime demons, repeatedly turning to songwriting as a means of accessing joy, presence, and a deeper sense of peace. Her fourth solo effort and first full-length since 2016's Haze (a critically acclaimed release that prompted Consequence to praise her as a "force to be reckoned with"), the album presents its luminous insights in a vast array of musical forms: high-spirited folk hymns, McCartney-esque pop symphonies, indie-rock-infused retellings of ancient Taoist fables, to name just a few. In bringing such an elegantly eclectic body of work to life, Dawn collaborated with a number of close musician-friends and mostly recorded live (with minimal editing or overdubbing), endlessly tapping into her graceful musicality and incandescent imagination. Delicately sculpted yet deliberately unvarnished, Gardenview ultimately affirms Dawn as a truly singular and essential songwriting voice, wholly capable of delivering the kind of heart-expanding revelation that profoundly transforms the way we see the world."
-Artist Bio
"Bella Porter is an indie artist based in Los Angeles, California. Her solo career began in 2017 with the release of her full-length album Luck of the Draw featuring 15 lo-fi songs recorded and mixed entirely from the artist's bedroom. In addition to her solo endeavors, Bella Porter is also the primary songwriter and lead vocalist in the Los Angeles based band Another Bummer. Their first release was a 2020 self-titled EP with the help of Grammy-nominated producer Tyler Chester. Though clearly carved from the same sonic wood as Angel Olsen, Adrianne Lenker, and Lucy Dacus, Bella shapes her own sound with lush harmonies, dry-wit humor, and honest storytelling."
-Artist Bio
@ Fremont Abbey Arts Center
7:00p doors, 8p show
All ages, some seating available, bar w/ID
--------------------------------------------------
ABBEY ARTS EVENT INFO:
Check tickets for show time
Fremont Abbey is ADA accessible on either level.
Service animals as defined by the ADA are allowed. Service animals are defined as dogs that are individually trained to do work or perform tasks for people with disabilities.
We have a mix of normal chairs, some tall chairs, and standing room in back.
Seating is not reserved unless noted.
Please refrain from talking or texting during the show.
No video from the seating area please.
Please limit photos during the show so as to not distract other attendees from the experience.
We are an all ages venue. Kids 10 & under are free at Abbey Arts concerts & arts events unless noted.
Entering the venue indicates agreement to adhere to the Abbey Respect Policy. All are welcome.
ABBEY ARTS, SEATTLE | NONPROFIT 501C3, NON-RELIGIOUS, EST. 2005
Presenting welcoming music, arts & cultural experiences for people of all ages & incomes.
Home Venue: Fremont Abbey, 4272 Fremont Ave North, Seattle, WA 98103 / 206-414-8325
Note: All ticket sales are final unless noted. Lineup and performers are subject to change, no refunds for change of support acts.
--------------------------------------------------
See Updated Public Health Safety Info at the bottom of this page under Abbey Arts Presents. All Abbey Arts venues adhere to WA State & King County health guidelines. Thanks for helping keep our community safe!
--------------------------------------------------