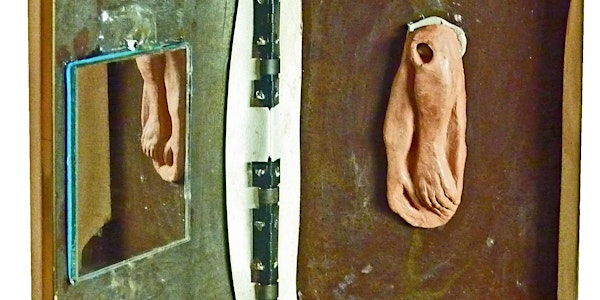 Natalie Sirett: Kevin, Wishes & Charms - Opening Reception
Natalie Sirett draws with thread on vintage handkerchiefs, and presents assemblage sculptures ruminating on mortality and resilience.
When and where
Location
Ro2 Art in the Cedars 1501 S Ervay Dallas, TX 75215
About this event
Ro2 Art is proud to present Kevin, Wishes & Charms a solo exhibition featuring new works by artist Natalie Sirett. The show will run from April 1 through May 15, 2021. The exhibition will open with an artist reception at Ro2 Art the Cedars located at 1501 S Ervay St, Dallas, TX and will take place from 12-5 PM.
Natalie Sirett is a British artist trained in academic painting and printmaking. Her newest body of work is informed by the survival of her own body, now in remission after undergoing ten months of treatment for cancer. Sirett hand embroidered over fifty antique handkerchiefs as she processed coming to terms with her own mortality.
The intimacy of these textiles; square patches of fabric that hold joy, uncertainty, sadness, loss, happiness and hope, are a compelling choice of substrate for the artist's words to exist on. The images take shape on a background of memory, pierced, looped, and needle-worked into Sirett's compositions. These fiber art pieces, as well as several assemblage sculptures have never before been exhibited.
Artist Statement
K is for Kevin is a series of fifty-four embroideries on handkerchiefs. The words, phrases and images are taken from a steroid-fuelled diary, written over a period of ten months during breast cancer treatment. The diary, as diaries should be, is private. It's a proper out-pouring, written in the middle the night when steroids, taken to mitigate chemotherapy drugs, meant there was no escape, not even in sleep. Once I moved into remission, I was resistant to adding to what I saw as a glut of cancer narratives out there in culture and the media but I gradually came to understand that I didn't have a choice in the matter. As any survivor knows, from the moment of diagnosis onwards, once the 'C word' is said, you are never cancer 'free', it just hasn't come back yet. Your task is to learn to live in the 'new-normal'. This contradictory phrase, familiar to all because of Covid 19 but long established as part of advice to cancer patients was something I wrestled with, I could find nothing normal in my new landscape. In time I began realise that in order to accept and move on with cancer now a companion in life, I had no choice but to make something, to make work that expressed, marked, mapped and witnessed my experience.
About The Artist
Natalie Sirett was born in Heswall, Cheshire and currently lives and works in London. She received a BA in Fine Art from the University of Newcastle-upon-Tyne and studied painting and printmaking at the Royal Academy Schools, London. Her work explores symbols and stories embedded in our culture.
About Ro2 Art
Ro2 Art is a contemporary fine art gallery with spaces in The Cedars Neighborhood and Downtown Dallas, representing a diverse group of emerging, mid-career, and established contemporary artists – many with ties to the North Texas Region. The gallery, founded in 2010 by mother-and-son partners Susan Roth Romans and Jordan Roth, regularly collaborates with organizations such as The MAC and Cedars Union, and maintains an exhibition program within the Magnolia Theatre at West Village and other satellite venues. Ro2 Art has been named Dallas Observer's Best Art Gallery and was presented with the 25th Annual Obelisk Award for small business by the North Texas Business Council for the Arts. The gallery's art fair program has included the Dallas Art Fair, Texas Contemporary, and Art Aspen. More info: http://www.ro2art.com
All works will be on view March 27, 2020 – May 1, 2021. Please join us for the opening reception on Saturday, March 27, 12-5 PM at Ro2 Art, located at 110 N Akard St, Dallas TX 75215. For more information, visit www.Ro2art.com