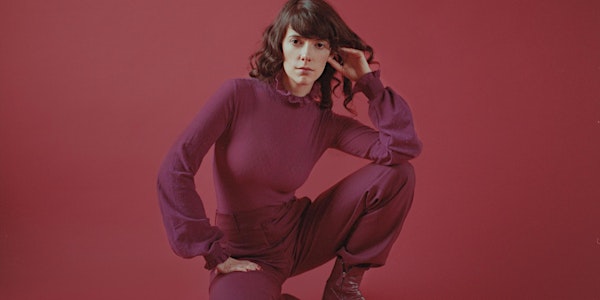 Natalie Prass / Adeline
Ages 21+
City Farm Presents Summer Series at Industry City
City Farm Presents: Summer Series at Industry City ✹ Natalie Prass ✹ Adeline
When and where
Location
Industry City 238 36th Street Courtyard 1-2 (Food Hall Entrance) Brooklyn, NY 11232
Performers
Headliners
More Performers
About this event
Doors 7:30PM ✹ Show 8:00PM
$20 ADV ✹ $25 Day of Show ✹ All Ages
ABOUT SUMMER SERIES AT INDUSTRY CITY▶
Created by the team behind Brooklyn venues The Bell House and Union Hall, City Farm Presents returns to Industry City for a second summer of outdoor shows in Courtyard 1-2! From June-September, this season features an expanded schedule with more than 35 concerts and dance parties. Audiences can expect to discover a diverse line-up featuring genres spanning rock, soul, electronic, jazz, world and beyond. This summer will introduce thoughtful artist curation to an already unique and creative space, bringing a fresh take on the New York City outdoor concert experience. For more information, visit our Website or the City Farm Presents Facebook, Instagram or Twitter.
All Summer Series shows are located at Industry City in Courtyard 1-2 (info and directions below).
Doors open one hour prior to performance unless otherwise noted.
VENUE ADDRESS ▶
Industry City - Courtyard 1-2
Entrance at 238 36th Street (Food Hall Entrance)
Brooklyn, NY 11232 | Google Maps
DIRECTIONS TO THE VENUE ▶
☞ BY CAR
There is a paid designated parking lot accessible via 2nd Avenue between 32nd Street and 36th Street
☞ BY PUBLIC TRANSPORTATION
D / N / R to 36th Street
B63 Bus to 36th Street
☞ BY BIKE
There are bike racks located throughout the Industry City campus.
There is a Citi Bike bike sharing station located at 2nd Ave between 36th Street and 35th Street, and another at the corner of 2nd Ave and 39th Street.
FOOD OPTIONS AT INDUSTRY CITY▶
Eat your heart out Brooklyn. From Korean comfort food to Instagram-famous Avocado toasts, Industry City's Food Hall is a delicious culinary gathering place in the center of campus. Stroll along Innovation Alley and beyond to discover other Brooklyn-based purveyors serving up local craft spirits distilled on site and some of the country's best BBQ.
Table 87 Pizza
Burger Joint
Ends Meat
Avocaderia
Taco Mix
Recently opened Japan Village (Building 4)
Hometown BBQ (Building 5 - Opening Soon!)
Click Here For Food Options Near Courtyard 1-2 in Industry City
VENUE BAR HOURS ▶
Our venue bar is open for all scheduled performances at doors, and in addition to:
Thursday-Friday: Opens at 4:00PM
Saturday-Sunday: Opens at Noon
✴ Happy Hour! ✴
Weekdays 4:00pm-7:00pm, $1 off all beer, wine and well!
RAIN OR SHINE POLICY▶
All Performances are Rain or Shine. In the event of dangerous weather we will be communicating updates on our website, Facebook, Instagram Stories and Twitter.
✹✹✹✹✹✹✹✹✹✹✹✹✹✹✹✹✹✹✹✹✹✹✹✹✹✹✹✹✹✹✹✹✹✹✹✹✹✹✹
ABOUT NATALIE PRASS ✹
The songs were written, the band was ready, and the studio was booked. Fans and critics alike were eagerly awaiting the follow-up to Natalie Prass's 2015 self-titled breakout album, a collection hailed by NPR as "a majestic debut," but perhaps no one was more eager for record number two than Prass herself. She'd waited what felt like a lifetime to release that first album and then toured the world relentlessly behind it, sharing bills with the likes of Fleet Foxes and The War on Drugs on her way to becoming one of the year's most talked-about artists. By the time recording sessions were scheduled to begin, she was absolutely dying to launch the next chapter, which made what happened next all the more shocking: she scrapped the whole thing.
"The record was ready to go, and then the election happened," explains Prass. "I was devastated. It made me question what it means to be a woman in America, whether any of the things I thought were getting better were actually improving, who I am and what I believe in. I knew I would be so upset with myself if I didn't take the opportunity to say some of the things that meant so much to me, so I decided to rewrite the record. I needed to make an album that was going to get me out of my funk, one that would hopefully lift other people out of theirs, too, because that's what music is all about."
The result is 'The Future And The Past,' a stunning work of art and a powerful feminist statement from an artist who's only just begun to tap into the full range of her considerable powers. Reuniting Prass with producer and long-time friend Matthew E. White, the album is at once celebratory and defiant, capturing all the joy, frustration, fear and hope inherent in modern womanhood as it synthesizes the influence of everything from vintage gospel and 80's pop to 90's R&B and Brazilian Tropicália. Prass displays a rare gift for transcending time and place in her songwriting, tapping into age-old struggles for autonomy and equality that resonate profoundly in the present.
Though she'd been honing her craft and paying her dues for years, Prass first emerged to international acclaim in 2015, when her debut record earned its rightfully rapturous reception. Rolling Stone swooned for the Virginia native's "beguiling voice and refined taste," while Pitchfork praised her album as a "smoldering perspective on passionate romance," and The New Yorker simply called it "timeless." She appeared on the Martin Scorsese-helmed HBO series Vinyl, performed on the BBC's Later… With Jools Holland, and CBS This Morning, and racked up more than ten million streams on Spotify. Before long, she was headlining dates around the world and playing festival stages from Bonnaroo and Rock En Seine to End Of The Road and Forecastle.
Once touring for the album had wrapped up, Prass took a stab at writing in new cities with fresh faces, spending time in London, LA, and Nashville, but it only served to reinforce the feeling that she belonged back home in Richmond. There, she holed up with White for intensive creative sessions as she attempted to work through the difficult existential questions she found herself facing in a country that expected women to be seen and not heard.
"I went over to his house every single day, and we'd work from 10am to 5pm straight just writing and listening and talking," she explains. "It was very therapeutic for me, and I think it actually helped Matt to understand my point of view as a woman, too."
Recorded once again at White's Spacebomb Studios, the album showcases both a new political depth to Prass's songwriting and a bold willingness to follow her muse wherever it leads. While her debut was marked by elaborate horn and string arrangements, 'The Future And The Past' finds Prass stripping her songwriting back to its most essential elements. Groove reigns supreme as she channels Dionne Warwick and Janet Jackson and lets her dazzling vocals dance across funky instrumental arrangements. Album opener "Oh My" sounds like a lost slice of 80's gold, complete with off-kilter Talking Heads-esque guitar, but dig a little deeper and you'll find a song that's pure 2018 as Prass sings, "Seems like every day we're losing when we choose to read the news." Losing's not an option, though, and Prass makes it abundantly clear that women won't even entertain the notion of moving backwards. On "Ain't Nobody" she confidently promises that there "ain't nobody can take this from our hands," while the soulful, swaggering "Sisters" plays out like a mission statement for the entire album, as Prass and a chorus of female backup singers proclaim, "I wanna say it loud / for all the ones held down / we gotta change the plan."
"I didn't want to point any fingers, and I didn't want to sound desperate or defeated," she explains. "I wanted to stay positive and joyful. The world's obviously not perfect, but there's nothing we can't do if we love and support each other. It was really important to me that these songs make people feel that way."
It's a principle that guides Prass throughout the album, no matter her subject material. On "Short Court Style," she taps into Diana Ross disco and reflects on the bliss a healthy relationship can bring, while the hypnotic "Hot For The Mountain" assures all the outcasts and misfits that they're not alone, and the playful "Never Too Late" conjures up a world where a wish upon a star can bring back lost love. Even in the album's darker moments, like the Karen Carpenter-inspired ballad "Far From You" or the cooing pop gem "Nothing To Say," Prass refuses to let go of her rebelliously optimistic streak. "I will never kneel when power is in fear and aimed upon me," she sings on the South American-influenced "Ship Go Down," adding "no no I am never drowning" in a breathy delivery that's light as a feather and tough as nails.
Ultimately, 'The Future And The Past' is a record that's about neither of those things. Instead, it's about womanhood and the modern world and the things we can do right this very moment to make them both better through love and support and camaraderie. The album may have been born out of deep doubt and disappointment, but it insists on faith and optimism, and it succeeds because Prass leads by example, embracing her femininity on her own indomitable terms. "Music's supposed to make you feel better," she reflects, and in that respect alone, she's created a genuine triumph.
ABOUT ADELLINE ✹
A French-Caribbean juggernaut who sings, plays bass, writes and produces her own music. Adeline (pronounced adaleen) dominates any stage she performs on and captures her audience not only with her powerful voice but with her funky bass playing, daring personal style and soulful yet seductive dance moves. Born and raised in Paris, she moved to New York to realize her dreams, making Brooklyn her home.
Eager to express her individuality through her music, she fuses feminine prowess with brutish, powerful funk, soulful R&B and slinky disco. Her bass playing is dirty, her moves are sultry and her high range voice is unstoppable. She's a bombshell that stretches herself as an artist and performer and continually refines her craft.
Adeline's dedication, talent and style have led to critical acclaim and accolades from publications across music and fashion. Named one of the "10 Most Stylish Women in Music", the "chameleon-french fashionista" has been featured in Rolling Stone, The New York Times, Vogue, Pitchfork, T Magazine, In Style, Refinery 29, V magazine, Nylon, Vulture, Lucky, Allure & L'Officiel.
With a Rolling Stone "Top 50 Albums of the Year" under her belt as the voice and face of the lauded Nu-Disco band Escort, she has fearlessly taken center stage at major festivals including Coachella, Montreal Jazz Fest, Full Moon Festival where she showcased her indomitable stage presence, bass playing and powerful vocals. And as a bass player she has been enlisted regularly to tour for Ceelo including Afropunk 2016 and Rock in Rio in 2017.
NOW Adeline is stepping out and writing a new chapter as a solo artist.
With musical influences essential to any history lesson in funk, R&B and disco, her upcoming album Café Au Lait - which she co-produced (with Morgan Wiley) wrote & played bass on - gives nods to Chaka Khan, Prince, Curtis Mayfield & Sylvester while staying contemporary. Slated for a fall 2018 release, it will be found on must listen playlists and the airwaves soon.
Sign up for our newsletter! http://eepurl.com/geb4kf