Description
PLEASE NOTE: REGISTRATION DOES NOT GUARANTEE ENTRY. DUE TO AN OVERWHELMING RESPONSE TO REGISTRATION, WE ADVISE ARRIVING AS EARLY AS POSSIBLE. FIRST COME, FIRST SERVED.
RSVP Policy
This event is open to all 21+ SXSW badge holders. Attendees will be required to show their official SXSW badge and a photo ID (driver's license or passport) to enter the venue.
Follow Doc's DeLorean to National Geographic Channel's party to celebrate the '80s and today, featuring Girl Talk on Sunday, March 10 from 9 p.m. until 2 a.m.
In advance of its upcoming series, the party pays homage to the decade that made us. How did Jane Fonda pave the road for at-home DVD players? What UT Austin drop-out inspired the organic food revolution? Nat Geo answers this and more with surprises at every turn.
EVENT IS FREE. OPEN BAR.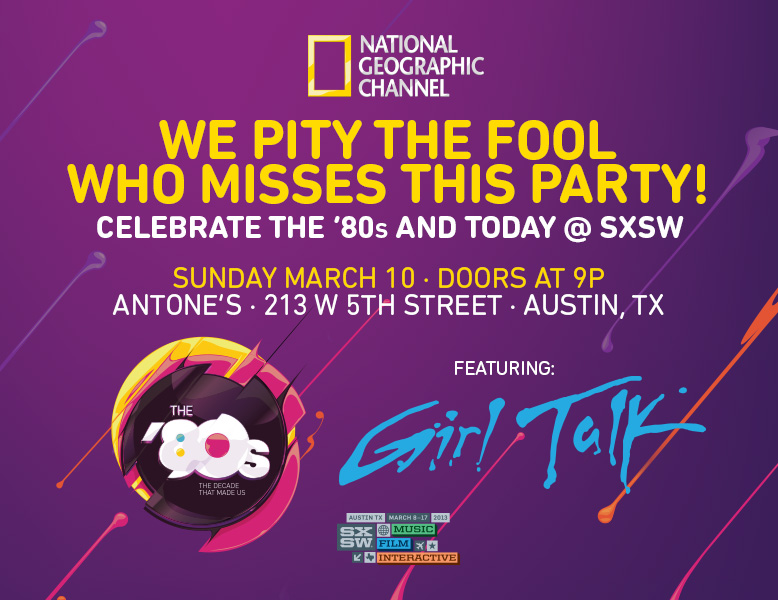 PHYSICAL TICKETS WILL NOT BE ISSUED FOR THIS EVENT.

Socialize
#NatGeo80s
Follow us on Twitter (@natgeochannel), Facebook (@natgeotv), and Instagram (@natgeochannels).
Organizer of Nat Geo Celebrates The '80's & Today Featuring Girl Talk
Based at the National Geographic Society headquarters in Washington, D.C., the National Geographic Channels US are a joint venture between National Geographic and Fox Cable Networks.  The Channels contribute to the National Geographic Society's commitment to exploration, conservation and education with smart, innovative programming and profits that directly support its mission.  Launched in January 2001, National Geographic Channel (NGC) celebrated its fifth anniversary with the debut of NGC HD.  In 2010, the wildlife and natural history cable channel Nat Geo WILD was launched, and in 2011, the Spanish-language network Nat Geo Mundo was unveiled.  The Channels have carriage with all of the nation's major cable, telco and satellite television providers, with NGC currently available in 84 million U.S. homes.  Globally, National Geographic Channel is available in 440 million homes in 171 countries and 38 languages.  For more information, visit www.natgeotv.com.