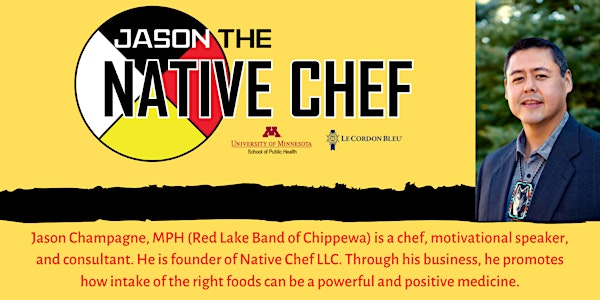 NASP Cooking Series with Native Chef Jason Champagne
NASP Cooking Series with Native Chef Jason Champagne.
About this event
Join us for our NASP Cooking Series with Native Chef Jason Champagne. This will be a four part cooking series. We highly encourage you to join all for sessions. However, if you can't well understood. This is a collaboration with Native American Student Programs, The Well, and Middle Eastern Student Center.
Jason Champagne, MPH (Red Lake Band of Chippewa) is a chef, motivational speaker, and consultant. He is founder of Native Chef LLC. Through his business, he promotes how intake of the right foods can be a powerful and positive medicine.
- Cooking Series Dates & Times-
*April 8,2021 4pm-4:30pm*
Session one: Kitchen Essential Equipment & Utensils (30minutes)
• This session incorporates the basic and essential kitchen equipment and utensils needed to be successful at home with preparing healthy and delicious meals. Each piece of equipment and utensil will be discussed as why they are needed in the kitchen. Also includes a knife skills demonstration showing the safe way to use knifes when doing multiple different types of knife cuts.
*April 15,2021 4pm-4:45pm
Session two: Why should we cook more at home & The Basics for Handling Food Safely & Preventing Food Born Illness (45Minutes)
• This session includes a power-point presentation discussing why it is so important to prepare more meals at home. In addition, this session also discusses the importance of handling food safely and tips to help avoid food born illnesses. Key topics addressed include; home food preparation vs. eating out, importance of meal planning, hand washing, safe grocery shopping, food storage, food preparation, food cooking temperatures, food holding, food leftovers, food refreezing, placement of foods in cold storage.
*April 22,2021 4pm-5pm
Session Three: Cooking at home; Preparation of Breakfast, Lunch, and Dinner Cooking Demo (60Minutes)
• This session is a cooking demonstration provided by Chef Jason. Three different menu ideas will be provided for breakfast, lunch, and dinner. Included will be tips on how to efficiently prepare meals at home, incorporate healthy fruits and vegetables into everyday meals, and how to make your plate presentation look amazing.
*April 29,2021 4pm-5pm
Session Four: Hands on Cooking with Chef Jason (60Minutes)
• This class will be a hands-on cooking class which will invite participants at home to cook along with Chef Jason in real-time. A menu recipe will be provided in advance to the class. Participants will have the option of purchasing the ingredients and cooking with Chef Jason step by step, or simply watch Chef Jason prepare the recipe. All learning elements of the previous 3 sessions will be incorporated into this fun and helpful cooking demonstration.
*Recipe will be provided prior to session if you would like to cook along with Chef Jason*