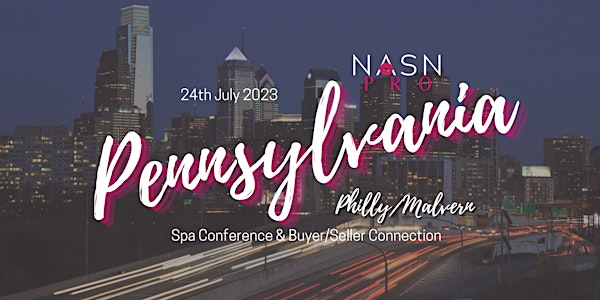 NASNPRO Pennsylvania
Recharge your SOUL + SPA at this Spa Conference and Spa Buyer / Seller Connection sponsored by the National Aesthetic Spa Network NASNPRO®
By National Aesthetic Spa Network (NASNPRO)
Date and time
Monday, July 24 · 9am - 4pm EDT
Location
Desmond Hotel Malvern, a DoubleTree by Hilton One Liberty Boulevard Malvern, PA 19355
About this event
Hello Philadelphia Area Estheticians and those looking for a spa conference experience ... how about King of Prussia, PA!?
NASNPRO Members & Attendees- We're returning to Pennsylvania, but to a NEW location! PHILADELPHIA! King of Prussia, to be exact at the Desmond Hotel in Malvern!
Licensed Professional and Student Soon- To- Be - beautifying... it is with continued pleasure that we invite you to the 19th Year of NASNPRO Spa Conferences, the most prominent meeting in the United States for Spa Owners, Estheticians, Massage Therapists, Cosmetic Nurses, and Spa Directors. A true aesthetic education experience...
NASNPRO highlights the PRO vendors in SHOPPING portions of our conference and BRAND-NEUTRAL education at our WORKSHOP portion of our conference...Let's meet in Philadelphia!
Where is Malvern?
Malvern is a borough in Chester County, Pennsylvania. It is twenty-five miles west of Philadelphia and 30 Minutes outside of Delaware. A short road-trip from New York and a quick trip from New Jersey... Flights to Philadelphia airport are international --- just saying! (Use Airport PHL on your tickets)
Ticket includes:
Admittance to NASNPRO Conference
Access to PRO ONLY Vendor Showcase
Sponsored Swag Bag & Giveaways!
FULL CATERED LUNCH
Educational Workshops
Parking
AND
2 CE's Approved by Commission on Accreditation
*About the Commission on Accreditation:
Provides educational activities which will increase the skincare professionals knowledge, skills and competency. Provides local, regional, national, and international accredited educational activities, and learning opportunities. Raises the standard of educational delivery methods and utilizes faculty disclosure(s) to improve the quality of educational activities. To meet or exceed a state regulatory board continuing education requirements for relicensure. Provide state regulatory boards a quality commission on accreditation for skincare professionals.*
SCHEDULE
Doors open at 9:00
9:45 Welcome by Denise R Fuller, LE -Founder of National Aesthetic Spa Network + Host Austine Mah
Dr. Jay Lokhande: The Role of Epidermal Adult Stem Cells in Skin Age Management
Rena Levi: The pathogenesis of Acne
Stephanie Holvick, RN: The new secret weapon to rid hypo-pigmentation, scars and wrinkles: Multitrepannic Collagen Actuation
Antonella Colella ESQ: Legalities in the Aesthetic Industries
Lunch & Networking
SPEAKERS & WORKSHOPS FOCUSED ON AESTHETIC SCIENCE, INGREDIENTS, BEAUTY BUSINESS, MARKETING, and MORE!
4:00 Closing Thoughts & End of Day Prize Basket Drawing - One attendee wins the entire SWAG BAG, which includes a GOOD GIFT from EACH of the vendors present-- HUGE PRIZE! One winner who is in attendance will take home the ENTIRE collection.
"This swag bag could start a spa!" - NASNPRO Attendee Winner
Come for the education; stay for the community. #WeAreNASNPRO
Follow our Instagram & TikTok for information and announcements @Nasnpro
SPONSORED BY:
LaFlore®- Live Probiotic Skincare
About the organizer
National Aesthetic Spa Network NASNPRO started in 2004 as the Florida Aesthetic Network founded by Denise R. Fuller and Janet McCormick. These industry luminaries wanted to create a inclusive forum for neutral education in a relaxed environment among professionals in the spa industry. While partnering with industry leaders and maintaining a consistent vision NASNPRO has become one of the leading organizations offering vendor neutral education, networking opportunities and career enhancing scholarship programs. NASNPRO joins spa professionals together through regional educational events and member only savings and opportunities.