Nashville Women's Empowerment Workshop Series

Saturday, June 30, 2012 from 9:00 AM to 3:00 PM (CDT)
Event Details
Nashville Women's Empowerment
Workshop Series
www.NashvilleWomensEmpowerment.com
"Creating Economic Impact through Entrepreneurship" 
No more excuses; it's time to turn your dream of owning and operating a business into reality. If you have the desire to start your own business and you are ready to make a positive change in your life, than you are invited to attend the upcoming Nashville Women's Empowerment Workshop Series to be held on Saturday, June 30, 2012, 9:00 AM to 3:00 PM at The Goodwill Lifsey Training Center, 937 Herman Street, Nashville, TN 37208.
The primary goals of the workshop series is to:
·         Provide aspiring entrepreneurs with the tools they need to start or grow their own businesses.
·         Assist and train women on how to creating economic impact as a CEO.
·         Help you get clear about your purpose by tapping into your passion and turning it into a profitable business.
·         Create a strong support system and network with successful women already in business.
KEYNOTE SPEAKER: Darrell Knoch

MEET DARRELL KNOCH—Top-Ten Amazon best-selling author of Mastering a Healthy Self-Image: The Guidebook to Real Happiness and Enormous Success.  It is an inspirational yet practical blueprint for overcoming adversity, achieving unstoppable self-confidence, and attaining your goals for personal and professional success. Darrell's story of personal transformation and astounding success is both poignant and inspirational. It is a tale of triumph—how a disfigured, abused, and emotionally scarred boy, raised on welfare, rose to amazing heights in the business world and became a self-made multi-millionaire. Darrell earned two patents, become an entrepreneur who took 5 companies national and international and generated billions of dollars in revenue, and then went on to become an investor, real estate authority, financier, public speaker, author, and mentor to many.  His story will leave you impressed, inspired, and amazed!  

Visit Darrell Knoch web site  www.truewealthuniversity.com
Workshop Leaders:
Jacqueline Merritt,

 Economic Development Specialist with the Small Business Administration (SBA)
  www.sba.gov
Gregory Jones

, Business Counselor with the Tennessee Small Business Development Center www.tsbdc.org
Lenore Gilbert

, Mary Kay Sales Director for over 9 years, Owner of A and L Cleaning Services as well as Realtor with Century 21.
www.marykay.com/lgilbert3
Renee Bobb

, CEO of R.B.I. Enterprise, Radio and TV Talk Show Host, Empowerment Coach and Trainer for several non-profit agencies. She is also the author of 9 books.
www.ReneeBobb.com
Teri N. Harrison,
Founder and Managing Attorney with Tennessee Business Law Center. Teri is a

Small Business Expert, Legal Consultant & Leadership Coach.
http://www.tnbusinesslawcenter.com
Trazana

Staples, Author and CEO of Another Avenue Cultural Resource Center

http://www.anotheravenueculturalresourcecenter.blogspot.com
Kia Jarmon

, Creative Director with The MEPR Agency which specialize in public relations, branding and special events

www.mepragency.com
Workshop Topics Include:
Start Smart: Five Key Strategies to Launching a Small and Home-Based Business

Taking Care of Business: Top Ten Steps to Reinventing Yourself and Your Business
 
SBA Loans: Financing Your Business the SBA Way
                            
What does it mean to be GREEN? Owning and Operating a Green Business

Winning at Entrepreneurship: Legal & Personal Strategies for Small Business Success
                           
Show me the MONEY: Learn how to tap into financial resources available to women business owners

How to use Social Media, Public Relations and Marketing to Brand Your Business
                          

DATE:           Saturday, June 30 2012
TIME:           9:00 AM to 3:00 PM
COST:            $45.00 Early Bird Registration Special Offer!
                        Ends on June 28, 2012

                        $75.00 Regular Registration
                        $99.00 VIP Registration which include:
Front row seating at the event

FREE Autographed copy of Darrell Knoch's book Healthy Self-Image: the Guidebook to Real Happiness and Enormous Success

Gratitude Coin from Author, Darrell Knoch

Special VIP Pre-event dinner featuring Darrell Knoch and all workshop speakers
LOCATION:  Goodwill Industries of Middle Tennessee, Inc, The Goodwill Lifsey Training Center (Training Facility) 937 Herman Street, Nashville, TN 37208.
When you register you will receive a FREE copy of the book: Mastering a Healthy Self-Image: The Guidebook to Real Happiness and Enormous Success.

Who Should Attend:
·   Women unhappy in their current jobs
·   Women seeking a life-change
·   Women desiring to start a business
·   Women Business Owners
·   Women Authors and Experts
·   Women Networking Groups
·   Women Associations
·   Non-Profit Organization that focus on Women
SPECIAL OFFER: The first 10 people who register. Get a FREE copy of the e-book Financial Empowerment:A Practical Approach to Getting Your Financial Life in Order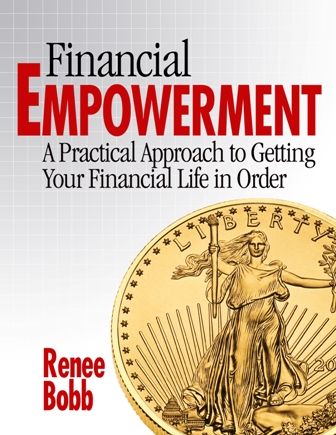 All workshop participants will receive a Goodie Bag (upon conference check-in) that includes:
·         Autographed Copy of the Book: Start Smart: A Women's Entrepreneur Guide to Starting a Business
·         Discounted services from vendors/speakers
·         Gift cards from local business
·         and much more
To Register:
·        Fill out: Attached Registration form and mail it to
      R.B.I. Enterprise, P.O. Box 583, Hermitage, TN 37076
·        Call: (615) 753-5647
·        E-mail: bobbrenee@yahoo.com
·        Online: www.nashivlleempowermentworkshop.eventbrite.com
·        Visit: http://www.ReneeBobb.com
Seating is Limited
Register Today!
When & Where
Herman St
Nashville, TN 37208


Saturday, June 30, 2012 from 9:00 AM to 3:00 PM (CDT)
Add to my calendar
Organizer
Author, Speaker, Radio & TV Talk Show Host, Publisher
 Renee Bobb is an authority in the field of self-publishing and small business development. Her company, R.B.I. Enterprise www.ReneeBobb.com  and www.ReneeBobbMedia.com is a Training and Development Firm. Specializing in Career Empowerment, Small Business Development, Financial Empowerment and Book Publishing Training.
Renee is the winner of the 2005 Small Business Administration, Virginia Women In Business Champion of the Year Award.
As Career and Small Business Coach, we help to empower people that desire to change their lives. Renee has nine non-fiction books published including; Financial Empowerment: A Practical Approach to Getting Your Financial Life in Order andher top-seller, The Self-Publishing Process: The Beginners Guide to Book Publishing Success.
Over the past two years Renee has worked with Operation Stand Down, Nashville, Inc., as the Assistant Employment Coordinator and Grant Manager. She specialized in matching honorably discharged veterans with jobs available primarily in the Metro Nashville area.  Created employment training curriculum for homeless Veterans. Manage $500,000 grant funded Mission Green Weatherization training program.
Renee has several contracts with non-profit agencies in which she teaches Career Development and Financial Empowerment workshops. One of her recent contracts is with an organization called "Leaving the Cocoon" , a non-profit organization of mentors who help women make a difficult transition easier. The women are former inmates who need help making a successfully transition into society.
One of the highlights of Renee's career is having the opportunity to host and produce her own TV Talk Show called "The Author's Review", which airs on the Public Broadcast Station in Richmond, VA, Charlottesville, VA and , Time Warner in Staten Island, NY and in 2012, Nashville, TN on Community Access TV. Her show reaches over 2 million households. Renee's TV Show has won the 2006-2007 Broadcast of Excellence Award for Charlottesville Comcast Cable.
In 2007, Renee has launched "The Renee Bobb Radio Show" which airs on www.BlogTalkRadio.com/TheReneeBobbShow. Due to the success of the show it has recently been picked up by WMDB 880 AM in Nashville, TN. With so many talents to share, public media is no stranger to Renee.
Renee currently serves on the Board of Directors for Safe Haven Family Shelter located in Nashville, TN.
Nashville Women's Empowerment Workshop Series