About this Event
Corkdorks Nashville Whiskey festival is moving to an interactive online experience for 2020. Participants are invited to raise a glass of rare release whiskies with industry leaders October 2-4, 2020.
We'll be joined by representatives from many of the distilleries, including founders and brand ambassadors, for lively and engaging discussions on a variety of topics from whiskey pairings to blending!
So, find out what all the buzz is about as we introduce you to the Nashville Whiskey Festival Unplugged lineup.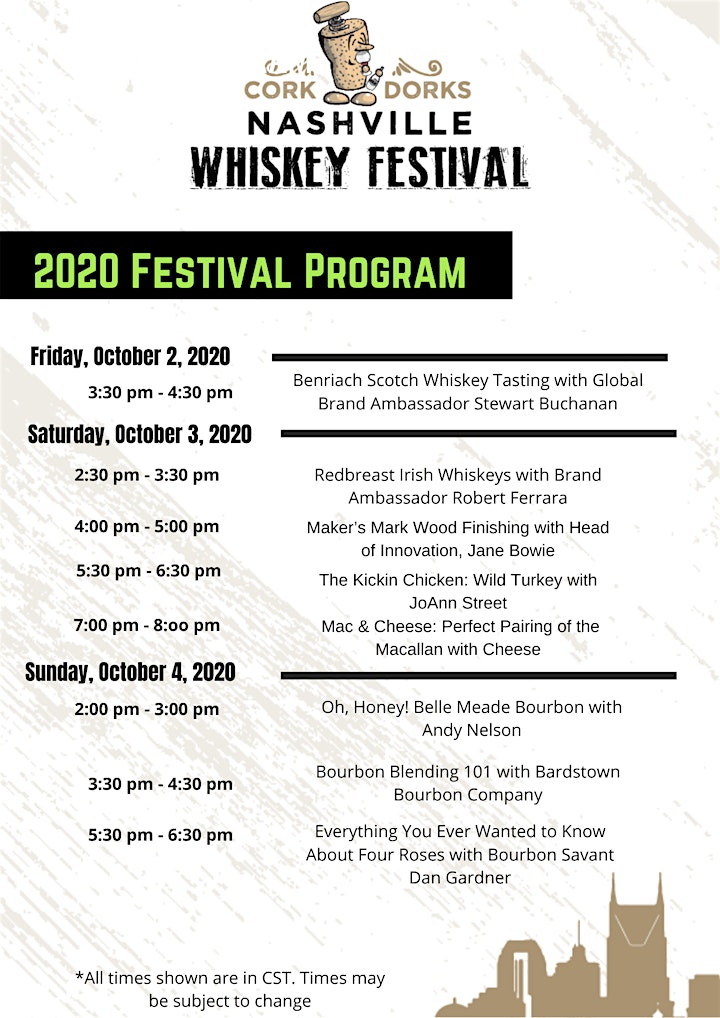 Each panel session has a separate corresponding tasting pack, which will include branded product from our sponsors, cocktails/blending kits, and food pairings.
Please be sure to purchase tickets to the webinar you wish to enjoy, in order to receive the corresponding pairing pack. Only 25 tickets available for each session. Book early to avoid disappointment!
Take an in-depth look at each event below for ticketing information and instructions.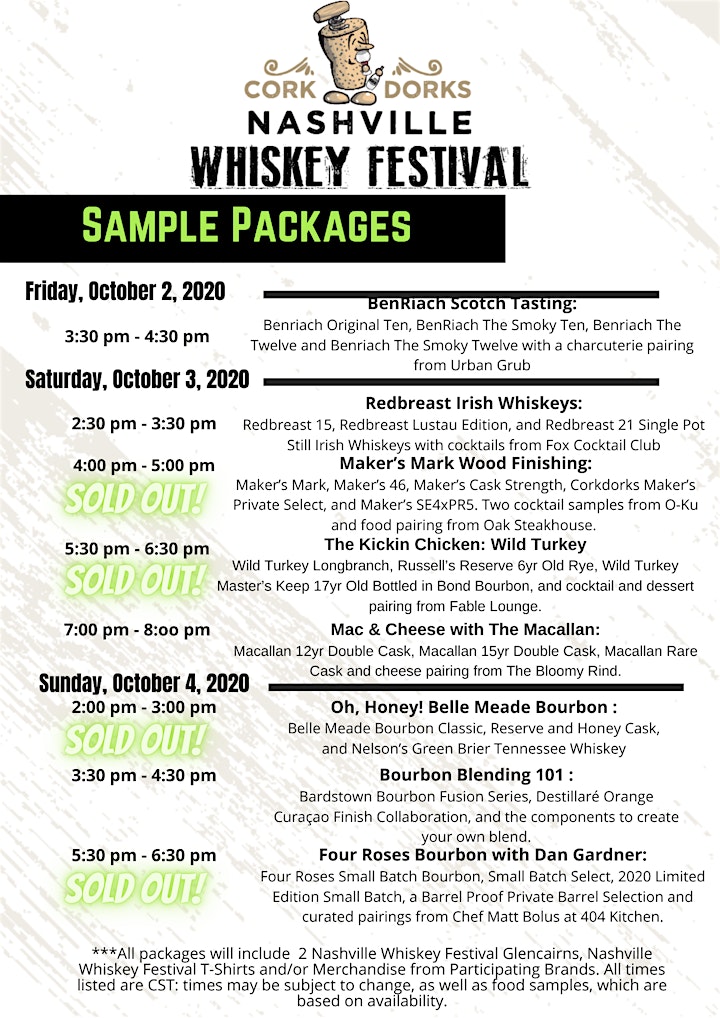 Please note: Tickets include full participation access to individual webinars and sample packages. All times shown are in Central Standard Time, and may be subject to change. Sample packages are available for delivery within the Metropolitan Nashville,TN area, however, shipping outside of Nashville,TN is not available.
Ticket holders will receive individual Zoom links via email prior to the scheduled event. Must be of legal drinking age (21+) to participate. Due to the rare nature of certain allocated products, we will not be able to issue refunds under any circumstances.
All sample packages will include :
2 Nashville Whiskey Festival Glencairns, Nashville Whiskey Festival T-shirts, and/or Merchandise from Participating Brands.
Pickup for sample packages will be available at Midtown Corkdorks Wine Spirits Beer at 1610 Church St. Nashville, TN 37203 starting at 12:00 PM the day of the event. Packages must be picked up by on the day of your scheduled event or be subject to forfeit. For legal reasons, ticket-holders must be 21 or older, must show a valid photo id, and photo id must match the name on the ticket in order to redeem sample packages. Failure to comply with these regulations will invalidate tickets without the possibility of refund.
Delivery of sample packages to those within the Nashville Metro Area can be arranged for an additional fee. Click the add-ons option on the ticketing page to see how to pay delivery fee and to schedule delivery. For legal reasons, ticket-holders must be 21 or older, must be present at time of delivery, and must present a valid photo ID to match the name on the ticket. Failure to do so will result in returned delivery without refund of delivery fees/tickets. Failure to comply with legal restrictions will invalidate tickets without the possibility of a refund.
We are excited to offer this experience in lieu of an in-person event! Thank you for your support of the Nashville Whiskey Festival in this virtual platform!