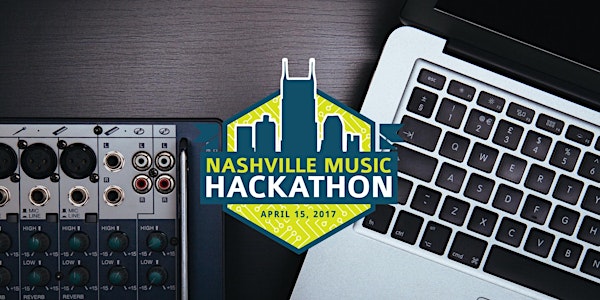 Nashville Music Hackathon
When and where
Location
Emma Bistro 11 Lea Ave Nashville, TN 37210
Description


We hope you'll join us for the first Nashville Music Hackathon. The day will start with a few presentations about various music tech topics. Then we'll break out into groups and hack. At the end of the day we'll all come back together to celebrate and show off what has been created!
The event is free and everyone is welcome to participate in the hackathon. Designers, coders, musicians, tinkerers, and others can all provide unique contrbutions to projects.

Lunch from Pepperfire be provided by Postmates.

Dinner will be provided by Chipotle.

You can use code NMH15 for 15% off two rides to/from Emma Bistro on 4/15 with Lyft.
10:00 - 11:00 Presentations/ Workshops
Listen to presentations/ workshops on music tech topics.
11:00 - 11:30 Breakout Session
Offer up your project for others to join. Meet new people to hack with.
Work on projects with a breaks for lunch and dinner.
8:00 - 09:00 Demos / Performances
Present your project and see what others have been working on all day.

SPEAKERS:
Misty Jones - Assistant Professor, Department of Recording Industry, MTSU
Misty Jones is an Assistant Professor in the Department of Recording Industry at Middle Tennessee State in Murfreesboro, TN, and received her Bachelor's Degree in Music Education from Baylor University. Misty studied Music Technology Innovation at Berklee Valencia in Spain, where she received the Outstanding Scholar award and achieved a Master of Music degree. She will present an intro session on using controllers with Ableton using tools such as Bare Conductive Touch Board and Hot Hands Controller.


Ryan Wrenn - CTO, Artiphon
Nick Barnes - Director, Fan Engagement, Eric Church
As Director of Fan Engagement, Nick Barnes works directly for Eric Church helping manage the digital space of his brand. Part of that job is to provide fans with fair access to tickets, protecting them from scalpers. Nick will share some of the success and failures in that endeavor, including details about a proprietary pre-sale process and in-depth information about the recent cancellation of 25k scalper tickets. Sample code and datasets will be made available for projects.