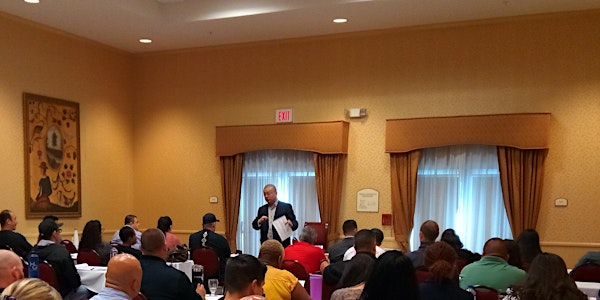 Multiple dates
Nashua Leadership Secrets: 7 Secrets for Your Success They Won't Teach You!
If you want others to give you fish, this class is NOT for you. If you want to learn how to fish on your own, this class is for you!
Date and time
March 18 · 7am - March 16, 2024 · 7:30am EDT
Location
Online Webinar OnDemand Evergreen Start learning as soon as you register Webinar Link In Email After Registration Nashua, NH 03063
Refund Policy
Refunds up to 30 days before event
Eventbrite's fee is nonrefundable.
About this event
Leadership Secret #1:
Why the skills that got you here, are no longer useful to help you to get to the next level?
Leadership Secret #2:
What is the major operating system upgrade you must perform on your own thinking, and why no one else can perform the upgrade for you.
Leadership Secret #3:
Why "Active Listening" & "Communicate Clearly" are both really really harmful concepts.
Leadership Secret #4:
How to make employees feel they've been given a set of choices - without actually giving them any choices!
Leadership Secret #5:
With all the negativity all around you, how do you stay positive?
Leadership Secret #6:
How to create opportunities for yourself? How to "Create Your Own Luck!"?
Leadership Secret #7:
How to increase your level of confidence, authentically?
After you take the class, you will figure out: Why it's impossible for them to teach you these secrets
This class is ONLY for those managers who want to expand their own comfort zones, hear the truth, willing to do what has to be done, and want to overcome this challenge.
If you want to solve your leadership challenges:
You need to do/learn/hear what is necessary!
And what you need to hear (not what you want to hear) are outside of your current awareness, they are outside of your current comfort zone. But you have a long history of expanding your comfort zone, right?
You are not the sort of person who spends 100% of their intellectual, mental and emotional energy fighting to stay inside their comfort zone, are you? The type of person who insists on only hearing what they want to hear, and refuses to hear what they need to hear?
You are busy, that's why this class is "On-demand"! As soon as you register, you'll be able to take the class! Or come back to the class if you get interrupted!
Leadership Secrets Series Webinars (OnDemand & EverGreen):
1: Delegation Skills for Busy Leaders - Why & How
2: How To Motivate & Inspire Your Employees? Young Employees?
3: How to Overcome Employee's Resistance To Change?
4: How to Create Genuine and Sincere Employee Loyalty?
5: How to Manage the 4 Different Types of Younger Employees?
6: How to Successfully Coach Your Employees?
7: Is being friends with your employees a good idea? or a bad idea?
8: How To Get Your Best Employees To Stay For As Long As Possible?
9: How To Avoid Costly Hiring Mistakes?
10: How to Overcome Your Anxiety with Discipline and Termination?
11: Seven Secrets for Your Leadership Success that They Won't Teach You!
Coach Michael Lin specializes in helping First Time Leaders in the business world.
Thousands of business leaders, from hundreds of organizations and associations, in dozens of industries, have attended his Leadership Seminars, Workshops, Keynote Sessions & 1-on-1 Coaching sessions.
And the attendees often make the following comments:
- "Thanks to Coach Michael Lin, I developed a Deep Understanding of my team members, all based on my newly acquired Emotional Intelligence! I now have a much more Authentic Connection with my team."
- "Due to the Persuasion Skills I learned at the workshop, I am now more Fluent at Influencing people, especially when it comes to Inspiring my team members - and they love it!"
- "I finally became Congruent at Being the Leader - because Coach Michael Lin helped me to develop my own inner Emotional Maturity! My team told me I am like a Sea Captain the crew trust their lives with!"
To book Leadership Seminars, Workshops & Keynotes, for your company/industry training/event, send an email to:
CoachMichaelLin@Gmail.com