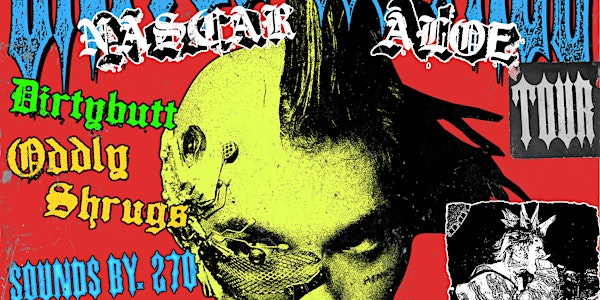 Nascar Aloe: United We Fall
Location
DC9 Nightclub
1940 9th St NW
Washington, DC 20001
Nascar Aloe

FACEBOOK | INSTAGRAM | TWITTER | SPOTIFY | SOUNDCLOUD

Enigmatic North Carolina native Nascar Aloe has placed himself firmly at the forefront of the underground rap scene with his unique and captivating blend of punk energy, raw 808s and terrifying visuals. Originally from Lexington, North Carolina, Nascar began cultivating a die-hard fan base in 2018 by self-releasing music on SoundCloud and consistently playing shows in LA's underground circuit. In early 2019, his groundbreaking EP and subsequent music video, "FED UP!", along with an appearance in his close friend Jasiah's music video, "Crisis" (directed by Cole Bennett) drove the hype around him into a fever pitch and attracted the attention of Travis Barker, Lil Tecca and other trendsetters online. 
This summer, Nascar's momentum has continued to build thanks to a standout performance at Lyrical Lemonade's Summer Smash Festival, his recent single "AMERICAN WASTELAND" and a sold-out merch collaboration with Section8. His debut full-length project, SH!THEAD will undoubtedly win over new fans and solidify his role as as a leading voice in the underground.