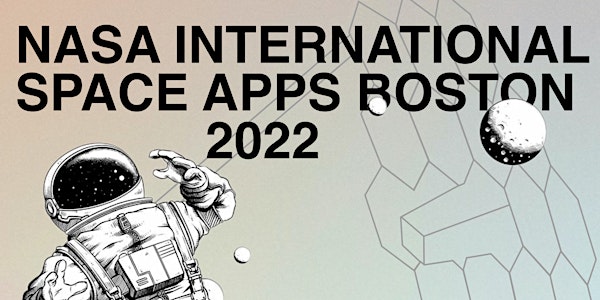 NASA International Space Apps Challenge 2022 Boston
NASA International Space Apps Challenge (ISAC) is the largest hackathon in the world. It is commissioned by NASA to get citizens to collabor
About this event
NASA International Space Apps Challenge (ISAC) is the largest hackathon in the world. It is commissioned by NASA to get citizens to collaborate on its mission directives.  NASA ISAC 2022 Boston will be entirely virtual this year and will take place on October 1st 9am (ET)- October 2nd 4pm (ET).
About NASA ISAC
The International Space Apps Challenge is an international mass collaborative hackathon focused on space exploration that takes place over 48-hours in cities around the world. The event embraces collaborative problem solving with a goal of producing relevant open-source solutions to address global needs applicable to both life on Earth and life in space. NASA is leading this global collaboration along with a number of additional government collaborators and 100+ local partner organizations. Space Apps is a NASA incubator innovation program.
In light of the COVID-19 pandemic and in the interest of our global community's health and safety, this year's hackathon is a virtual event. Each local virtual event will be hosted by one of our Space Apps Local Leads -- event leaders who will help connect registrants from their local communities to each other and to NASA.
About ISAC Boston
2022 is the 9th time that NASA ISAC is held in Boston. To participate this virtual event, you can form your own teams among your friends. Please make sure that all of your team members register. The event provides opportunity for everyone to improve your coding skills, get involved in Boston's hackathon community, cultivate team collaboration skills, and… to have a blast with your teammates!!
In order for you to remember this hackathon, we will provide a special ISAC Boston original memento for all participants who successfully submit a solution to the ISAC Boston event and have a shipping address in the conterminous United States. The team is hard at work designing this memento for you.
NASA ISAC Boston is organized by: Binnovative.org
FAQs
Can I join the hackathon as an individual?
Yes! You can join the hackathon as an individual or as a team. If you are looking for a teammate, please pitch your idea after the opening session so that you can recruit members. Or if you don't have an idea be prepared to listen to the pitches to find a team you want to join.
How can I contact the organizer with any questions?
For more details: http://www.spaceappsboston.org Or email us at: info@SpaceAppsBoston.org