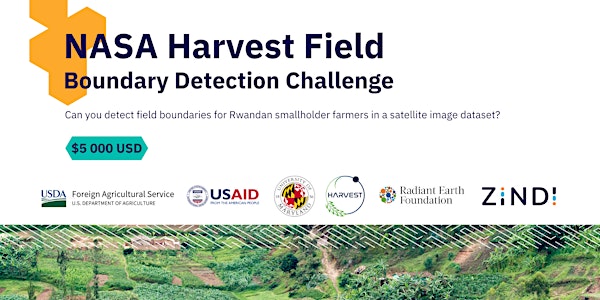 NASA Harvest Field Boundary Detection Challenge Webinar
Join us for a webinar with Radiant Earth's Lead Geospatial Data Scientist, Magdalena Benza to get inside info, ask questions, and learn more
About this event
Join us on 7 December at 5 pm GMT for a webinar with Radiant Earth's Lead Geospatial Data Scientist, Magdalena Benza, and Zindi's Competitions Lead, Amy Bray.
Agenda
5.00 - 5.10 pm | Intro to challenge and webinar by Amy Bray
5.10 - 5.15 pm | Intro to Radiant Earth and Harvest by Magdalena Benza, Senior Geospatial Data Scientist at Radiant Earth Foundation
5.15 - 5.35 pm | Starter Notebook run through by Magdalena Benza
5.35 - 6.00 pm | Q&A from the discussion board and live questions.
About Radiant Earth
Radiant Earth Foundation is a nonprofit technology company working to create a more sustainable ecosystem of machine learning (ML) and Earth observation (EO) data, standards, and tools. Guided by core characteristics of neutrality, collaboration, and innovation, Radiant maintains Radiant MLHub, an open-access geospatial training data library to ease the discovery of ML-ready data and models. Radiant also supports the development of community standards that enable interoperability of EO data and ML tools, and provides information and training to help advance the capacity of those working on global challenges using ML and EO.
About the challenge
Small farms (<2ha) produce about 35% of the world's food, and are mostly found in low- and middle-income countries. Mapping these farms allows policy-makers to allocate resources and monitor impacts of extreme events on food production and food security. Unfortunately, these field-level maps remain mostly unavailable in low and middle income countries, where the food insecurity risk is highest. Combining machine learning with Earth Observation data from satellites like the PlanetScope constellation can help improve agricultural monitoring, cropland mapping, and disaster risk management for these small farms.
In this challenge, the goal is to classify crop field boundaries using multispectral observations collected by PlanetScope, available through the NICFI basemaps program. Fields are located in Rwanda's Eastern Province (Intara y'lburasirazuba) and spread over the districts of Gatsibo and Nyagatare. The NASA Harvest Rwanda field boundary training dataset was generated by TaQadam through a team of annotators, and curated by Radiant Earth Foundation.
For any questions on this, be sure to tune in for the webinar.
#KeepLearning #KeepWinning #BuildingAITogether
See you then.