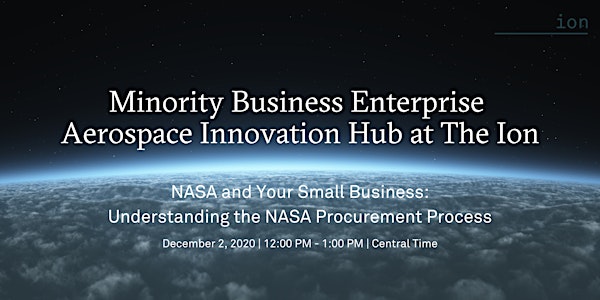 NASA and Your Small Business: Understanding the NASA Procurement Process
Learn about NASA's commitment to providing access for all categories of small businesses to participate in the procurement process
About this event
Learn about:
The process for working with NASA
Getting connected to opportunities in the aerospace industry, even if you don't have an aerospace company
NASA's commitment to providing all categories of small businesses an opportunity to participate in both NASA prime contracts and subcontracts.
The vision of the Office of Small Business Programs at NASA Headquarters is to promote and integrate all small businesses into the competitive base of contractors that pioneer the future of space exploration, scientific discovery, and aeronautics research.
Did you know?
NASA promotes the development and management of NASA programs that assist all categories of small businesses
NASA develops small businesses in high tech areas that include technology transfer and commercialization of technology
NASA provides small businesses with practicable opportunities to participate in NASA prime contracts and subcontracts
Agenda:
12:00 PM - Welcome and Overview of The Ion MBE Aerospace Innovation Hub
12:10 PM - Opportunities for Small Businesses
12:35 PM - Q&A and Discussion
About the Speakers
Richard Slater, Small Business Specialist, NASA JSC
Christine Galib, Senior Director of Programs, The Ion
About the Organizations
About The Ion: The Ion will anchor the 16-acre Innovation District and is destined to become the epicenter for Houston's innovation ecosystem as an inclusive, dynamic, vibrant, and dense hub focusing on quality collaborations between entrepreneurs, incubators, accelerators, corporations, academics, and the Houston community when it opens in 2021. The 300,000 square-foot building will accommodate multiple uses, including shared workspace, prototyping and maker resources, event space, classrooms, food and beverage offerings as well as indoor/outdoor communal areas with shared amenities. For more information, please visit https://ionhouston.com.
Community Partners
City of Houston Office of Business Opportunity
This event is partially funded by a grant from the U.S. Department of Commerce, Minority Business Development Agency.