Description
Join NASA Ames in the San Francisco LGBT Pride Parade June 25, 2017 and march alongside NASA's third official pride parade contingent!
Orders close June 23, 2017 for t-shirts. T-shirts are available for pickup at the parade with your eventbrite ticket.
Parade details will be updated here continously:
Parade info - We are the 151st Contingent at SF Pride Parade this year! Our meeting place is right off Market St. @ Main. Look for the NASA logos! We are required to be assembled by 10:30 am on Sunday June 25 at this location! Note, the actual launch may be delayed by up to 1-1.5 hours, but it also may proceed on time, so be prepared to wait. The actual march is only 9 blocks down Market from Beale to Eight street. The map below shows our location. Be prepared for cool or sunny weather (it's SF). We will have limited waters and snacks available. Restrooms are nearby. To march with us, you will have to enter the parade with us. You can exit at any time, but cannot enter at any other point.
Want to be a Contingent Monitor? Please watch this video, then take the survey. When asked, "NASA" is the group name.
Travel - Only parade vehicles are allowed in to the mapped area below. Best option is to take BART to the Embarcadero Station, Caltrain or rideshare and be dropped off in city!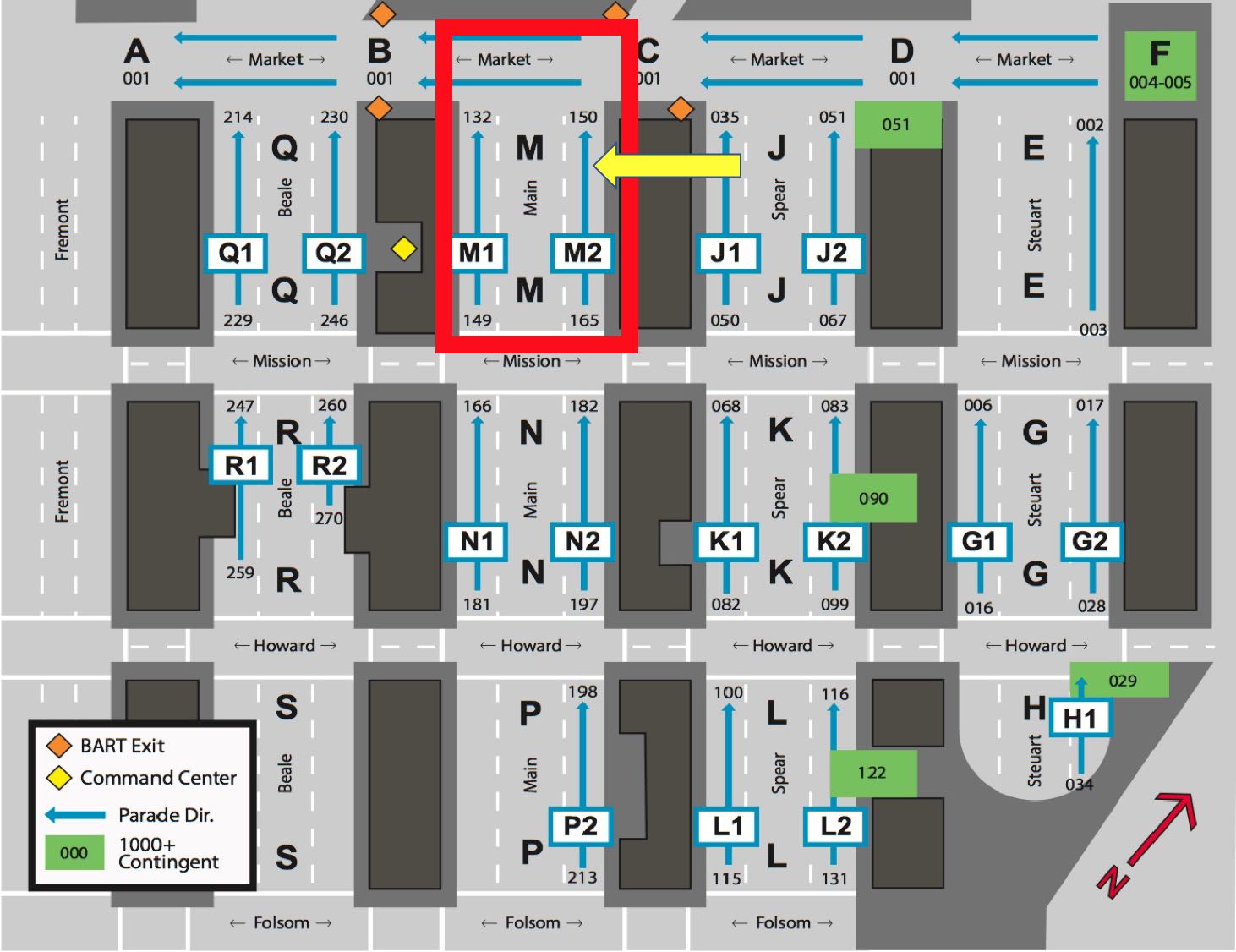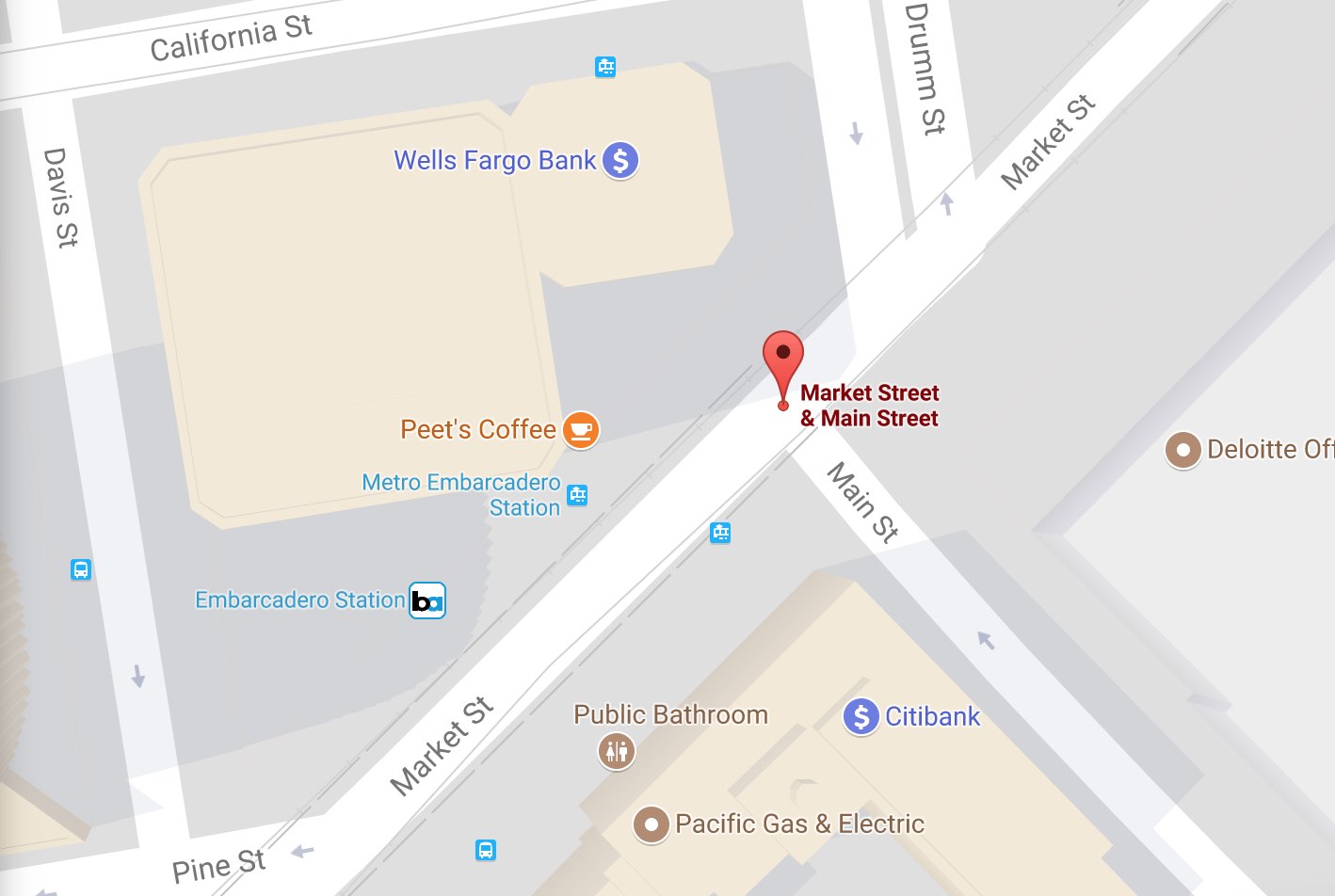 Parade Rules & Safety -
1. Nobody Gets Hurt
2. Wheel Monitors Stay at Their Wheels
3. All Monitors are Clean and Sober
4. No Throwing Anything
5. No Getting On or Off Vehicles
6. Bags are highly discouraged, and no bags over 18" x 18" will be admitted.
7. No Alcohol, Coolers or Glass bottles
Over 200 NASA Ames employees, friends, family, astronauts, Ames center director and senior management marched June 2015 in San Francisco as part of the second offical NASA pride parade contingent sponsored by NASA HQ, NASA Ames LGBT Advisory Group and volunteer support.
You can read the Huffington Post article about the first year's event here.
Join NASA this year and march alongside rocket scientists, astronauts, engineers, information technology professionals and others June 25 in downtown San Francisco. Participation is free, but you must register below. You may choose to purchase a limited-edition NASA Pride 2017 shirt if you like. Else, please wear a NASA t-shirt or hat of your own so we can identify you.
More information is available at NASA Ames' LGBT Advisory Group website:
Special Thanks to our Supporters and Donors: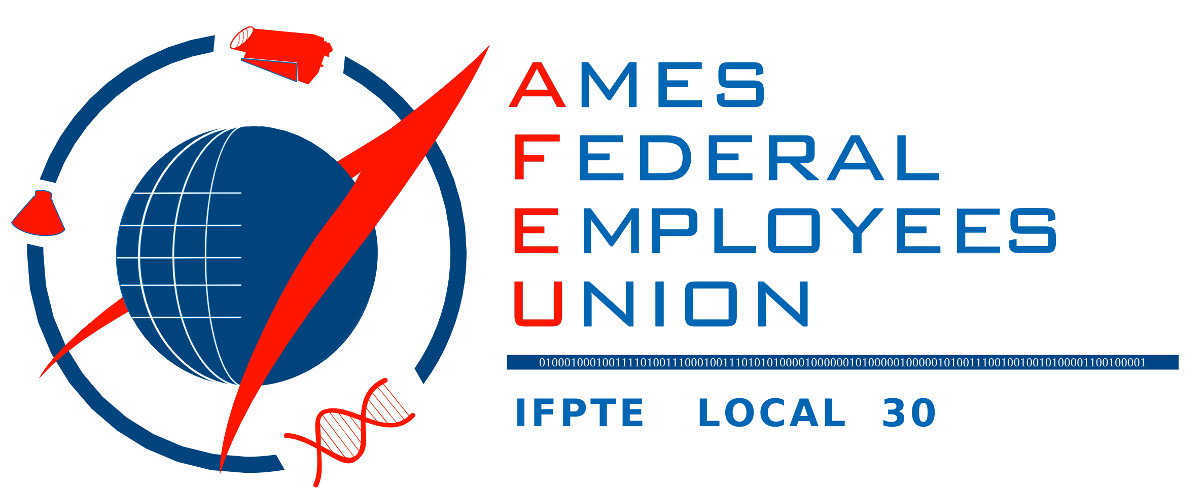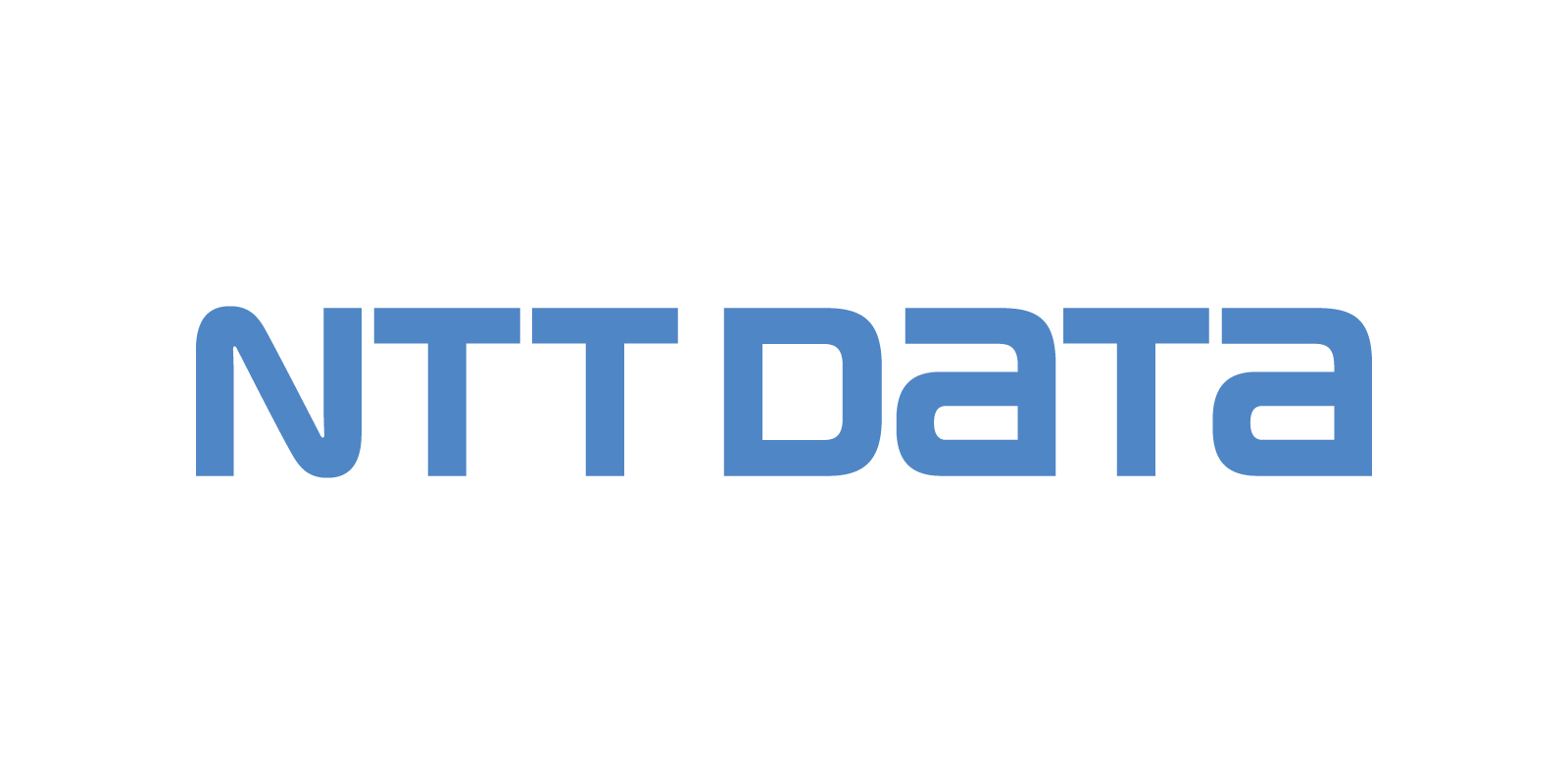 Dr. Eugene Tu, Nicholas Theodore, Leland Stone, Dr. Misty Davies, Astrid Albaugh, Carolina Rudisel, Stephen Perry, Kenny Ashford, Laura Shawnee, Susie Cisneros and Trincy Lewis
---
NASA Pride 2017 T-shirts: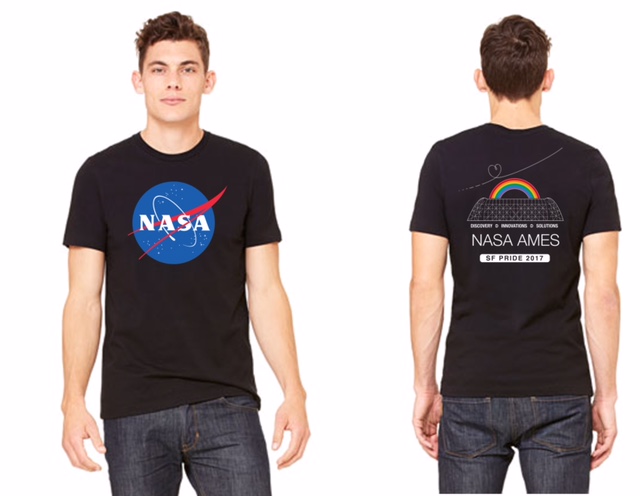 ---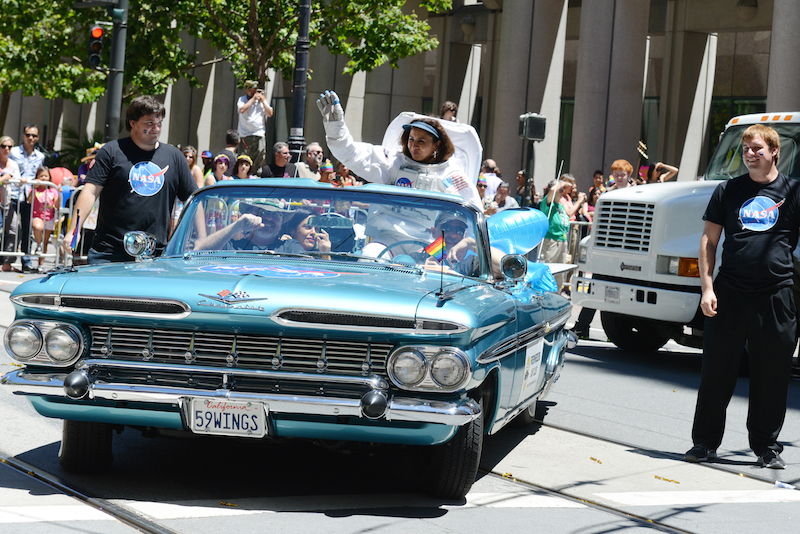 ---
NASA Pride Meeting Area - Be here by 10:30 to march with us! Please arrive early to collect your t-shirts.
A T-shirt sizing guide is available here.
---
FAQ:
How do I get my T-shirt?
We are holding a final pre-pride LGBT-AG meeting this Friday, June 23rd from 12:00-13:30 in N232-103, to discuss marching contingent plans, directions, and instructions. All who are marching are encouraged to attend. If you bring your ticket on your phone or printed, you may pick up your t-shirt/s (ticket holders only).
The remaining T-shirts will be distrubuted the morning of the parade June 25th. Please bring along your Eventbrite ticket.
Can I bring children and/or minors?
Yes, they are more than welcome. I recommend the XS shirt sizes for little ones. Note - all minors must remain under the supervision of a parent or guardian at all times during the parade. Only four seats are availble in the parade vehicle with air-conditioning, but you cannot enter or exit any vehicle at any time during the parade.
How long do I have to march?
You can exit the parade contingent at multiple spots along the parade route, a total of about 1.2 miles long. You cannot enter the parade again at any time unfortunately.
Where do we meet?
At Market and Main.
POCs:
NASA Ames LGBT Advisory Group
ved.c@nasa.gov, nate@nasa.gov, monica.l.ebert@nasa.gov
www.nasa.gov/ames/lgbt
NASA Ames LGBT Advisory Group
NASA Ames Research Center
Moffett Field, CA 94035