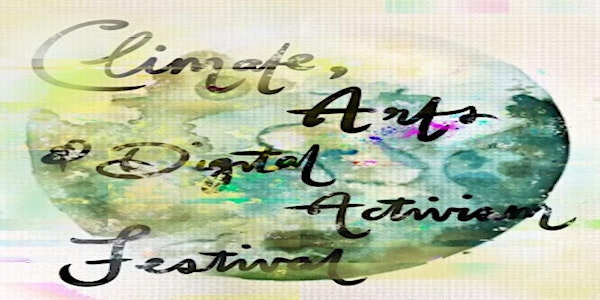 Narrm/Melbourne Climate, Art, and Digital Activisms Festival of Ideas
Climate, Art, and Digital Activisms Festival of Ideas: University of Melbourne Dyason Fellowship and AARE InterSIG Event (21-23 November)
When and where
Location
Melbourne Graduate School of Education 234 Queensberry St Parkville, VIC 3053 Australia
About this event
The Climate, Art, and Digital Activisms 4-day Festival of Ideas will bring together 75-100 interdisciplinary researchers, educators, and practitioners with expertise in the climate-related social issues, media, refugee communities, creative arts, curatorial practice, arts-based research, small data, and digital methods.
Over 3 days (21-23 November)at studioFive, Melbourne Graduate School of Education, University of Melbourne this festival of ideas program with the 4th day (27 November) being at the University of South Australia (preceding the AARE 2022 Conference) in Adelaide.
The Melbourne festival program is comprised of 12 carefully curated Acts which bring invited keynote speakers and practice-based facilitators into conversation with each other. Invited keynotes are purposefully paired and discussion will be facilitated by the convenors as a decolonising act.
ECR and HDR are welcomed into the conversation via Pecha Kucha sessions (see CFP). The aim is to connect communities of educational researchers to each other, while offering the space and time to trouble and speculate as a community post COP27.
In the face of an increasingly volatile, uncertain, complex, and ambiguous world, we ask:  
What are the knowledges, practices and relationships that can address the climate challenges of our rapidly changing world? 
How can researchers, practitioners and activists contribute to a new ecosystem of learning around issues of climate justice and meaningful action? 
What do we, as a community, need to do to transform education, policy and practice for our climate futures?
Program Day 1. Monday 21 November
8.15am Registration
8.45am Opening remarks by Rose Hiscock, Director of Museums and Collections
Act 1
Slackers, vegans or skilled communicators – A view of youth (digital) activism from Central Europe' Dr Annamaria Neag, Dyason Fellow from Charles University in Prague (Czech Republic), leader of 'Digital Activism – Children and Youth Civic Engagement in a Globalised World' project in Europe
'Young people's artistic and digital climate justice activisms: A conversation' Dr Eve Mayes, Deakin University, Senior Research Fellow and Senior Lecturer at Deakin University (Research for Educational Impact). Eve is currently undertaking the Australian Research Council (ARC) Discovery Early Career Fellowship (DECRA) project: Striking Voices: Australian school-aged climate justice activism. Eve is joined by co-researchers Natasha Abhayawickrama, Sophie Chiew, Netta Maiava, and Dani Villafaña
Act 2
Dr Suzie Fraser, Coordinator Centre of Visual Art, FFAM will lead a workshop that builds on work developed with Rosi Braidotti, Distinguished University Professor at Utrecht University.
Lunch (provided)
Act 3
Curated Pecha Kucha session with Q&A facilitated by discussant, Associate Professor Peter Cook
Act 4
What it means to be post-human in relation to technology Professor Paul Loh, Head of the Abedian School of Architecture at Bond University will speak about cross-disciplinary research in automation in construction and how it deals with the issue of waste leading to a more recent art project with Stelarc (currently in SWARM, Science Gallery Melbourne)
Where to from here? A question for wondering and wandering Dr Abbey MacDonald, UTAS will enter into the conversation with Paul via an a/r/tographic presentation
Program Day 2. Tuesday 22 November
8.30am Registration
8.45am Opening remarks by Professor Marcia McKenzie
Act 5 Practice-led Art | Climate | Futures workshop Dr Jen Rae, award-winning artist-researcher of Canadian Métis* descent living and creating on Djaara Country in Central Victoria
Act 6
'Auditing the ecomateriality of digital childhoods' Dr Luci Pangrazio, Chief Investigator in the Centre of Excellence for the Digital Child and a senior lecturer at Deakin University. Her research focuses on datafication in the home and school, the politics of digital platforms, and young people's critical understandings of digital media. Recent books include Learning to Live with Datafication (2022, Routledge) and Young People's Literacies in the Digital Age (2019, Routledge).
Fireside chat with Seb Chan, Director & CEO at ACMI in Melbourne, Dr Luci Pangrazio and Dr Kathryn Coleman
Lunch (provided)
Act 7
'Materiality and planetarity: two artists' Dr Danny Butt, Senior Lecturer in Interdisciplinary Practice at the Victorian College of the Arts, Faculty of Fine Arts and Music, University of Melbourne. He is the author of Artistic Research in the Future Academy (2017)
'Global Educational Discourses, the good life and the climate crisis: searching for alternatives' Dr Jason Beech, Senior Lecturer in Education Policy at Monash University and holds a UNESCO Chair in Education for Sustainability and Global Citizenship at Universidad de San Andrés in Buenos Aires.
Act 8
'Hot and Bothered' Dr Ryan Jefferies, Associate Director, Science and Academic Programs, Department of Museums and Collections at The University of Melbourne and Creative Director at Science Gallery Melbourne
Visit to SWARM Exhibition at Science Gallery Melbourne
Program Day 3 Wednesday 23 November
8.45am Registration
Act 9
'Acting Like Our House Is On Fire', Dr Lara Stevens, author of Anti-War Theatre After Brecht (2016), editor and translator of Politics, Ethics and Performance: Hélène Cixous and the Théâtre du Soleil (2016), and co-editor of Feminist Ecologies (2018) with Peta Tait and Denise Varney. She is currently a Research Associate in the Discovery Project 'Towards an Australian Ecological Theatre' where she looks at how the performing arts is responding to the climate emergency.
'Creative activism and storying the climate crisis' Linh Do, Director of The Wattle Fellowship, University of Melbourne
Act 10
Dance Activism workshop, Associate Professor Peter Cook, Deputy Head of School (Education) USQ
Lunch (provided)
Act 11
A colonial crisis of imagination and climate change: accessing literature's speculative potential for imagining different futures, Dr Sarah E. Truman, Senior Lecturer at The University of Melbourne and co-director of the Literary Education Lab. From 2022-2025 Dr. Truman is an Australian Research Council DECRA Fellow whose project focuses on youth cultural productions (science fiction) in mining and metropolitan communities in three commonwealth countries
Scale Poetics: Crisis, Data & the Arts Dr Tyne Sumner, ARC Research Fellow in the School of Culture and Communication. Her research examines the relationship between literature and surveillance in the twentieth and twenty-first centuries, with a focus on the representation of surveillance in poetic texts. She also works in the digital humanities in the areas of cultural data, digital ethics and critical infrastructure studies
Act 12 Curated Pecha Kucha session (incl Q&A) followed by an interactive workshop facilitated by Dr Geraldine Burke
5.00pm
Closing Keynote: What research do we need to do to transform education for our climate futures? Professor Larissa McLean Davies